Indiana Court of Appeals Judge Nancy Vaidik has resumed her caseload and is expected to attend upcoming court events after being injured while bicycling near her home in Porter County earlier this summer.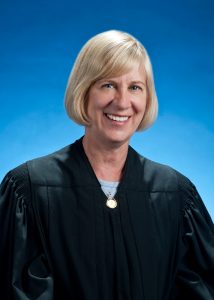 According to the Indiana Court of Appeals, Vaidik continues to recover at home but has returned to reading briefs and writing opinions. Also, she is expected to attend the Aug. 26 investiture ceremony for the newest member of the appellate court, Judge Leanne Weissmann.
Vaidik was injured the morning of June 6 when she was struck by a falling branch while riding her bike just outside Indiana Dunes State Park. The Indiana Department of Natural Resources' incident report states that Vaidik was wearing a helmet, which protected her head from the branch and the roadway.
She was flown from the accident scene by a helicopter to Christ Advocate Hospital in Chicago.
In an email to The Indiana Lawyer, Vaidik's husband, Jim Stankiewicz, said she is "progressing steadily" and is in and out of rehab in the Chicago area. Also, she has been able to do her court work "thanks to Zoom and her great staff while she attends the healing process."
Vaidik has served on the Indiana Court of Appeals since her appointment in February 2000 by the late Gov. Frank O'Bannon. Prior to joining the appellate bench, she served from 1992 to 2000 as judge of the Porter Superior Court, where she was honored as the 1996 Indiana Domestic Violence Coalition Judge of the Year and recognized with the 1997 Indiana Judges Association Special Merit Award.
She is a 1980 graduate of Valparaiso Law School. The institution recognized her accomplishments in the legal profession with an honorary doctor of laws degree in May 2018.
Lake County Bar Association President Angela Jones wrote in an email that she was thrilled Vaidik is recovering.
"On a personal level, Judge Vaidik has been a role model to me, someone I look up to, and she has never, ever disappointed in that role for me," Jones wrote. "On a professional level, the Court of Appeals is incredibly lucky to have her. She is a strong, fierce, fair and thoughtful female advocate and judicial officer."
Please enable JavaScript to view this content.