With the Odyssey Case Management System now operational in all 92 Indiana counties, a new project aimed at better connecting justice partners is underway in Indiana.
In 2020, with the support of the Indiana Sheriffs' Association and the Indiana Prosecuting Attorneys Council, the Indiana Office of Court Technology received a grant for $1.4 million from the Department of Justice to build a statewide jail management system.
The new program, dubbed "INjail," aims to not only make operations more efficient in sharing records — allowing courts and jails to seamlessly communicate with each other — but also to provide vital data to criminal justice stakeholders and lawmakers.
Work is currently underway on the project. The grant money will fund initial installation and development in three pilot counties — Elkhart, Grant and Martin — by the end of the third quarter or start of the fourth quarter of 2022.
Maintaining better records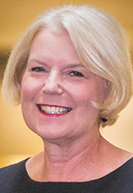 In 2011, IOCT created an interface between Odyssey and the Criminal History Record Information System, known as CHRIS, so disposition records could be sent electronically. While the change improved accuracy and speed, issues of mismatched data — particularly with fingerprints — persisted, according to IOCT Executive Director Mary DePrez.
Indiana State Police maintains CHRIS for the state, which then feeds into the national criminal history repository. CHRIS records rely on fingerprints, which are sent by local jails when a person is arrested and detained.
If a prosecutor files an indictment or charging information against that person, the clerk must report the court disposition to CHRIS within 30 days. If the information sent to CHRIS by the clerk doesn't match the identifying information initially sent by the jail, the arrest record is not updated regardless of whether it was a conviction, dismissal, etc.
"For example, fingerprints are not always taken at the time of an arrest, or if they are taken, they may be rejected by State Police or the FBI for any number of reasons," DePrez wrote in an Indiana Court Times article published in January. "In either instance, the defendant's record for that offense would not be recorded in CHRIS. If the defendant is later convicted, the resulting disposition can only be recorded in CHRIS if the court orders fingerprinting as required by state law."
According to DePrez, INjail, which is being created in house, will alert jail, prosecutor and court staff if fingerprints have not been taken, if they are rejected or if a mismatch occurs when a court disposition is sent to CHRIS.
"When I joined the court in 2005, I believe the numbers that the State Police gave out for arrests matching convictions was around 33% to 34%," DePrez said. "And I think we're up to about 55% now.
"I think we're doing very well with newer arrests and matching convictions and dispositions with them," she continued. "I think why our number stays low, only 55% or so, is that is taking into account all the historical arrest records from many, many years ago that probably have problems with them. So I think if you looked at the newer arrest records in the past, say, three or four years, I think our numbers are much higher than that 55%."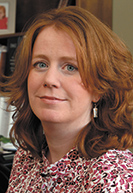 Because Odyssey will interface with INjail, DePrez said criminal cases will display a flag alerting the judge if a defendant is currently incarcerated, and court staff will be able to run daily reports showing who is incarcerated. The supervised release system will also interface with INjail, and community supervision agencies will be alerted when an individual under supervision is arrested, she said.
Additional systems planned to work with INjail include e-citations, the Protection Order Registry, the prosecutor case management system and the public defender case management system.
"These enhancements provide great potential for improving public safety," said IPAC Executive Director Chris Naylor.
Mary Kay Hudson, executive director of the Indiana Office of Court Services, said INjail will have short- and long-term benefits.
"I think when we look at the benefits, there's the case level, kind of that ground-level benefit such as criminal history information," Hudson said. "… (It will) save a ton of time and resources."
Hendricks County Sheriff Brett Clark, the 2021 Indiana Sheriffs' Association president, said he sees "tremendous value" in INjail, especially in how the jails will be able to communicate with each other.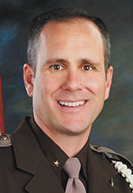 Clark gave the example of an individual who is arrested in Hendricks County and put in the Hendricks County Jail, but then misses a trial in Marion County. The judge in Marion County might not know the arrestee is incarcerated in another county, so they could then be charged with failure to appear and have a warrant issued for them.
"I think from my perspective, in general, it's been very well received," Clark said. "When we started looking into this at the beginning, and even over the years, one of the biggest challenges really is data sharing. So if you look at the jails, and the records management systems, or the RMS that we use, across the state, there's different systems in use and none of them talk. … Every jail stands alone; there's not some overseer at the state level."
Gathering stronger data
At the "mid-level," Hudson said INjail could potentially help Indiana's jail overcrowding issues.
In 2019, a County Jail Overcrowding Task Force was established to conduct a statewide review.
The task force's report found that having jails on different management systems created a "lack of real time jail data and the use of unconnected, multiple jail management systems impedes the ability for state and local criminal justice partners to collect accurate data and fully analyze specific characteristics of the jail populations in a timely, efficient manner to identify and address population trends."
At one point there were at least 19 different jail systems being used around the state, DePrez said, noting the number is fewer now.
Rather than having hard, real-time data, the report stated that methods such as compiling survey responses from the jails "merely expose symptoms of issues but are not detailed enough to address the underlying causes and trends or evaluate adjustments in policy or procedure to appropriately address the causes."
INjail aims to help fills those gaps.
"The more information about what is holding someone … that matters when we're talking about jail populations," Hudson said, posing the big question surrounding the tech initiative: "How do we build strategies around minimizing our jail population?"
Having quick and more accurate data will help determine which programs are most effective and aid lawmakers in creating greater policy when it comes to criminal justice, Hudson added.
"When we are trying to figure out how effective we are at pretrial supervision, how effective we are at providing people services and support to prevent them from getting in trouble again or staying in the system because of behavioral health issues … jail information is essential to being able to answer those questions," she said.
DePrez said that IOCT has already secured a second federal grant comparable to the first and that she believes it will help implement INjail in three more counties. IOCT is seeking additional funding to add enhancements and deploy INjail in additional counties.
She noted that each jail is different, and the project will be a "significant undertaking" with "a lot of moving parts."•
Please enable JavaScript to view this content.