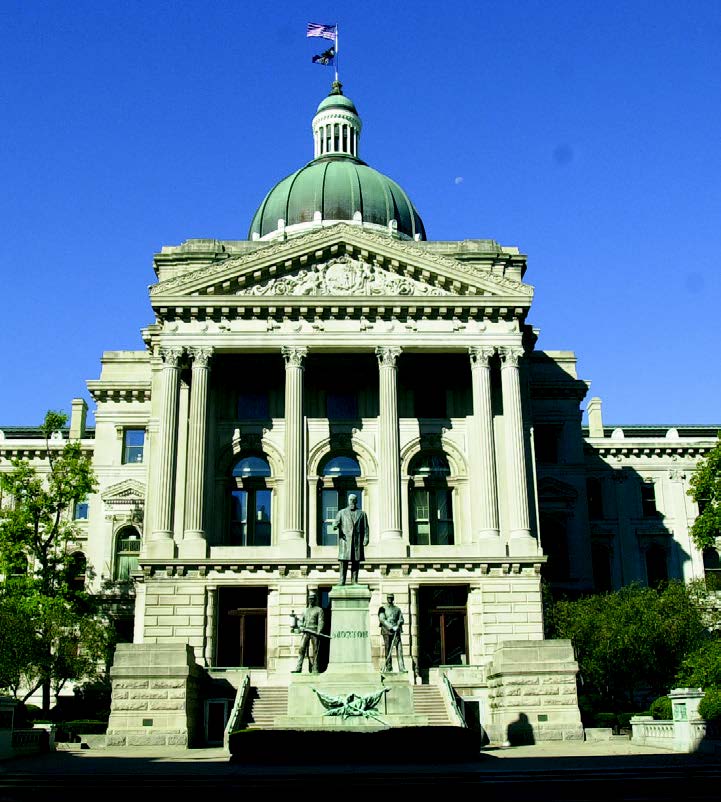 Legislation in the Indiana Senate that would protect businesses from COVID-related liability is one step closer to becoming law, having reached the full Senate floor for a successful vote on an amendment offered by the bill's author. Meanwhile, companion legislation in the Indiana House passed out of committee this week.
The amendment from Sen. Mark Messmer, R-Jasper, to Senate Bill 1  was approved on party lines in a Tuesday second-reading vote. In the other chamber, Carmel Republican Rep. Jerry Torr's House Bill 1002 advanced out of the House Judiciary Committee on Monday.
Both bills have the same purpose: providing immunity from civil liability to businesses and health care professionals who could face lawsuits claiming they exposed consumers or patients to COVID-19. Absent gross negligence or willful and wanton misconduct, businesses, individuals and health care facilities that sought to adhere to public safety guidelines during the pandemic would be protected. HB 1002 was amended Monday to also exclude "intentional misrepresentation" from immunity.
Messmer's amendment adds language to SB 1 defining conduct "arising from COVID-19." That includes, among other protected activities, "delaying or modifying the schedule or performance of any medical procedure." Messmer said he's heard concerns from medical professionals who had to delay non-emergency elective procedures pursuant to Indiana Gov. Eric Holcomb's executive orders. 
The amendment further holds that the immunity does not affect the duty of care owed to patients by nursing facilities, nursing homes or skilled nursing homes, "notwithstanding any procedures, policies, services, treatment, or any other actions undertaken by the nursing facility, nursing home, or skilled nursing home in response to COVID-19." That means that nursing homes cannot claim immunity based on COVID-caused staff shortages that kept staff from providing the normal duty of care, Messmer said.
Finally, the amendment prohibits class actions based on COVID-related tort damages, including damages "for harm that results from the design, manufacture, labeling, sale, distribution, or donation of a COVID-19 protective product."
Messmer's amendment prevailed on a voice vote, but when it came time for a vote on a second amendment offered by Sen. Tim Lanane, a roll call revealed another party line vote – this one defeating the amendment.
Lanane's amendment would have fully excluded comprehensive care facilities, meaning nursing homes, from the liability protection offered in SB 1. The Anderson Democrat pointed to the high proportion of COVID-19 fatalities in Indiana and nationwide that have occurred in such facilities.
By requiring plaintiffs to prove gross negligence by clear and convincing evidence, Lanane said families of nursing home residents would essentially be shut out of a legal redress for harm to their loved ones. He drew a distinction between "casual consumers" who get COVID after inviting a workman to their homes, versus residents of a nursing facility who can't leave and whose families can't visit them due to the pandemic.
"Think about who we're talking about," Lanane told the full Senate. "… These are some of the most vulnerable people in the entire state of Indiana. So yes, I think there's a reason why we should treat nursing homes differently."
Though his amendment was defeated, Lanane received vocal support from Senate Minority Leader Greg Taylor, D-Indianapolis and Sens. Lonnie Randolph, D-East Chicago, and Jean Breaux, D-Indianapolis.
The next step for SB 1 is debate and a vote on the bill in the full Senate.
Like SB 1, Monday's committee testimony about HB 1002 revealed a largely partisan divide over the appropriate scope of liability protection.
Torr's bill passed the Judiciary Committee — which he chairs — on a 9-3 vote. All Republican representatives on the committee supported the legislation, while three Democrats — Ryan Hatfield of Evansville, Maureen Bauer of South Bend and Vernon Smith of Gary — opposed the measure.
The committee advanced an amended version of Torr's bill. The most notable amendment was the removal of language providing for immunity from liability for conduct arising "during" the COVID-19 public health emergency.
"That was much broader than we ever intended," Torr told committee members.
Also, the amendment added language including "intentional misrepresentation" to the list of conduct not eligible for liability protections. The original version of the bill only excluded gross negligence or willful and wanton misconduct.
Additional amendments included clarifying that liability protections in the health care sector apply to EMS treatments, as well as delays in medical treatment caused by orders halting non-emergency procedures. Likewise, immunity can apply to an act that was caused by a lack of personal protective equipment. Finally, the requirement that a physician's statement be filed with a COVID liability complaint was removed.
The amendment garnered support from the Indiana Hospital Association and the Indiana Health Care Association. However, a representative of the Indiana Trial Lawyers Association said the only good thing about the amendment was the removal of the "during" language.
"This bill appears to be a solution in search of a problem," said Ashley Hadler, an ITLA board member and lawyer at Garau Germano P.C. "We have all of the mechanisms required under Indiana law to evaluate these claims currently. What we need is a tie to COVID-19. We do not have that here.
"… (The bill is) so ambiguous that it's no better than the current version of Indiana statute in place," Hadler added. "There's going to be so much confusion with judicial interpretation."
Much of the problem, according to Hadler, lies with the language related to gross negligence and willful and wanton misconduct. She said Indiana caselaw does not recognize different standards of negligence, and there is no caselaw recognizing gross negligence.
But committee Vice Chair Rep. John Young, R-Franklin, challenged Hadler on the reading of the caselaw, saying there were cases defining both gross negligence and willful and wanton misconduct. The two debated that issue for several minutes.
If enacted, HB 1002 would create three bars for plaintiffs to clear before proceeding with a COVID liability suit against a health care provider, Hadler said: first, a judicial determination as to whether the claim was gross negligence fitting within the exceptions; second, the medical review panel process; and third, a return to the trial court for litigation.
"This will cause so many problems on both sides," Hadler said, predicting both practical hurdles and constitutional challenges. "To have three bars to clear when we already have one of the most protective medical malpractice acts in the nation — it's uncalled for and unnecessary."
Rep. Hatfield also raised multiple concerns about the bill as amended, noting that federal, state and local orders regarding proper COVID practices could not be admitted by a plaintiff at trial "to establish proof of a duty or a breach of a duty in a tort action."
Conversely, Hatfield said, defendants in COVID liability suits are not prohibited from introducing evidence of fluctuating guidelines that could have made it difficult to fully comply.
"If that's available to the defendant then we should leave it available to the plaintiff when appropriate," Hatfield said. "Or, to be fair and balanced, we should take it away from both parties."
The next stop for HB 1002 is the full House floor, where the bill can be further amended.
Please enable JavaScript to view this content.