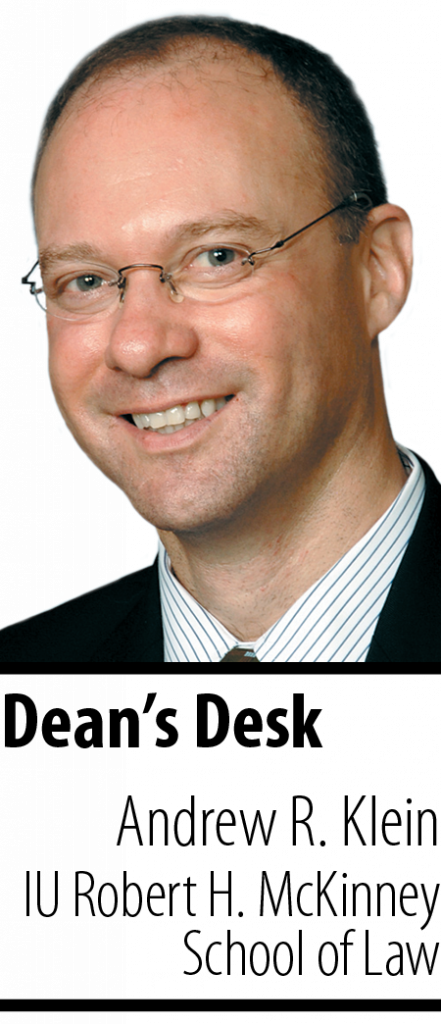 One advantage of legal education in an urban environment is that students have opportunities to gain hands-on experience in addition to receiving top-notch classroom instruction. At Indiana University Robert H. McKinney School of Law, students also make a real difference in the lives of Hoosiers throughout our city and state.
My first example comes right from the headlines. The Indiana Court of Appeals recently agreed with an amicus curiae brief filed by Professor Carrie Hagan and students in our school's Civil Practice Clinic, overturning the denial of an individual's request for expungement of a past criminal record. Students in Professor Hagan's clinic have the opportunity to support numerous Indiana residents who are trying to improve their lives. They run "pop-up clinics" throughout the region, provide individual counsel and even participate in oral argument before the Indiana Court of Appeals and Supreme Court.
My next example has not been in the news but is equally important to a client who received support from our school. Alex Bramstadt, a 3L in our Immigration Law Clinic, recently helped an exchange student from Tunisia gain asylum status. Alex worked under the supervision of Aimee Korolev, a 2012 McKinney graduate who teaches as an adjunct professor at the law school. The pair prepared and presented a memorandum to a hearing officer at an immigration court in Chicago, arguing the student's sexual orientation put her in peril in her home country. The hearing officer granted the exchange student's asylum request the very next day, allowing her to complete her education and live in safety.
As a final example, many of you have heard me sing the praises of my colleague Professor Lahny Silva, who has done extraordinary work with our Re-Entry and Community Help (REACH) program. Professor Silva and her students work with federal judges, the U.S. Attorney's Office, the U.S. Probation Office and the Federal Community Defender's Office to help formerly incarcerated individuals productively re-enter society.
If you are interested in supporting professors Hagan and Silva with their work, take note of the upcoming Re-Entry Fair, which will take place Friday, April 3, at Eastern Star Church, 5750 E. 30th St., Indianapolis. The fair, now in its fifth year, is geared toward helping formerly incarcerated individuals find services they need to re-establish themselves in the community. Among the services volunteers offer are resume reviews, expungement advice, driver's license information, child support, help with food assistance, health insurance applications and voter registration. Students who provide guidance at the fair undergo training and work alongside a practicing attorney during the event.
As you can gather, I am quite proud of our faculty and students who do so much to make the community a better place. I also am mindful that we could not do this without so many incredible members of the bar who support our educational enterprise and who help make Indianapolis an outstanding place for students to launch a legal career.•
• Andrew R. Klein is the Paul E. Beam Professor of Law and dean of Indiana University Robert H. McKinney School of Law. Opinions expressed are those of the author.
Please enable JavaScript to view this content.