Editor's note: This article has been updated.
Vowing an aggressive campaign in a race that in the past has often been overshadowed by upticket contests, Democratic Indiana Sen. Karen Tallian explained what motivated her to announce her candidacy for attorney general. "My answer is Curtis Hill has to go, and somebody needs to do it, and it needs to be attorneys."
Tallian on Wednesday announced she will seek the Democratic Party's nomination to run for AG next year, alluding to the sexual misconduct scandal enveloping current officeholder Hill and criticizing his "right-wing agenda."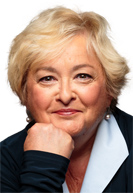 "I'm running on my record and the fact we need some balance in the Statehouse," she said in a phone interview. Tallian, D-Ogden Dunes, said she was further motivated to enter the race by Hill's move to join Indiana in a Texas-led lawsuit seeking to overturn the Affordable Care Act. 
"The effect of that would be to get rid of health care for thousands of Hoosiers," Tallian said. " … In my mind, the attorney general should be an advocate of the people, not somebody filing lawsuits trying to get rid of their health care."
A member of the Indiana Senate since 2005, Tallian said in a statement announcing her candidacy that "a decade of Republican supermajority across three branches of government has made Indiana a state of extreme politics. I am running to restore checks and balances to the Statehouse and to be a voice for all who live here. It is time that Hoosiers have leadership that listens to their problems and fights for solutions.
"The attorney general should be the citizen's advocate and work for all of us, not filing lawsuits trying to take away our legal rights," Tallian's announcement statement said. "The Attorney General's Office should not be trying to promote a right-wing agenda to overturn healthcare for pre-existing conditions and take away the ability for Hoosiers to have affordable insurance coverage. Curtis Hill has not been an advocate for Indiana citizens, and he has not brought integrity and reason to this office."
A message was left Wednesday seeking comment from officials with the Hill campaign.
Another issue Tallian said she will stress in her bid for AG is payroll fraud. She said a legislative study committee soon will be looking into such issues as under-the-table pay and employee misclassification, as have prior Statehouse panels. But she said the Attorney General's Office needs to step up enforcement by creating a specialized payroll fraud investigative unit looking into employer abuses, just as the office has a Medicaid Fraud Control Unit.
"There are a lot of legitimate businesses that get hurt when other people don't play by the rules," she said.
The Porter County Democrat has been a leader in Statehouse efforts to legalize marijuana and was among the first to author such legislation. Several marijuana legalization bills in previous sessions went unheard by Statehouse committees despite some bipartisan proposals in recent sessions. But as Indiana is now in the minority of states without some form of legalization, Tallian said recent legal reforms involving CBD oil and hemp legalization have been muddled by Hill's involvement, and she cited legislation regulating those products that resulted in unintended criminalization.
Tallian chairs the Senate Democratic Caucus and is ranking member of the Senate Appropriations Committee. She also is a longtime solo attorney in Porter County.
Her announcement touted her legislative record: "I wrote the law that makes it harder for banks to foreclose on homeowners. I have protected our pensions and I have defended our civil rights.  As a member of the criminal law committee, I helped revise our outdated criminal code to make sure that the punishment fits the crime. As the Attorney General, I will continue to advocate for our citizens."
Hill has not officially announced whether he will seek re-election, despite earlier this year announcing a record fundraising result. Defying calls to resign from Gov. Eric Holcomb and Statehouse leaders in both parties after a Democratic lawmaker and legislative aides accused him of groping and sexual misconduct, Hill has maintained his innocence even as his accusers have sued him in federal court. Hill likewise faces an attorney discipline case relating to his alleged misconduct, with hearings set to begin in October. 
Tallian said "no one knows" what would happen if the Indiana Supreme Court took disciplinary action against Hill's license to practice law.
But those aren't the only challenges to a potential re-election bid for Hill — he also has a challenger for the Republican Party nomination. Bose McKinney & Evans LLP attorney John Westercamp announced his bid for attorney general in June with a campaign-style statewide swing.
Political parties will select their nominees for attorney general during party conventions next year. Voters will elect the next AG in November 2020.
Please enable JavaScript to view this content.