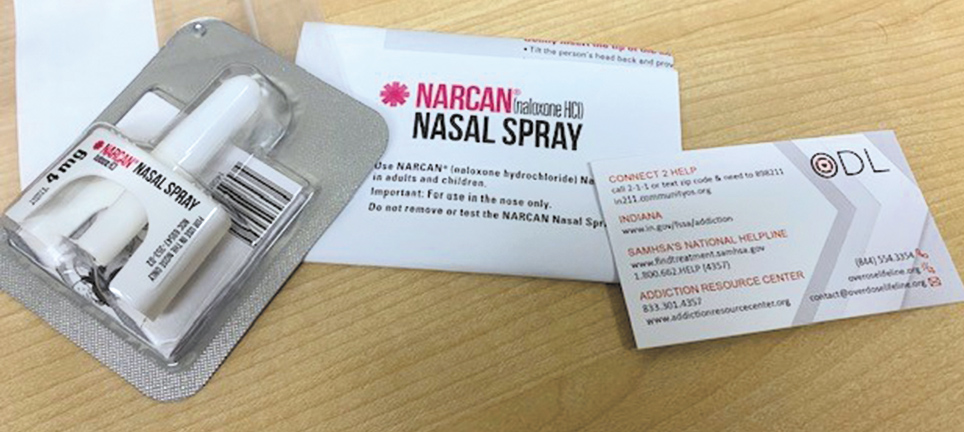 At the beginning of 2020, she was doing well. By April, the former Indiana Department of Correction resident's job had yet to completely shut down as the COVID-19 pandemic swept across the country. She was doing what she needed to take care of herself and ensure her recovery from a substance abuse disorder.
But as the pandemic pushed on, she relapsed.
"This is an incredibly difficult time for people who are in recovery, no matter how long under their belt," said Doug Huntsinger, executive director of drug prevention, treatment and enforcement at the Indiana governor's office.
In light of an increase of relapses and overdose numbers, the DOC earlier this month announced it would start offering naloxone, an agent used to reverse the effects of an opioid overdose, to every offender released from a DOC facility.
When administered, the reversal agent – sold under the brand name Narcan – blocks the toxic effects of an opioid overdose and is often the difference between a patient living and dying.
Expanding the availability of naloxone is one way to ensure released individuals have a smooth transition back into the community as contributing members of society, according to DOC chief medical officer Dr. Kristen Dauss. "Substance use disorder is a disease, and IDOC plays a critical role in connecting people to the quality treatment they need," Dauss said in a press release.
The program works like this: During an offender's prerelease medical screening, they are asked if they would like to leave with a free naloxone kit. The kit includes one dose of naloxone, instructions for use and a referral card for treatment.
If an individual says they'd like a kit, they can leave with one in hand without fear of punitive action or judgment, said Christine Daniel, IDOC director of transitional healthcare. The ultimate goal of the program, she said, is simple – saving lives. "We know that substance use disorder is a disease. The naloxone kits are a life-saving tool that can open a door to recovery by reversing the effects of opioids, and then linking people to treatment," Daniel said. "In all we are focused on quality health care and this is one piece of the puzzle."
Crafting the program
As leader of a new transitional team focusing on intensive release planning and getting people home from the DOC safely, Daniel said she is excited about the naloxone kit program and partnership that enabled it to happen.
"At the beginning of the COVID-19 pandemic, as places shut down, I think treatment started to look different. A lot of places were going virtual and that was my first indicator that, 'Wow, we need to do something,'" she explained. "What we saw was an increase in substance use, overdoses and … suicides, and I really wanted to get in front of that and offer this lifesaving treatment at release."
This year, Indiana has experienced a 68% increase in naloxone administration by EMS compared to January through September of 2019, according to Indiana's NextLevel Recovery progress report for November 2020. That increase, the report says, is largely due to the impact of COVID-19.
"I know that we were seeing some overdoses throughout the state after release that concerned us and we decided to be proactive with releasing with naloxone as opposed to just seeing how things turned out," Daniel said. "I didn't want to reactive; I really wanted to be proactive with this."
So Daniel pitched the idea during a meeting Huntsinger also attended with the Department of Mental Health and Addictions. From there, the program was a go and a partnership was formed between the IDOC and Indiana nonprofit Overdose Lifeline, Inc.
"It just made sense that the easiest thing we could do would be to send them home with naloxone," Huntsinger said.
Teaming up
Overdose Lifeline, a small nonprofit dedicated to helping individuals, families and communities affected by substance use disorder, provided 2,255 kits worth more than $84,000 to the IDOC for distribution to correctional facilities as needed.
Funding for the kits came from the state after Gov. Eric Holcomb in May 2020 announced a $1 million partnership with the nonprofit to distribute 25,000 naloxone kits to Hoosiers at risk of an opioid overdose. Since June, Overdose Lifeline has distributed more than 13,000 kits statewide.
The current plan for the DOC program is to continue delivering kits to each facility across the state as needed, with future plans to replicate the naloxone program in each of Indiana's 10 parole districts. As the supplies run out, Overdose Lifeline is ready to replenish them where needed.
"It's a population that is vulnerable and in high need and something we have been trying to reach for a long time," said Justin Phillips, founder of Overdose Lifeline.
"What felt like this big elephant that we could never figure out how we were going to surmount and our attempts to do it at the local level with local sheriffs departments and providing the naloxone from the jails, felt like an easier mountain that we honestly have never been able to accomplish," she said.
Now that the partnership has opened an opportunity to offer naloxone to individuals leaving the DOC, Phillips said she hopes the move will continue to turn the tide that criminalizes drug use as opposed to treating it like a disease.
In addition to the free kits, Overdose Lifeline created an educational training video about the program that inmates will be able to watch on tablets available to them.
"There is a lot of distrust and concern," she explained. "We created this piece of information for the clients to receive and hopefully that will alleviate the concerns they may have and they would be willing to take the kit."
Fighting two monsters
Like Daniel, Phillips also said she's seen a definite increase in overdoses and fears gains made in recent years will be lost in 2020 due to the impact of COVID-19. She said that loss can be attributed to unfortunate setbacks in recovery during the pandemic.
"The drug supply is really dangerous and social isolation contributes … to all the mental health concerns that exist, which includes substance use disorder," Phillips said.
Daniels said she hopes the program also will be an effective strategy to prevent released individuals from returning to the IDOC. While she thinks it's too early to tell how things will play out, her goal is to have overdoses reversed, treatment pursued, and lives lived successfully and happily.
"Of course," she said, "I would love for the recidivism numbers to go down."•
Please enable JavaScript to view this content.