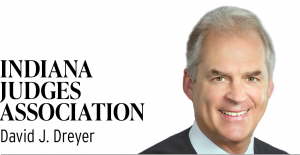 Some years ago, I was driving in the Northern California wilderness after a camping trip. As I came around a tight curve on a river gorge, I was confronted by an enormous bear smack in the middle of the road. My immediate thought was what to do after I hit it — should I stay in the car or run?
As COVID-19 numbers descend, we are left with a plethora of mixed feelings. Many are overwhelmed with joy and giddiness. Some are still numb and can't feel anything — yet. And others are trying to make sense of the past two years and the lasting realities that lay ahead.
Our courts and judges fit into the latter category. On March 13, 2020, the Marion County Courts were informed out of the blue that we would be closed for the next three weeks. While some judges were certainly aware of the growing concern for the pandemic, this was unprecedented. To me, it felt almost like some kind of wartime scenario, and as time went on that feeling was confirmed. And like all national emergencies, it became a day-to-day adjustment; nothing was permanent and the future was unknown.
For most peoples' jobs, the pandemic meant stopping or changing or waiting. But for the trial courts, it could be none of that. Service to the public was paramount and had to be addressed immediately and creatively. Criminal cases have constitutional time requirements that do not stop for a pandemic. Civil matters involve urgent attention for families, companies and renters, not to mention having one's day in court after waiting for so long. Even before the pandemic, national legal organizations like the National Center for State Courts, the Conference of Chief Justices and others had been leading the way for technological advancement. The Indiana Supreme Court was also ahead of its time by developing and implementing the online paperless Odyssey Case Management System for Indiana courts. But nothing could have prepared us for what was laying ahead right in front of us, smack in the middle of the road like an enormous bear.
Despite having no planning, history or experience with alternative court proceedings, everybody just did it. Although we were closed for three weeks, it became more and more and more, etc. I triaged my cases to prioritize the most urgent.
My first remote hearing was during that first week. A pro se litigant sat in his car in his employer's parking lot on his phone. That experience became mainstream very fast. According to a study by The Pew Charitable Trusts, Michigan conducted 35,000 video hearings totaling 200,000 hours in those first two months. The Texas court system had never conducted a remote proceeding yet held 1.1 million of them that first year. Within the first month, all 50 states adopted rules to close courthouse doors and put the courts online. Appearing in person became a screen. Filing papers became a click of the mouse. All of a sudden, there was a different method for the legal system. The technology had been there all along, but it took the ingenuity of judges and court administrators to create it against the pandemic.
Courts have shown great determination to withstand the terrific challenges of COVID-19. But what nobody foresaw were the positive aspects of all the efforts. Calendars actually became more efficient because court staffs and lawyers had to work it online instead of in person. Unrepresented litigants were forced to resort to online resources, which resulted in much more access and information. The Institute for Advancement of the American Legal System reports that appearance rates for hearings rose dramatically all over the country as the pandemic progressed. Across the country, about 70% of respondents in debt collection suits failed to show before the pandemic. In Michigan, that number has flipped, according to Chief Justice Bridget Mary McCormack in 2021. In Phoenix, the failure-to-appear rate for eviction cases decreased from 40% in 2019 to 13% in February 2021. The courts' work to solve the pandemic is actually solving longstanding problems for the most-needy public.
When I ran up against that bear on that road years ago, I just put myself in the hands of random luck. My car was able to stop in time and the bear meandered off. When the pandemic bear appeared on our roads two years ago, we took responsibility. The courts and judges all refused to just leave it to random luck. We acted forcefully and decisively. As a result, the legal system will be forever improved. And Zoom, for better or for worse, will forever be a part.•
Senior Judge David J. Dreyer presided as a judge of the Marion Superior Court from 1997-2020. He is a graduate of the University of Notre Dame and Notre Dame Law School and a former board member of the Indiana Judges Association. Opinions expressed are those of the author.
Please enable JavaScript to view this content.