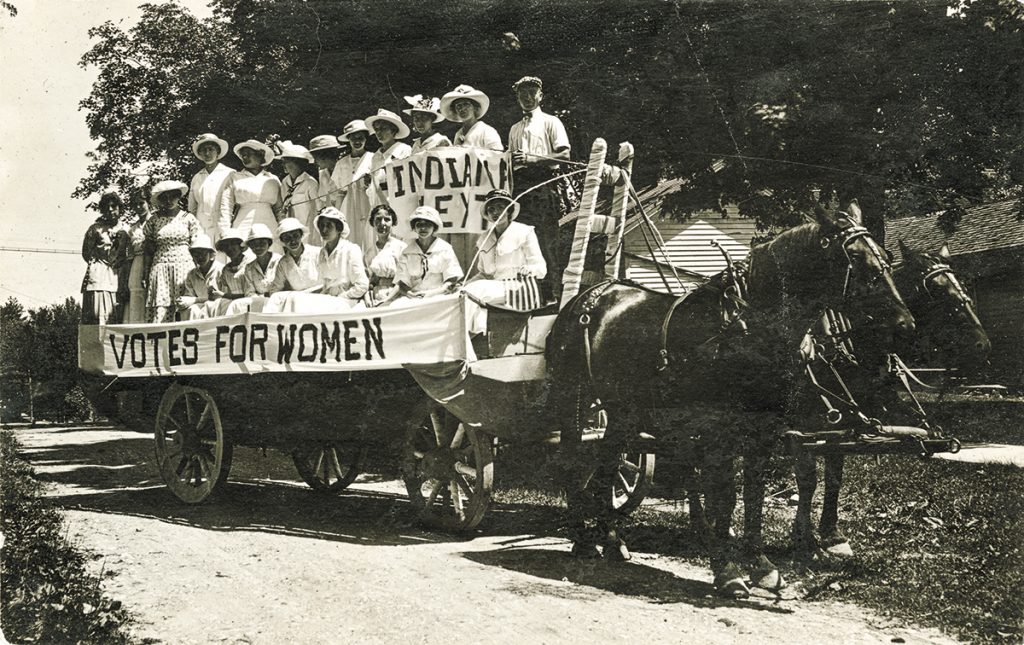 According to an Indiana newspaper story, one Hoosier woman arrived at her local precinct on Election Day in November 1920 and asked, "Where do I vote about the League?"
The general election nearly 100 years ago came less than three months after the 19th Amendment to the Constitution had been ratified, finally giving women the right to cast a ballot. Women in Indiana arrived at the polls early, many voting before noon, often with the children and babies in tow. Some drove in carpools, ferrying other women to and from the polls, while others bundled in heavy winter coats, according to newspaper photos, and waited in line for their turn to enter the voting booths. However, the women were not merely taking their newly won right for a little spin.
Rather, like the woman who wanted to have a say in the establishment of the League of Nations, they were voting to have their voices heard on the issues that mattered to them.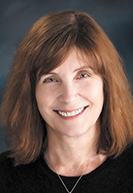 Anita Morgan, senior lecturer in history at IUPUI, has recounted the battle for the right to vote and the events of Election Day 1920 in her new book, "We Must Be Fearless: The Woman Suffrage Movement in Indiana."
Voting, Morgan said, enabled women to be recognized as actual citizens. Moreover, they saw access to the ballot box as giving them the ability to implement new laws about such things as child and women labor.
"If they could vote, then they believed it would be easier to make changes," Morgan said.
The suffragists were not monolithic. They came from different backgrounds, held different opinions and aligned with different political parties so that when they finally got the right to vote, they sometimes found themselves on opposite sides of issues.
Not much has changed in the intervening century. As Indiana prepares to celebrate the centennial of the 19th Amendment, women are still going to the polls, often in higher numbers than men, and still have diverse political views. In addition, they are galvanized to vote by issues that range from the environment to immigration, health care and pay equity.
Yet in 100 years of voting, how much impact have Hoosier women had?
Protecting access
Indiana has never elected a woman as a governor or U.S. Senator. Of the state's nine congressional seats, only two are held by women, both of whom are white.
The Indiana General Assembly is ranked 34th among state legislatures by the Center for American Women and Politics at Rutgers University, with women comprising just 25.3% of the House and Senate. Only two women have served on the Indiana Supreme Court, and the state did not have a female chief justice until 2014, when Loretta Rush was appointed to the position.
Across the state, women are struggling economically compared to men. Women's median earnings for full-time, year-round work dropped to $35,100 in 2016 from $37,489 in 2004, according to the Institute for Women's Policy Research. Likewise, the percentage of women living above the poverty line declined to 84.3% in 2016 from 90.7% in 2004.
Frustration with the 2016 presidential election led to the creation of Women 4 Change Indiana. According to its website, the organization was founded by two women who wanted to "restore civil discourse" after what they saw as the "breakdown in civility" during the national campaign.
The group, which boasts more than 4,500 members, has hosted educational seminars, collaborated with other organizations to offer leadership training, helped bring more attention to the prevalence of sexual violence and advocated in the Legislature for issues such as a hate crimes statute, an end to gerrymandering and domestic gun violence prevention. Part of its work also is getting people to register and vote.
"It's the only thing we have to make real systemic change," Women 4 Change board member Deborah Hearn Smith said of voting.
Hearn Smith sees women becoming more engaged in politics because they are not treated equally in their workplaces or their communities. The voting booth is the only place to achieve parity, she said. While the 2020 presidential election will draw the most attention, the down-ballot candidates are also important because the barriers women are encountering have been primarily erected by state and local officials.
Hearn Smith has diligently voted in elections, partly as a sign of respect to her ancestors who gave up so much so she could have access to the polls. She noted that in the "current climate in this country," efforts are being made to hinder Americans' ability to vote. The focus is on barriers that limit minorities' access, she said, but she pointed out that women also can be blocked. For example, laws that mandate polling places be open only from 6 a.m. to 6 p.m. can mean women who work and have children to care for may not have enough time on Election Day to cast a ballot.
Women, she said, have to stay engaged in the entire political process, but they also must be careful that the polling precinct does not become a place where only certain people are welcomed.
Beyond the ballot box
In every presidential election since 1980, more women have voted than men. Data from the Center for American Women and Politics shows the gender gap was very narrow in 1980, with 61.9% of eligible women voters casting a ballot compared to 61.5% of eligible men. But by the 2016 contest, the gap had widened to 63.3% versus 59.3%.
Bernard Fraga, associate professor of political science at Emory University, is completing an analysis on the gender gap with Katelyn Stauffer, assistant professor of political science at the University of South Carolina. The study has found that even though women turn out in higher numbers, their votes do not have much impact.
Among the white population, women outnumber men at the polls, but in competitive races, more men are motivated to participate in the election, Fraga explained. Thus, the gender gap is narrowed, and even though women still have a higher turnout, their influence on the outcome is diluted.
In minority populations, Black women and Latinas sustain higher voter participation rates than men even in competitive political contests, Fraga continued. But in majority-minority districts, the elections tend to be less competitive so, again, the women's vote matters less in deciding who is elected.
Fraga believes women can wield more power and have more of an influence on the electoral process through primary elections. They could encourage women to run for office and support women candidates. Even if the women lose, just having run may change the tenor of the campaign and highlight issues that are important to women but not prioritized by male candidates.
The study underscores Linda Hanson's point that voting is just the first step. As co-president of the League of Women Voters of Indiana, Hanson leads the bipartisan grassroots organization's effort to rally public support around key issues and advocate in city, county and state governments.
Election practices and voter rights are a central focus of the LWV. The Indiana chapter posts information for registering to vote, locating polling places and the state's voter ID law on its website to ensure everyone can cast a ballot. But, Hanson said, the effort goes beyond the ballot box and extends to getting people to pay attention to what happens after the polls close.
Studying the issues, educating the public and taking action can be arduous and demanding work.
About five years ago, the Muncie/Delaware County League of Women Voters helped lead the effort to defeat the proposed 2,100-acre Mounds Lake reservoir in Madison and Delaware counties. Officials said damming the White River and creating the reservoir would recharge the local economy, but Hanson, then-spokeswoman for the local LWV, raised concerns about the environmental impact and other potential harms.
She made presentations to community groups and spoke before town and city councils in both counties. Sometimes the elected officials would bury their heads in their phones when she got up to speak, and at least one county council member went to get a drink of water just as she started her remarks. Hanson kept talking and, in the face of public opposition, local leaders voted against the initiative.
Redistricting has proven more elusive. The LWV of Indiana has been in the Statehouse pushing for the appointment of an independent commission to redraw the state's legislative districts. Although in the past House leadership privately expressed to Hanson support for such a commission, no redistricting reform bill has been passed.
Women are heard and they can advance their issues, Hanson said. Yet preconceived notions and societal norms continue to hinder women from having an impact equal to their turnout at the voting booth.
"I think it's difficult. Even though we say we want equal rights, we still have expectations for how women behave as opposed to men," Hanson said. "I think there is a negative impression attached to women who are articulate, smart and well-informed."•
Please enable JavaScript to view this content.