Monica Fennell, a longtime leader in pro bono efforts in Indiana, has jumped to Taft Stettinius & Hollister, where she is now in charge of building a volunteer lawyer program across the law firm's 11 offices.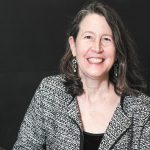 Formerly the pro bono manager at Faegre Drinker Biddle & Reath LLP, Fennell was appointed as Taft's first pro bono director effective January 2021. She will be responsible for maximizing ways for the law firm's attorneys to provide pro bono legal services that reflects Taft's commitment to improving the communities it serves.
Fennell said she is delighted to lead Taft's pro bono program.
"With the help of pro bono volunteers and pro bono and legal aid partners, we hope to address the legal needs of underserved communities and to expand and develop pro bono opportunities," Fennell said in a press release. "In an uncertain time, lawyers are rising to the challenge of helping communities suffering under the strains of the pandemic."
Fennell earned a bachelor's degree from Williams College in Massachusetts. She then briefly worked as a reporter at a legal publication on the East Coast and, she said, despite the advice from some of the attorneys on the writing staff, she decided to go to law school.
Upon completing her J.D. at Georgetown University Law Center, Fennell worked in private practice in Chicago and then in Greencastle. She had always taken pro bono cases, she said, but began to transition more fully to the work when she was asked to oversee Putnam County's alternative dispute resolution program for at-risk families.
Fennell was tapped to lead the Indiana Pro Bono Commission in 2003 and in 2012 became the pro bono manager at the firm that is now Faegre Drinker.
She was a U.S. Supreme Court Fellow in 2007-2008, assigned to the Administrative Office of the U.S. Courts. Also, she was a Rotary Peace Fellow at Chulalongkorn University in Bangkok, Thailand, during the summer of 2012, when she earned a professional certificate in peace and conflict studies.
"We are very excited that Monica is joining Taft," said Andy Carlson, chair of Taft's pro bono committee. "Her experience and leadership will be invaluable as Taft continues to formalize and prioritize its pro bono activity."
Read more about Fennell's career and move to Taft in the Jan. 6-19 edition of Indiana Lawyer.
Please enable JavaScript to view this content.