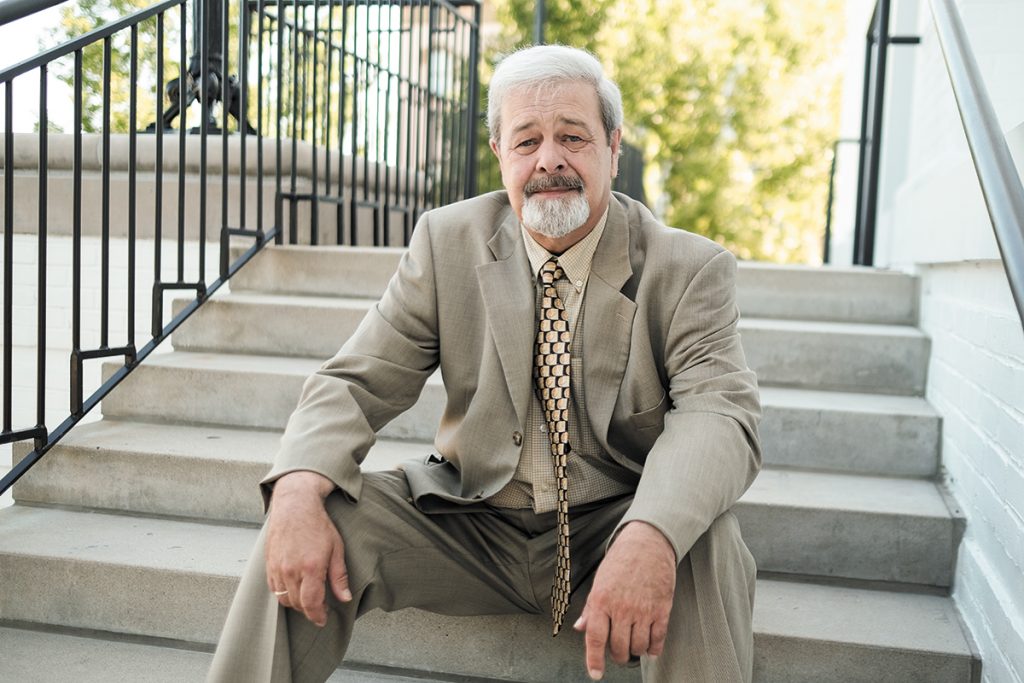 Although the line was tucked into a court order issued more than four years ago, the description borrowed from William Shakespeare's "Macbeth" still stings.
Peter Prostyakov, a native of Moscow who's now a U.S. Citizen living in Carmel, mentioned the court order often in conversation and viewed the quote from the play as the judge's veiled way of calling him an idiot. Intelligent and personable, he recounted the details of what he conceded is his convoluted journey into the federal judicial system and, as a result, illustrated how emotionally vested pro se litigants become in their cases and how frustrated they can feel when they believe the courts are acting unfairly.
Prostyakov knows not everyone will agree with his view, but he still persists. "I fully understand what that means," he said with a Russian accent, "but at the same time, there are things on which no one could disagree."
The order Prostyakov regularly recalls was part of extended litigation that started more than 20 years ago between Prostyakov and his former employer, Masco Corp. He and the Michigan-based company separated on amicable terms in 1996, but when he discovered Masco had subsequently stated the separation was actually a firing, he turned to the courts for relief.
Masco Corp. did not respond to requests for comments.
He first filed a complaint in Russian city court in 1997. Then, after obtaining a default judgment, he moved the dispute to the United States in 2003 by filing a demand for arbitration with the American Arbitration Association.
Prostyakov eventually had to turn to the federal courts to get Masco to honor the arbitration award of $1.1 million. However, since December 2008, when the U.S. District Court for the Southern District of Indiana found that Masco had satisfied the order to make payment to its former employee, Prostyakov has continued to litigate.
He argued Masco owed him more money to cover more than two years the company appealed to the 7th Circuit and did not honor the arbitration award. Prostyakov successfully fought for a second round of arbitration, but Masco countered by filing a new case, seeking injunctive relief, in 2009 in the Southern Indiana District Court. The arbitration ended with Prostyakov getting all his claims rejected and being ordered to pay his former employer $6,450.
Since then, Prostyakov has filed multiple motions and appealed the rulings against him at least three times to the 7th Circuit. He has also filed at least one petition for writ of certiorari to the U.S. Supreme Court and has been sanctioned $30,500 for "frivolous" filings.
Most of the litigating he has done by himself. Attorney Stephen Plopper of Plopper & Partners LLP in Carmel withdrew from the case in March 2011. Plopper declined to comment, citing confidentiality constraints.
Then on Sept. 30, 2016, Southern Indiana District Judge Richard Young quoted the Bard. The judge denied Prostyakov's attempt to reopen the case and set aside prior judgments, concluding the motion was "full of sound and fury, signifying nothing."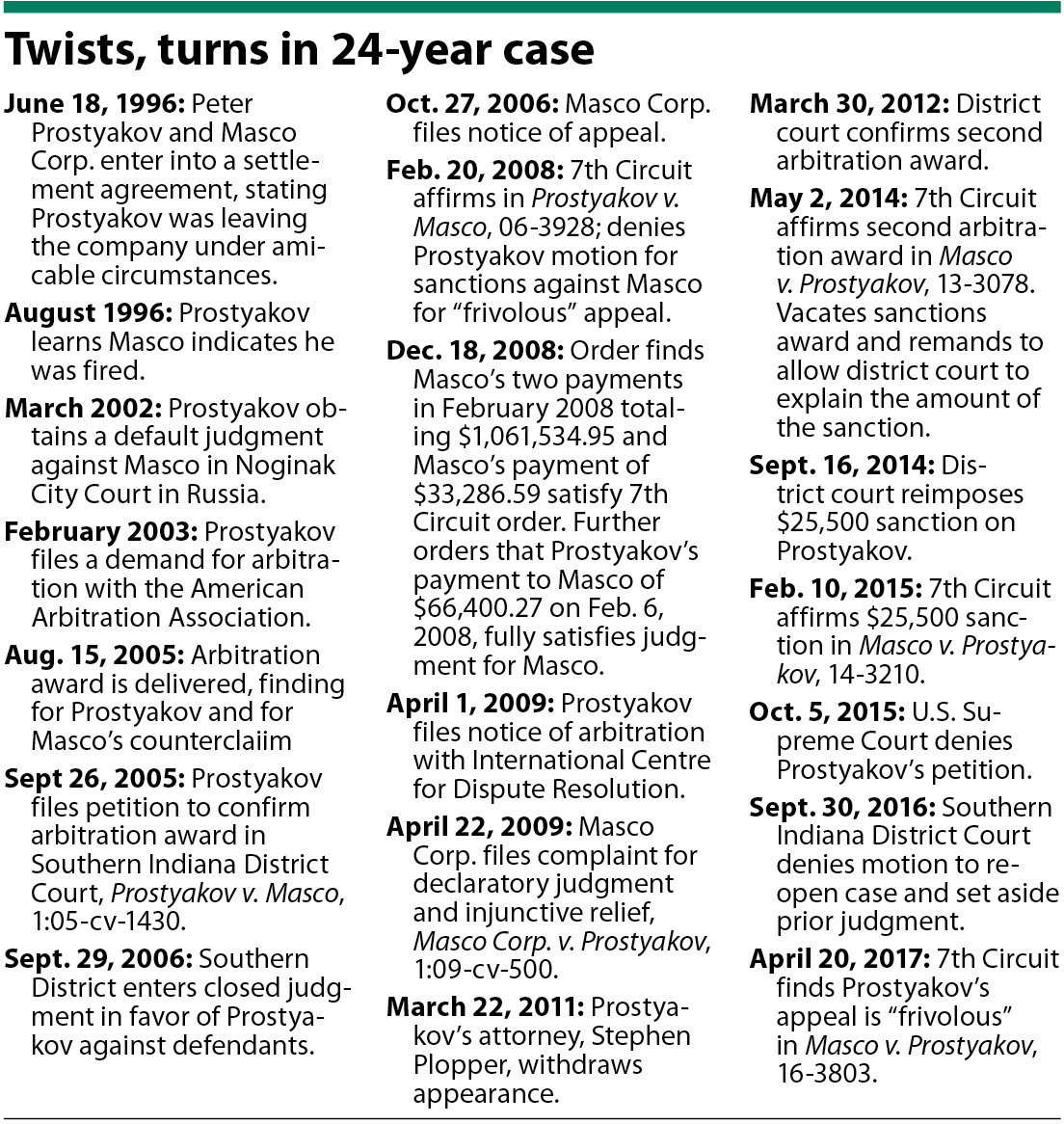 Prostyakov pointed to what precedes that Shakespeare line — "… it is a tale told by an idiot …" — and he sees the court making an inference about him personally.
As his litigation has bounced between the Southern Indiana District Court and the 7th Circuit, Prostyakov has come to suspect corruption and coercion in the appellate court. He has filed a handful of judicial misconduct complaints against 7th Circuit Judge Diane Wood, who previously served as chief judge, and 7th Circuit Judge Michael Kanne. Among other things, he alleges panels of judges who heard appeals were improperly chosen. Jurists do not typically comment about complaints filed against them.
Retired 7th Circuit Judge John Tinder of Indiana said Wood was an "excellent chief judge" and he had "no concerns whatsoever about how she handled her duties as chief judge."
Still, he was sympathetic to Prostyakov. The rules and procedures of the court can be difficult to understand for nonlawyers and the process for moving a case through the courts can be frustratingly slow for unrepresented parties, he said.
"Pro se litigants pose a variety of challenges," Tinder said. "Often they are not lawyers, not experienced in litigation, and they are intensely, personally involved in their case."
Prostyakov most recently filed another complaint of judicial misconduct against Wood and Kanne on Oct. 5. He rehashes elements from his previous complaints, including his contention the panel which denied his most recent appeal and imposed a $5,000 fine did not constitute a quorum. Only two judges — Kanne and now-retired Judge Richard Posner — issued the ruling, because the third judge assigned to the panel, Tinder, had already retired.
Prostyakov begins his newest complaint by pointing to the district court's order that quoted "Macbeth." His fight with Masco and with the federal courts, he contends, is all for one reason.
"I want them to obey the law," he said.•
Please enable JavaScript to view this content.