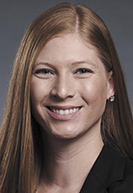 By Lynsey David, Lewis Wagner LLP
Creating a diverse and inclusive workplace is one of the most critical and challenging issues facing the legal field today, and Indianapolis is no different. Many of our legal organizations, whether in the public or private sector, have acknowledged the benefits of having a diverse team by developing diversity commitments and taken steps to building a diverse team that more closely reflects the makeup of the clients they serve. That said, whether you are a law firm, an in-house legal team for a business, or a judge, building the right foundations for diversity within your team is important.
To help lay those foundations right here in Indianapolis, the Indianapolis Bar Association aims to connect a potential pool of candidates from diverse backgrounds with the Indianapolis legal community through its annual Diversity Job Fair. This initiative is to give all students an opportunity to meet potential employers who are looking to build connections with a pipeline of new and diverse talent and learn more about the legal profession and the Indianapolis legal market. There are talented law students, many with Indiana connections currently attending law school, who experience limited opportunity to connect with employers through traditional on-campus interview options, and thus many of these candidates are not those an employer would see in their general OCI activities. In addition to building connections with legal employers, the Diversity Job Fair helps students discover the advantages that a professional experience in Indianapolis can offer. Students are encouraged to participate in a pre-fair workshop, unique to our Fair, which includes interview skills training and networking opportunities.
Make the commitment today and find the talent that you've been looking for to join your team for the summer of 2021.Registration for interviewing employers is currently open. You'll meet talented, hardworking and enthusiastic students from varied backgrounds at the Diversity Job Fair. The 2020 IndyBar Diversity Job Fair will be Aug. 10-11, 2020 at the Hilton Indianapolis in downtown Indianapolis. To register as an interviewing employer and/or sponsor for the event, please visit indybar.org/diversityjobfair or contact Deneen Fitzgerald at [email protected].•
Please enable JavaScript to view this content.