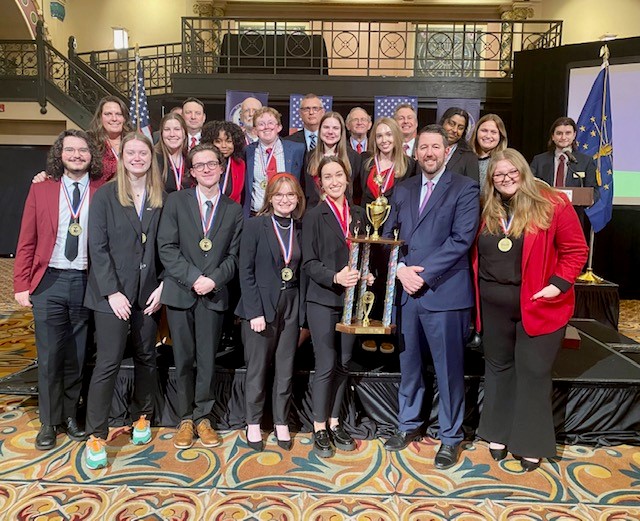 As they did in 2021, the students from Fishers swept the 2022 We the People state championships, with Fishers High School and Fishers Junior High School taking home top honors in the civics competition.
More than 400 high school students and more than 300 middle school students from 14 schools across the state participated in the annual event held at Union Station and the Crowne Plaza in downtown Indianapolis.
As part of the We the People program, students learn about the Constitution and principles of democracy. At the competition, the students are asked to apply their knowledge to modern-day issues.
The Indiana Bar Foundation oversees the We the People program in the Hoosier State. It provides the classroom materials, offers training to the teachers and administers the state championships.
Rounding out the high school state championship, Hamilton Southeastern, with teacher Janet Chandler, finished second and Plainfield High School (Team Hamilton), led by teacher Adam Ferguson, placed third. In the middle school division, Fall Creek Junior High School finished second while Sidener Academy took home third place.
The Fishers High School team will now go on to compete in the 2023 We the People national finals scheduled for April in Washington, D.C. At the 2022 finals, the Fishers team made Hoosier history by finishing second — the highest any Indiana team had placed in the national competition.
"We have built a culture where the students lead themselves down their own path," said Fishers High School We the People teacher Liz Paternoster. "It's student-led inquiry combined with great support from the unit advisors, school leadership, parents and the community."
The Indiana Supreme Court participated in the celebration of the teams. Justice Geoffrey Slaughter gave the keynote address for the middle school awards ceremony and Justice Derek Molter delivered the keynote speech at the high school awards ceremony.
During a break in the state competition, the students were able to witness a naturalization ceremony held in the Grand Hall of Union Station. Eighty individuals became U.S. citizens during the ceremony administered by Indiana Southern District Court Judge James Sweeney, who is an Indiana Bar Foundation board member.
Please enable JavaScript to view this content.