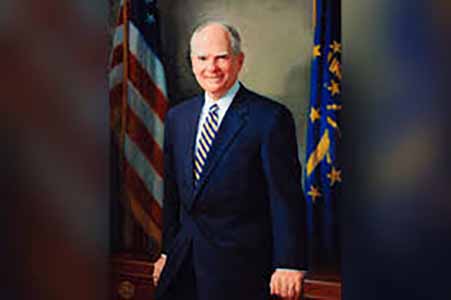 Former Indiana Gov. Joseph Kernan, a gregarious Democrat who spent 11 months as a prisoner of war in Vietnam and served as mayor of South Bend, died Wednesday morning after a battle with Alzheimer's disease. He was 74.
Kernan was elected lieutenant governor in 1996 running on a ticket with Democrat Frank O'Bannon. They were reelected in 2000, but O'Bannon died suddenly after a stroke in 2003, and Kernan ascended to the Governor's Office.
He appointed Kathy Davis to be his lieutenant governor, making her the first woman to serve in the office in Indiana history. Almost immediately, Kernan announced that he would seek a full term as governor in 2004, but he was defeated by Republican Mitch Daniels.
"Indiana mourns the loss of Joe Kernan, a bone fide American hero, decorated Navy officer, and truly selfless statesman who always placed the interests of his fellow Hoosiers first," Gov. Eric Holcomb said in a statement Wednesday morning.
"Distinguished isn't a strong enough word to describe him," Holcomb said. "Without regard for personal cost, Joe Kernan devoted every ounce of his life, time and again, to upholding the oath he took, and serving the country and state he loved."
After leaving office, Kernan return to South Bend, where he had been a three-term mayor (he won his last election there with 82% of the vote), and — after persuading 50 other members of the community to join him — purchased the minor league South Bend Silver Hawks baseball team, saving the team from leaving the city.
The group sold the team a few years later to an owner who promised to keep the team in South Bend.
Kernan continued to work as an adjunct professor at the University of Notre Dame and through his own consulting firm until Alzheimer's disease robbed him of his ability to speak and to work. Kernan was diagnosed with Alzheimer's disease several years ago, but his family kept his condition private until disclosing earlier this month his advanced condition and that was living in a care facility.
Kernan was a Navy pilot in the Vietnam War when he and his co-pilot were shot down while on a reconnaissance mission over North Vietnam in 1972. He spent 11 months as a prisoner of war in Hanoi, including at the infamous "Hanoi Hilton" prison.
He graduated from the University of Notre Dame, where he played baseball, and in 1980 became the city controller under then-South Bend Mayor Roger Parent. Seven years later, he ran for mayor for the first time.
Associated Press contributed to this report.
Please enable JavaScript to view this content.