It's a hard club to get into, but a first-year student at Indiana University Robert H. McKinney School of Law is on her way to gaining admission.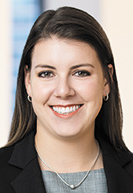 Laine Gonzalez has the distinction of being IU McKinney's first IP Law Scholar, a program in partnership with Brinks Gilson & Lione designed to train the next generation of intellectual property lawyers. Formerly a mechanical engineer, Gonzalez now spends her days working as a scientific adviser for Brinks while pursuing her juris doctorate in the evenings.
"In order to practice before the U.S. Patent and Trademark Office as an attorney or patent agent, you have to have a minimal level of coursework, which is essentially technical training," said Sanders Hillis, managing shareholder of the Brinks Indianapolis office. "There's a floor – you can't even get into the 'club' if you don't have the right undergraduate technical background."
Building on her technical background, Gonzalez can see a future career in patent law, though she's open to other areas of the IP world. The IP Law Scholar Program, she said, provides her an opportunity to use her technical training in a career she didn't expect.
Changing course
An Indiana native, Gonzalez had always planned on becoming an engineer.
She moved to Michigan after graduating from Purdue University in 2015 to take a job in the automotive industry. She worked for a few years and enjoyed the position, but she wasn't sure she saw herself doing that kind of work long-term.
That's when she recalled a lecture from her undergrad days, when people with engineering degrees spoke to her class about their various career paths. One of those engineers had gone into IP law, so Gonzalez arranged to speak with a patent attorney within her company.
Gonzalez liked what she heard from the in-house lawyer about practicing IP law, so she decided to take the LSAT and apply to law school. Her goal was to return to her family in Indiana, and IU McKinney was a good fit because the program would allow her to work full-time while still pursuing her degree.
After she was admitted to the Indianapolis school, an opportunity arose. Julie Smith, the school's assistant dean of enrollment management, read in Gonzalez's application about her desire to become an IP attorney and told her about the IP Law Scholar Program.
Smith put Gonzalez in contact with Hillis – an IU McKinney alumnus who helped create the program – and the rest fell into place from there.
"There's consideration of resume, background, and of course the fit and need within the firm," Hillis said. "We're looking at expertise and technical background, and Laine met that criteria."
Getting in the 'club'
As a scientific adviser, Gonzalez works on prosecuting patent applications. Though she can't render legal opinions, the firm calls on her technical experience for drafting, responding to USPTO actions and reading patent applications.In particular, Gonzalez can pull knowledge from her previous career to gain an understanding of the complexity of patent applications.
"There's a lot of technical language," Gonzalez said. "If I didn't have my mechanical engineering background, it would make the job a lot more difficult."
IP law practices are populated with lawyers who have technical expertise like Gonzalez's, Hillis said. That's why he likens the field to a club – without that expertise, the Patent Office won't let you do the work.
"It's quite challenging to find people who have the credentials and the background and the personality and the perseverance to do this type of work," he said. "We're very fortunate to have found Laine."
There are specific requirements for prosecuting patent applications before the USPTO, Hillis added. Would-be patent agents have to earn an additional certification, which Gonzalez recently obtained.
"That allows her to interact with the U.S. Patent and Trademark Office on behalf of firm clients to work with examiners at the Patent Office to move patents through the application process to become U.S. patents," he said.
Gaining experience
Working for Brinks has confirmed for Gonzalez that she wants to work in the patent field, though she hasn't had the opportunity to explore other areas of intellectual property law. But that's why she's confident law school was the right choice – the legal profession will give her the chance to try out various parts of IP law to determine which is the best fit.
Many of those chances will come when Gonzalez is admitted as an attorney, Hillis added. Right now she's using her engineering expertise to hone her skills in docket management and interacting with examiners. But once she becomes a lawyer, she'll be able to take it a step further by engaging in legal advice to clients and courtroom litigation.
"That's the cool thing – she's gaining a lot of great experience," he said.
Gonzalez jokes that she's not much fun on nights or weekends – her spare time has to be devoted to her school work. But she doesn't mind the workload, because she sees the IP Law Scholar Program as giving her a leg up once she graduates. Her plan is to continue working with Brinks throughout her law school career, then stay with the firm after passing the bar.
"When you graduate, you're kind of up and running with a lot of experience you wouldn't have had entering the IP law field as an attorney if you hadn't been working during your law school career," she said. "I think the benefits far outweigh any time sacrifices I have to make."•
Please enable JavaScript to view this content.