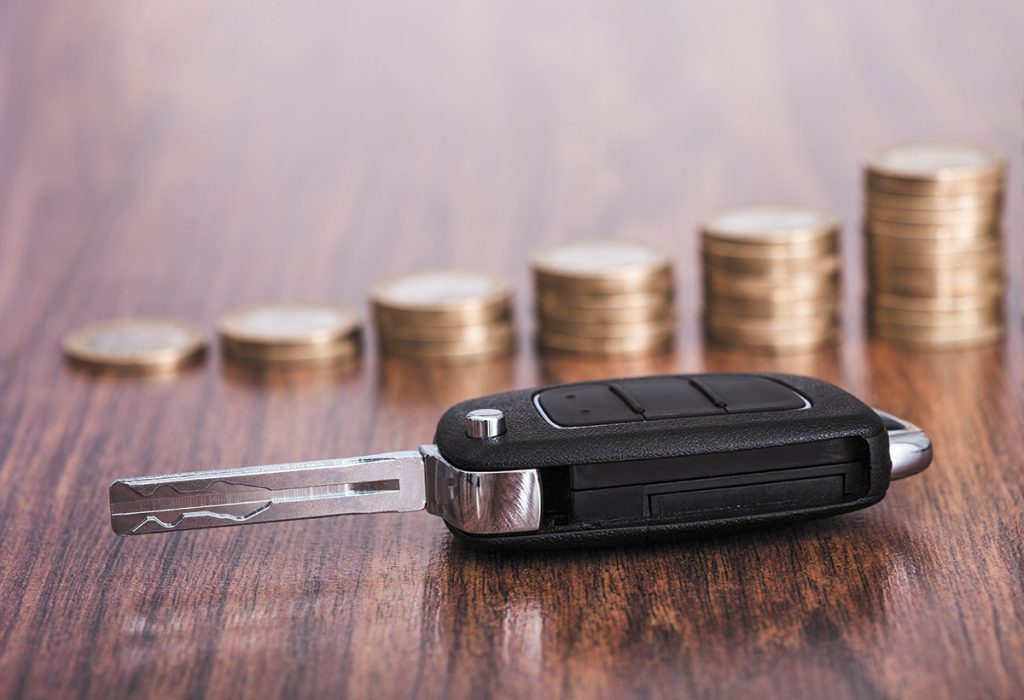 If a parent falls behind on child support payments, it only makes sense for a court to impose consequences. But sometimes, family law attorneys say, those consequences can be counterproductive.
Specifically, the revocation of a parent's driver's license might not necessarily lead to instant repayment, attorneys say. Instead, if the parent loses their ability to get to work, payments could fall further behind.
Child support delinquency consequences are meant to make parents understand the severity of their nonpayment, family law practitioners say, but it's never in a child's best interests for a parent to lose the ability to pay. To that end, the Marion County Prosecutor's Office launched a temporary program last month designed to help delinquent parents get their licenses back while also ensuring they meet their child support obligations.
Through the Good Faith Initiative, Marion County Prosecutor Ryan Mears said his office has already been able to reinstate licenses for 76 delinquent parents, with more reinstatements in the works. Family law practitioners applaud efforts to help parents regain driver's licenses, opining that when parents can pay, children and families benefit.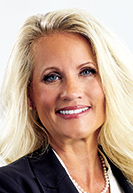 "The overarching issue is the best interests of the children," Julie Andrews, an Indianapolis family law practitioner, said. "It's best for kids to be properly supported."
Making the effort
Launched and available only in December 2019, the Good Faith Initiative was just that — an initiative that took noncustodial parents at their word to make their delinquent child support payments.
Interested parents could either email the prosecutor's office or call the Good Faith Hotline to set up a payment agreement. Through a series of questions, Mears said a parent and the prosecutor's office would work together to arrive at an amount the parent could commit to pay. The delinquent parent would also update their employment information if necessary.
Once the payment was made, the prosecutor's office would petition the Indiana Bureau of Motor Vehicles for license reinstatement. But if the parent falls three months behind on payments, state law requires an automatic license suspension.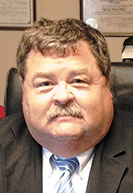 "We're trying to make it as easy as possible," Mears told the Indiana Lawyer. "We don't touch the outstanding amount balance, we don't modify the child support obligation. You tell us what you can pay and make a good faith effort, and we'll let the BMV know you're doing that."
While it's not uncommon for driver's licenses to be revoked for child support delinquency, family law practitioners say that action tends to fall at the end of the consequence list.
Richard Mann of Mann Law, P.C., said prosecutors are likelier to seek license revocation than private attorneys, who may not be aware they can petition for revocation. Similarly, Merrillville family law attorney Debra Dubovich said IV-D prosecutors tend to turn to license revocation more quickly than judges.
Building consequences
Child support nonpayment can result in a contempt action, which can carry consequences as severe as incarceration, Andrews, of Cohen & Malad, said. But jailing delinquent parents is not common, she said, with Dubovich adding that most child-support-related jail sentences are immediately suspended.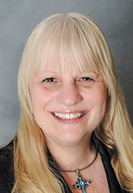 "The person knows, 'If I'm missing child support, I will go to jail, so I better not miss it,'" Dubovich said, adding that the jail sentences are meant to be more of an alarm to delinquent parents.
And then there's the criminal side of nonpayment that can lead to prosecution. IV-D prosecutors have multiple tools available to collect on child support, Dubovich said, such as intercepting tax returns or freezing bank accounts.
Outside of license revocation or incarceration, a court might enter a judgment for attorney fees or community service, Dubovich said, though she added that the latter consequence is rarely used. Arrearages will also be reduced to judgment.
Nonpayment can jeopardize a number of licenses, Mann noted, including those for practicing law, horse racing, fishing and even dealing in ginseng. But, he added, driver's licenses are by far the most commonly revoked.
"You're trying to get the payor's attention," Andrews said. "It's sad that it gets to this point of these poor kids not being supported."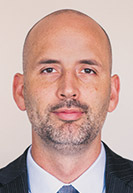 Avoiding the spiral
In speaking with Marion County residents, Mears said his office learned there are two big issues holding them back: criminal convictions and license suspensions.
"In Marion County, if you're going anywhere, you need your car," the prosecutor said. "If you're picking you kid up from school, buying groceries, taking your kid to the doctor — more often than not, you need a driver's license to make that happen."
Likewise, as an Indianapolis practitioner, Mann noted the limited public transportation in Marion County. Buses might not run on the schedule a person needs, he said, or there might not be a bus stop nearby.
In her experience sitting as a judge pro tempore in enforcement court, Andrews said she has heard delinquent parents say they can't find a job or go to employment interviews without their licenses. Sometimes parents will come into child support court having already lost their license in an unrelated offense, she added.
From his perspective, Mears said it was counterintuitive to ask parents to make their payments, yet not give them the tools to do so. Though his office created a formal license-reinstatement program, the practitioners said good-faith agreements are often made in court even without an official prosecutorial program.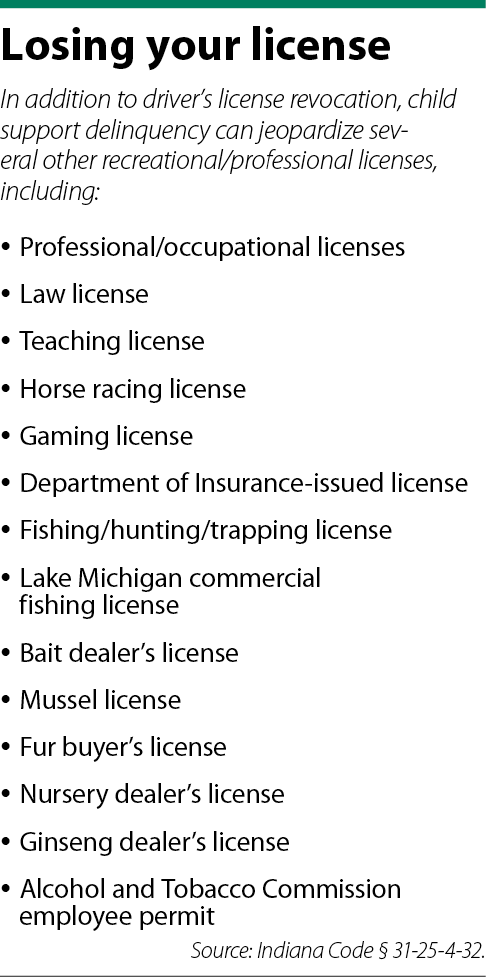 Without those agreements, nonpayment problems can snowball, the lawyers say. In addition to missing work, Andrews said parents won't be able to visit their children. Or, Dubovich said, a delinquent parent might choose not to see their child for fear of being arrested if they show up at the other parent's house.
"It becomes a downward spiral," Dubovich said.
Maintaining relationships
In addition to the 76 licenses that had been reinstated as of Jan. 2, Mears said another 140 individuals were in the process of making payments and would then be eligible to get their licenses back. His office chose to launch the Good Faith Initiative in December, he said, because that is the month with the lowest collections for child support.
Dubovich cautioned parents against trying to make child support agreements without court intervention. People inevitably fall on hard times, she said — incarceration, illness, job loss, etc. — but those changes in circumstances must be brought to a judge's attention via a modification petition.
"The custodial parent and noncustodial parent cannot just make a deal between themselves. Even if it's notarized, unless it's signed by a judge, it's unenforceable as a matter of public policy," the Lake County lawyer said. "If I'm a noncustodial parent and I call my ex-wife and say, 'I've been laid off and can't pay $200 a week, but I'll pay $30 a week,' and she says 'fine,' I still owe that back money. People can get themselves in a trick bag."
Andrews' concern is that children won't flourish if they're not properly supported or not in regular contact with both of their parents. She sees programs like the Good Faith Initiative as a means of maintaining those important family relationships.
The Marion County Prosecutor's Office is reviewing the initial results of the Good Faith Initiative, with Mears saying he is "very encouraged." To that end, he expects his office to once again offer the initiative within the next couple of months.•
Please enable JavaScript to view this content.