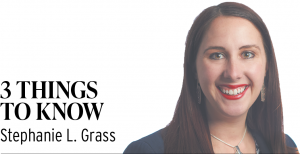 Nonlawyer assistants, paralegals and other support staff keep law firms running smoothly and provide invaluable services to attorneys. Sometimes, it may feel like your support staff is more up to speed than you are on a case. But be careful in becoming too complacent with relying upon nonlawyers in your office. The Indiana Rules of Professional Conduct instructs us, "[A] lawyer having direct supervisory authority over the nonlawyer shall make reasonable efforts to ensure that the person's conduct is compatible with the professional obligations of the lawyer." Ind. Prof. Cond. R. 5.3(b). Here are three things to know about the requirement to directly supervise nonlawyers.
1. Without direct supervision by a lawyer, a nonlawyer risks engaging in the unauthorized practice of law.
Nonlawyer assistants are only allowed to perform services under the direct supervision of a lawyer licensed to practice law in Indiana and subject to the requirements of Rule 5.3. In 2019, the Indiana Supreme Court issued an order amending Guideline 9.1 to the Indiana Rules of Professional Conduct, which states: "A non-lawyer assistant shall perform services only under the direct supervision of a lawyer authorized to practice in the State of Indiana. Independent non-lawyer assistants are prohibited from establishing a direct relationship with a client to provide legal services," (emphasis added). This amendment also removed the requirement that independent nonlawyer assistants be employed by a lawyer or law firm, thus permitting independent contractor relationships between a nonlawyer and an Indiana attorney, but only if the licensed attorney provides direct supervision.
In a recent case prosecuted by the Indiana Attorney General's Office, Mr. Smith — who is not a licensed attorney — was found to have engaged in the unauthorized practice of law by "offering and providing legal assistance without attorney supervision to Indiana residents through a company Smith owns and operates called 'Self Help Legal Aid Company, LLC,'" State ex rel. Rokita v. Smith, 185 N.E.3d 862 (Ind. 2022). Smith's impermissible conduct included drafting a petition for post-conviction relief and sentence modification motion for an incarcerated individual, as well as indicating he would appear as a "legal assistant" at any hearing on the sentence modification motion. Smith attempted to argue his conduct was permissible under Rule 5.3 and Guideline 9 for the Use of Non-Lawyer Assistant by helping pro se litigants act as their own attorney. The Supreme Court disagreed and found, "Self-representation enables an individual to speak on his or her own legal behalf, but it does not make an individual a lawyer, and certainly not a lawyer authorized to directly supervise Smith's conduct." Id. at 863. The Supreme Court permanently enjoined Smith from offering legal services but made clear he could be employed or independently contract with a law firm as a nonlawyer assistant, so long as he abides by the terms of the Rules of Professional Conduct and Guideline 9. If you're a paralegal considering going out on your own as an independent contractor, make sure your conduct complies with Guideline 9.1 and is under the direct supervision of a licensed attorney.
2. Some acts can never be delegated to nonlawyers.
The Use of Non-Lawyer Assistants Guidelines to the Rules of Professional Conduct provide that a lawyer may not delegate responsibility for: establishing an attorney-client relationship, establishing the amount of fee to be charged for a legal service or for a legal opinion rendered to a client.
A lawyer can be liable for failure to supervise under Rule 5.3 and Guideline 9.3 when delegating such impermissible tasks to nonlawyers. One lawyer working at an out-of-state debt resolution company "did not adequately supervise the client intake, debt settlement, or trust account administration services performed by nonlawyer personnel" at the company. In re R.M., 86 N.E.3d 387, 388 (Ind. 2017). In addition to trust account violations and impermissible fee agreements, the lawyer was found to have violated Rules 5.3(a), (b) and (c) as well as Guidelines 9.1, 9.3, 9.4, 9.8 and 9.10 and received a six-month suspension without automatic reinstatement. Id. at 389-390. Citing other cases where lawyers used an out-of-state company for referrals and generating business, the court noted, "ultimately these cases all derive from the same essential problem; namely, the respondent lending his or her imprimatur as an attorney to legal functions performed in large part by a corporation's nonlawyer personnel, without the requisite degrees of direct involvement and oversight mandated by our rules governing attorney conduct." Id. at 390.
3. A lawyer can be liable for failure to supervise a nonlawyer under Rule 5.3, even when a nonlawyer's actions are unauthorized.
What if your nonlawyer acts without your consent or even does something improper or illegal? A lawyer who delegated "broad authority" to a nonlawyer to handle most office tasks (including client communication, banking and electronic court filing) received a 60-day suspension for violations of Rules 1.15(a) and 5.3(b). In re J.L., 137 N.E.3d 254 (Ind. 2020). The Indiana Supreme Court found the nonlawyer's actions in stealing several thousand dollars from the firm's operating account, overdrafting the trust account and fraudulently creating purported court orders were "enabled in significant part by Respondent's failure to appropriately supervise her." Id. at 255.
Similarly, an overdraft inquiry by the Disciplinary Commission led to the discovery that a lawyer's bookkeeper had committed theft. In re S.R., 124 N.E.3d 595 (Ind. 2019). The bookkeeper was charged with one count of theft and seven counts of forgery, and the respondent was suspended from the practice of law for 180 days, all stayed subject to the completion of 18 months of probation.
Supervising your nonlawyer assistants also includes supervising their notarial acts. In Advisory Opinion 1-21, the Disciplinary Commission reminded us, "A lawyer who ratifies a nonlawyer assistant's conduct and is in a position of managerial authority, or who directly supervises the nonlawyer assistant, can be subject to discipline for the nonlawyer assistant's/notary's failure to properly notarize a document." (Opinion at p. 1). The Disciplinary Commission cautioned that, "A supervising lawyer could violate the rules by having knowledge and failing to take remedial action when a nonlawyer assistant/notary habitually has notarized affidavits prior to the principal's signature." (Opinion at p. 2).
Conclusion
Nonlawyer assistants and paralegals are crucial members of any law firm, but remember you are the one who took the oath of attorneys and must ensure compliance with the Rules of Professional Conduct. Heed the reminder from the Indiana Supreme Court and make sure that when dealing with nonlawyer assistants, you apply the "requisite degrees of direct involvement and oversight mandated by our rules governing attorney conduct." In re R.M., 86 N.E.3d at 390.•
__________
Stephanie L. Grass is an attorney with Paganelli Law Group in Indianapolis. Opinions expressed are those of the author.
Please enable JavaScript to view this content.