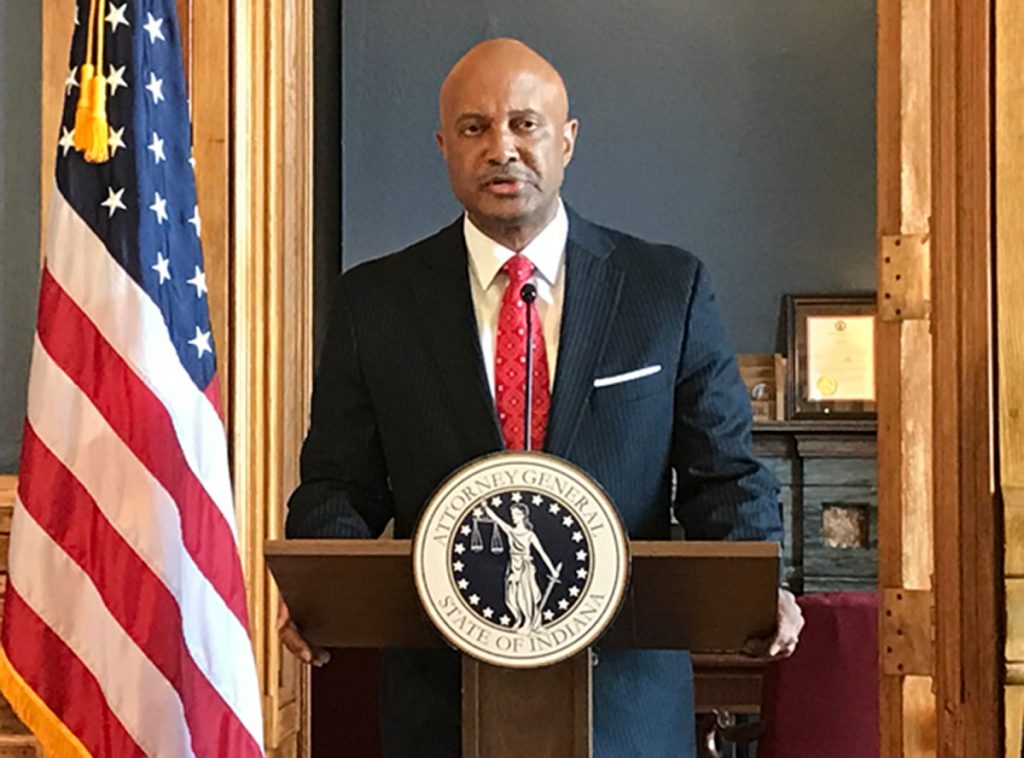 After more than two years of litigation, the attorney discipline action against Indiana AG Curtis Hill seems to be nearing its end.
Hill is serving a 30-day suspension of his law license that began May 18 after the Indiana Supreme Court found that the Republican AG violated Indiana Rules of Professional Conduct 8.4(b) an (d). Those violations relate to the widely publicized allegations that Hill drunkenly groped four women — a state lawmaker and three legislative staffers — at a March 2018 legislative party.
Hill will be reinstated to the practice of law June 17, and he's said he's using the time in the interim to "reflect on lessons learned." His chief deputy, Aaron Negangard, is overseeing the office while Hill serves his suspension, but a lawsuit filed May 21 challenges Hill's authority to make that appointment.
"I accept with humility and respect the Indiana Supreme Court's ruling of a 30-day suspension of my license with automatic reinstatement," Hill said in a statement. "… I offer my deepest gratitude to my family, friends and the entire staff of the Office of the Attorney General. My staff has worked tirelessly and without interruption and will continue to do so on behalf of all Hoosiers."
But change could be brewing for the OAG. Six candidates are vying to become the state's next attorney general, including Hill, who is pushing forward with his reelection campaign in spite of his suspension.
Delegates for Indiana's Republican and Democratic parties will select their respective AG nominees to run on the 2020 general election ballot at their conventions next month. After that, it will be up to the voters to decide who should serve as the state's top lawyer.
While there's still uncertainty about the future of Hill's office, here's what we know about what's happening now.
Drawing comparisons
A notable feature of Hill's disciplinary sanction is the fact that the suspension will be served with automatic reinstatement. Both the Indiana Supreme Court Disciplinary Commission and the hearing officer, former Justice Myra Selby, had advocated for a suspension without automatic reinstatement, with Selby attributing her recommendation largely to Hill's public response to the four women's allegations.
The justices, however, agreed with Hill's defense that he was entitled to defend himself against the allegations and the leak that made them public, though they did find that parts of his public defense went too far. Even so, "… we find Respondent's actions in the wake of the disclosure of the Taft Report do carry some aggravating weight, but not to an extent that entails the type of wholesale lack of insight or lack of remorse that ordinarily would prompt us to require a respondent attorney to undergo the reinstatement process in order to prove his fitness to resume the practice of law."
In imposing the suspension with automatic reinstatement, the high court compared Hill's case to similar cases involving instances of battery, which the court found Hill guilty of.
In Matter of May, 992 N.E.2d 684 (Ind. 2013), an attorney who battered a client in a courthouse after a hearing received a 60-day suspension with automatic reinstatement. Likewise, the respondent in Matter of Walker, 597 N.E.2d 1271 (Ind. 1992), was a part-time prosecutor who committed domestic battery against his partner, resulting in a 60-day suspension with automatic reinstatement.
The justices even drew a parallel to Matter of Adams, et al., 134 N.E.3d 50 (Ind. 2019), where the three judges involved in an early-morning shooting in May 2019 — Clark County judges Andrew Adams and Bradley Jacobs and Crawford County Judge Sabrina Bell — were suspended for 30 or 60 days with automatic reinstatement. Adams was convicted of misdemeanor battery, but Hill never faced criminal charges after his case was referred to a special prosecutor.
"At the end of the day, Respondent urges that 'similar cases should be treated similarly' and that we should treat him no better or no worse than any other attorney," the Supreme Court wrote in disciplining Hill. "In light of our consideration of the nature of Respondent's misconduct, the aggravating and mitigating circumstances, and the short suspensions with automatic reinstatement we imposed on the attorney who battered his client (May), the prosecutor who battered his romantic partner (Walker), and the judge who battered a third party (Adams), we conclude that a similar result should obtain here."
Political opposition
Hill has faced opposition from within and outside of his party since the groping allegations became public in July 2018.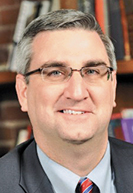 Most recently, his decision to place Negangard in charge of legal operations during the suspension was met with a challenge from Republican Gov. Eric Holcomb. The governor — who has called for Hill's resignation — sought to intervene in the discipline case to clarify whether the suspension meant Hill had "vacated" his office, requiring Holcomb to appoint a replacement. The Supreme Court rejected the governor's bid.
Additionally, Hill's GOP challengers in the race to become the party's attorney general nominee seized on Hill's suspension. Less than two hours after the suspension order came down, Decatur County Prosecutor Nate Harter released a statement calling Hill his friend but saying the incumbent had lost the public trust and had compromised his ability to serve Hoosiers.
The suspension also drew former Indiana congressman Todd Rokita into the GOP race.
The same day the suspension order was issued, Rokita told Hoosiers that Hill was "very badly wounded." The former Indiana Secretary of State then made his candidacy official May 20.
"Running against a Republican officeholder is not something I would ever want to do, in just about any circumstance," Rokita said in his campaign announcement. "But our incumbent is wounded. The unanimous Supreme Court ruling, by Republican-appointed and conservative justices, after a significant investigation of the facts, made this choice clear."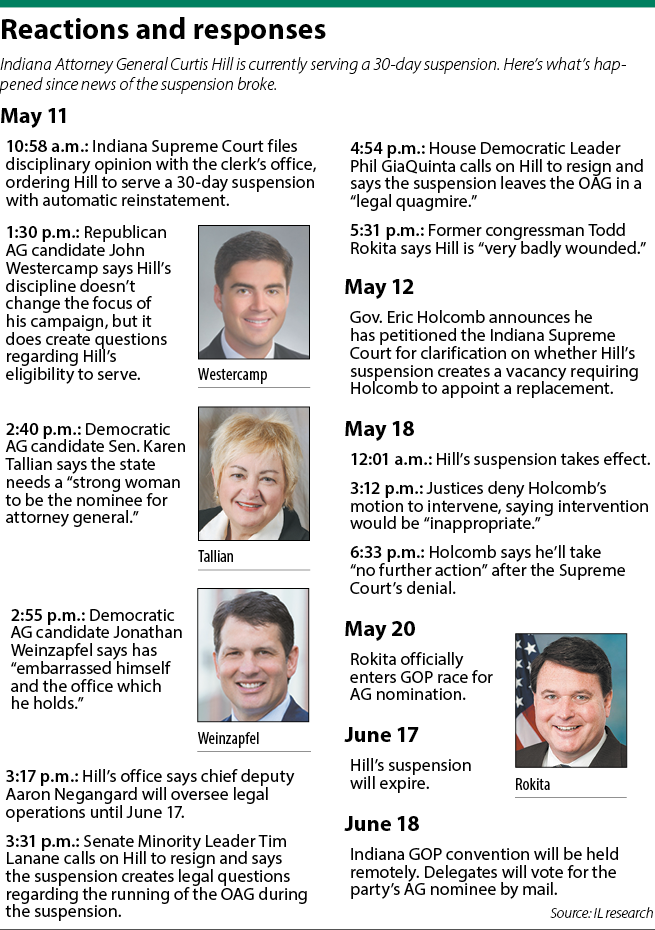 Both Harter and Rokita are calling for unity within the Hoosier GOP, warning that division might put either of the two Democratic candidates — State Sen. Karen Tallian and former Evansville Mayor Jonathan Weinzapfel — in the AG's office.
The fourth Republican candidate, Indianapolis attorney John Westercamp, has largely declined to comment on Hill's disciplinary troubles.
Hill, however, has not slowed his campaign. His social media continues to tout his endorsements, including those from State Sen. Jim Tomes and some GOP delegates.
The AG wrote a letter to the delegates shortly after his suspension was announced, promising that he would remain committed to conservative principles and to his campaign. He warned against what he calls the Republican "establishment," which he said wants to oust him.
"And don't be fooled," he wrote in the letter seeking the delegates' support. "These new candidates don't care about your voice. They only care about themselves and taking another step up the ladder."
Critical elections
The day after his law license is reinstated, Hill will make a final plea to the Hoosier Republican Party for its support. The state's Republican Convention will be held virtually June 18, when Hill and the other three candidates will each give a speech.
The delegates will then vote by mail, selecting their top candidate and, if desired, their second pick should their first be dropped. The party expects ballots to arrive by June 22, with a return deadline of July 9.
If successful within his party, Hill will advance to the general election ballot in November to face either Tallian or Weinzapfel.
The incumbent AG often touts the fact that his 2016 campaign victory made him the highest vote-getter of any elected official in Indiana history. Indeed, it was Harter who put Hill's name forward as the GOP nominee that year.
But Indiana Republican Party Chair Kyle Hupfer has publicly said that Indiana needs a new attorney general. Hill, however, shows no sign of backing down.
"It's very clear they think I'm in their way," he said in his letter to the delegates. "And that's why I need your help."•
Please enable JavaScript to view this content.