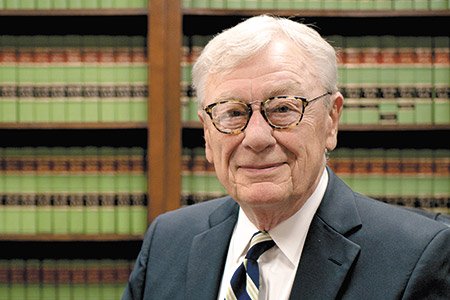 In January 1988, John Whiteleather Jr.'s law practice went up in smoke — literally.
Whiteleather was juggling a thriving civil practice in his hometown of Columbia City at the time while also serving as Whitley County prosecutor, then a part-time position he held for eight terms. His building on the courthouse square was large enough for Whiteleather to keep his private practice and the prosecutor's office under one roof.
The community did not have much serious crime, but one young man was regularly committing minor offenses, eventually earning him a sentence in the Indiana Department of Correction. Once he was released and back home, the man did not take too long to find trouble again, but this time, he devised a plan to avoid a return to prison by destroying the evidence and reports related to his case.
A short while later, the man struck a match and tossed it into Whiteleather's building. The resulting fire consumed the prosecutor's office and the private law firm.
Remembering the incident, Whiteleather, a partner at Bloom Gates Shipman & Whiteleather LLP, maintains his calm, personable demeanor and even jokes that he got the gift of a new mortgage when his new offices were rebuilt.
The story illustrates his devotion to Whitley County, never using the fire as an excuse to relocate to a larger city, and his dedication to the law, persevering no matter how long the job takes or how difficult it is.
Whiteleather became a lawyer just like his father, John Whiteleather Sr., and his grandfather, David Whiteleather, and has practiced since 1965. Along the way, he spent his days representing clients and helping just about anybody who asked, and his evenings advising local boards and government councils. He also gained a reputation around the state through his leadership on the Indiana Prosecuting Attorneys Council and his frequent service chairing the state's medical malpractice review panels.
"I've had a great career," Whiteleather said, "and I hope I have contributed back to the community for what it provided to me."
Whiteleather's colleagues on the bench and bar assure him that he did. They are recognizing his work in the private and public sectors as well as his accomplishments by naming him the Indiana Bar Foundation's 2019 Legendary Lawyer. The award is given annually to one Hoosier attorney who has practiced for 50 years or more and has demonstrated the best the profession can offer.
Among the praise for Whiteleather, Dan Sigler's offering was succinct. "He's my favorite lawyer, ever," the Fort Wayne attorney and former Adams County prosecutor said.
Admirable work
After completing his law degree at Indiana University Maurer School of Law, Whiteleather and his wife, Judy, returned to Columbia City, where he settled into practice with his father. Changes of venue were common in those days, and Whitley County was a popular choice, particularly for Allen County attorneys. Whiteleather had plenty of opportunity to observe jury trials and was often tapped as local counsel.
Senior Judge James Heuer said Whiteleather easily connected with juries. He was well-spoken, well-versed in the art of cross-examination and always knew the most effective way to approach each witness. Jurors paid attention to what Whiteleather was saying.
Heuer did, too. He joined Whiteleather in private practice in 1981 and served as chief deputy prosecutor until he became Whitley Circuit Judge in 1992. Heuer checked off what he learned from his friend and former law partner: put the time into the case that is required to be completely prepared; no matter the background or resources of the client, make sure to get the proper results; and work hard and stick to it.
"John is extremely well-respected in northeast Indiana both as a prosecutor and trial attorney," Heuer said. "I had a firsthand opportunity to observe what he did. I admire his work."
Inside the courtroom, Sigler said, nobody was better than Whiteleather, and outside the courtroom, he was an innovator. During his time as prosecutor, Whiteleather developed an initiative to collect on bad checks written to local merchants, and he created a child support program that became a model for small counties across Indiana.
Whiteleather is also known as a trusted resource for attorneys. "He would always lend a helping hand to other lawyers," Sigler said.
When he was starting his own legal career, Sigler peppered Whiteleather with thousands of questions and requests for advice. He remembers his mentor taught him, above all, not to get too prideful over victories or too despondent about setbacks.
Meant to be a lawyer
Whiteleather learned from his father who, in addition to teaching him to love the practice of law, admonished that he "darn well better answer the phone at home when people call." Likely a phone call in the winter of 1988 alerted him to the blaze that consumed his law office.
Sigler was brought in as special prosecutor and the young man who lit the match was convicted. Every Christmas after that, Whiteleather received a card from the man, wishing him and his family a happy holiday as well as proclaiming his innocence.
The cycle repeated at some point with the man again being released, returning home and getting into another scrape with the law. Going back to prison after pulling a life sentence, the man wrote Whiteleather one final time, confessing he and a friend had set the fire.
Whiteleather carried on, working from a vacant warehouse for more than a year while his downtown law office was being rebuilt. Although he helped many in the legal profession, he has not been able to pass along any lawyering advice to his two daughters, Julie Lowe and Kris Peters, since neither chose a career in the law.
Sounding slightly rueful, Whiteleather thinks they may have been dissuaded from becoming lawyers because his work often took him away from his family. He noted, however, that following two generations of attorneys, he did not know anything else. "I was a lawyer to be," he said.•
Please enable JavaScript to view this content.