Both Indiana Senators Todd Young and Mike Braun praised 7th Circuit Court of Appeals Judge Amy Coney Barrett's intelligence, commitment to the law and love for her family during Monday's opening round of her confirmation hearing to the U.S. Supreme Court.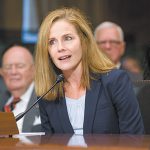 Barrett, also a graduate and long-time professor at Notre Dame Law School, was nominated by President Donald Trump to fill the vacancy on the Supreme Court left by the death of Justice Ruth Bader Ginsburg. At her Rose Garden nomination, Barrett commemorated the work of Ginsburg and identified herself as sharing the judicial philosophy of the late Justice Antonin Scalia, for whom she clerked.
However, Barrett's confirmation has become a partisan battle.
Republicans' decision to push forward with her confirmation with just three weeks until the Nov. 3 presidential election has sparked a sharp outcry from Democrats who believe she will vote to overturn abortion rights and the Affordable Care Act.
After nearly five hours of opening statements from the Democratic and Republican members of the Senate Judiciary Committee, Young introduced Barrett.
The senator recalled first meeting her in the spring of 2017, when she interviewed for the open seat on the 7th Circuit Court of Appeals. Young said his office was looking for "an extraordinary American who would uphold the rule of law," and Barrett was the clear choice.
Describing her as "a star" and "brilliant legal scholar," the senior Indiana senator said her integrity and character were unimpeachable and she is the model of collegiality and fairness.
Barrett was confirmed to the 7th Circuit Oct. 31, 2017, on a 55-to-43 vote in the U.S. Senate. Since then, she has heard more than 600 cases and authored nearly 100 opinions. Young said as a member of the Chicago-based appellate court, Barrett has proven herself to be a "rather brilliant jurist who interprets the constitution as written and carefully weighs the facts of a given case."
The senator also noted Barrett was the first woman from Indiana to ever serve on the 7th Circuit.
Barrett is the first female Hoosier to sit on the 7th Circuit, but she is not the first woman from Indiana to be nominated. In 2016, former Indiana Supreme Court Justice Myra Selby was tapped by President Barack Obama to fill the vacancy created by the retirement of Judge John Tinder. However, Selby's confirmation was blocked by then-Indiana Senator Dan Coats, who called for the formation of a committee to recommend nominees.
Young concluded his remarks by quoting the late Hoosier author Kurt Vonnegut, who claimed "… wherever you go, there's always a Hoosier doing something very important." The senator said Barrett has done something important wherever she has gone including raising a family, educating future lawyers and administering justice on the court of appeals.
"It's my hope this body will confirm Judge Barrett in a bipartisan fashion so that we will soon find another Hoosier doing something very important on the Supreme Court of the United States," Young said to the Judiciary Committee.
Braun also emphasized Barrett's connection to the Midwest. He said he immediately supported her nomination because he believes the country needs judges who understand the Midwestern values of faith, family, community and respect for the law.
Speaking from the city hall in Jasper, Braun echoed many of his Republican colleagues in condemning attacks on Barrett because of her Catholic faith. He noted the Constitution's "firm edict" against imposing any religious test on public officials and said he feared that hostility toward Barrett's religious beliefs today could create a "dangerous precedent" of hostility toward other religious beliefs tomorrow.
"Faith is very important to most Americans and I agree faith should be a key word in Judge Barrett's confirmation," Braun said. "But I believe the most important question of faith should be, 'Is she wiling to faithfully interpret the Constitution?' Judge Barrett's record shows that she will.
"Throughout her nearly 100 written opinions on the appellate court," Braun continued, "Judge Barrett has proven that she is a strong constitutional originalist who will not cut the American people out of their own government by treating the Supreme Court as a third chamber of Congress."
Former dean of Notre Dame Law School Patricia O'Hara also addressed the judiciary committee in support of Barrett's nomination. O'Hara, like Young and Braun, appeared remotely but had trouble connecting to the committee.
Chairman Sen. Lindsey Graham repeated O'Hara's name several times to see if she could hear. When he received no response, he quipped, "She must be in the 3G part of Indiana."
The former dean was able to speak to the committee after Barrett made her opening remarks. O'Hara said she had previously interacted with the Judiciary Committee 10 years ago when she wrote "a very strong letter of support" for then-Supreme Court nominee Elena Kagan.
Returning to endorse Barrett in equally strong terms, O'Hara said her support of two nominees from opposite sides of the political spectrum should not be considered unusual. Rather, she sees Barrett as having several of the same qualities as others who have served on the highest court.
"As to the justices I have met, while their judicial philosophies may differ and their interpretive methodologies may differ, what they share is powerful intellects, rigorous work ethics, skilled listening skills, the ability to be open to persuasion and also to persuade themselves, (and) to be fair and impartial," O'Hara said. "They're people of integrity and they have a commitment of applying the law to the facts of the case before them. They understand that their role as justices is to advance the rule of law, not to advance personal policy preferences. They understand their solemn responsibility to preserve the court as a … single institution that plays a singular role in our republic.
"I know firsthand having worked closely with Judge Barrett for almost 20 years that she possesses these same qualifications in abundance," O'Hara said.
Barrett's confirmation hearings are scheduled to continue through Wednesday.
Please enable JavaScript to view this content.