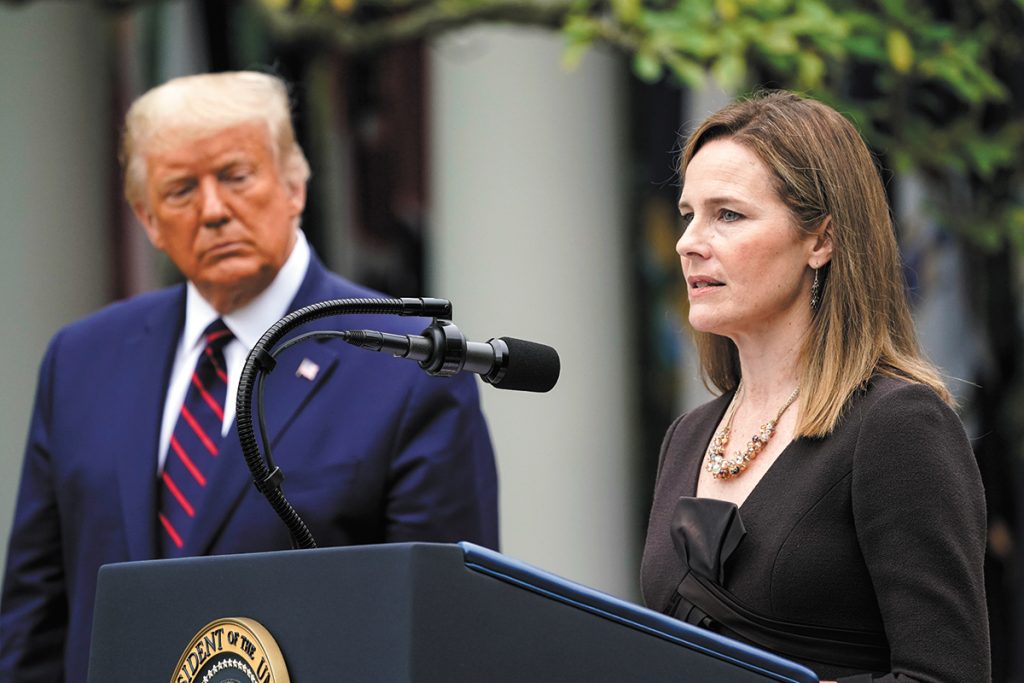 Mitch Feikes, Republican Party chair in Chief Justice John Roberts' home county of LaPorte, may have gotten his wish.
Speaking a few days before 7th Circuit Judge Amy Coney Barrett was nominated to the U.S. Supreme Court, Feikes said he wanted President Donald Trump to choose someone who would follow the law.
A homebuilder who keeps abreast of federal and state court rulings, Feikes said sometimes a decision is issued that causes him to scratch his head and wonder what the jurist was thinking.
Feikes was noncommittal about who should fill the late Justice Ruth Bader Ginsburg's seat on the high court. He noted he is "very satisfied" with Trump's two other picks, Justices Neil Gorsuch and Brett Kavanaugh, but then he added he would like to see another Antonin Scalia.
He was a "very good justice," Feikes said of Scalia, who served on the Supreme Court for 30 years until his death in 2016. "He followed the law. He didn't make the law."
That was a sentiment echoed by Barrett as she stood in the Rose Garden on Saturday and accepted the nomination to the Supreme Court. Barrett, a graduate of the Notre Dame Law School, clerked for Scalia and said the late justice had an "incalculable influence" on her life.
"His judicial philosophy is mine too: a judge must apply the law as written," Barrett said. "Judges are not policymakers and they must be resolute in setting aside any policy views they might hold."
Barrett, a devout Catholic and mother of seven, has been a favorite of social conservatives. However, her confirmation is already inciting partisan fighting, coming just weeks before the Nov. 3 presidential election. Republican senators are preparing for a swift process with her hearing before the U.S. Senate Judiciary Committee scheduled for Oct. 12 and possibly her nomination being sent to the Senate floor by Oct. 22 or 26, according to CNN.
Trump's Democratic rival, Joe Biden, implored the Republican-led Senate to hold off on voting on her nomination until after the Nov. 3 election to "let the people decide." Democratic senators, while appearing united against Barrett, also appear to lack the votes to block her nomination.
Barrett's elevation from being a law professor at Notre Dame to the 7th Circuit Court of Appeals was marked by contention over her views on abortion and stare decisis. A largely partisan vote, with then-Indiana Democrat Joe Donnelly breaking ranks with his party, narrowly propelled her to the appellate bench.
Notre Dame President Rev. John Jenkins alluded to the storm ahead in his statement issued after her nomination.
"The same impressive intellect, character and temperament that made Judge Barrett a successful nominee for the U.S. Court of Appeals will serve her and the nation equally well as a Justice of the United States Supreme Court," he said. "… I join her colleagues in the law school and across the campus in congratulating her on the nomination and wish her and her family well through what has become, sadly, a personally bruising confirmation process."
In her remarks, Barrett addressed "my fellow Americans" and outlined how she would rule if she is confirmed to the Supreme Court — an institution, she said, that belongs to everyone.
"I would assume this role to serve you," she said. "I would discharge the judicial oath which requires me to administer justice without respect to persons, do equal rights to the poor and rich, and faithfully and impartially discharge my duties under the United States Constitution."
Appellate rulings
Since she joined the 7th Circuit Court of Appeals in October 2017, Barrett has authored 107 opinions, 97 of which were written for the majority.
Brian Paul, appellate attorney at Faegre Drinker Biddle & Reath LLP in Indianapolis, said Barrett has decided cases on the basis of the Constitution and the text of the statutes rather than her personal policy preferences or the identity of the litigants.
"Her decisions can only fairly be described as pro-Constitution and anti-judicial imperialism," Paul said. "She implements the law as it is written and enacted, without regard who the litigants before her and regardless of her own policy preference — exactly as our Framers meant for the law to be implemented."
Barrett has spent much of her professional life in academia. After law school, she clerked for Judge Laurence Silberman of the U.S. Court of Appeals for the D.C. Circuit before clerking for Scalia. She then worked as an associate at Miller Cassidy Larroca & Lewin in Washington, D.C., before joining the Notre Dame Law School faculty in 2002.
Steve Sanders, professor at Indiana University Maurer School of Law, noted Barrett's record is thin. "She hasn't been a judge long enough to where you could say she's developed a distinctive judicial voice or distinctive jurisprudence," he said.
Still, some of her rulings do reflect what are accepted as traditional Republican values.
In Kanter v. Barr, 18-1478, she wrote a 37-page dissent arguing the Wisconsin statute violated the Second Amendment because it prohibited all felons — regardless of whether they had been convicted of a violent or nonviolent crime — from owning a gun.
Likewise, in United States of America v. Hector Uriarte, 19-2092, she dissented along with two other Trump appointees to the 7th Circuit — Michael Brennan and Michael Scudder.
The majority of the en banc court affirmed Uriarte was covered under the First Step Act and should not be sentenced to the 25-year mandatory minimum. Barrett and her fellow Trump appointees admonished her judicial colleagues' reasoning, even though the majority noted a in a similar case before the 9th Circuit that a bipartisan group of senators who were the principal drafters of the First Step Act had filed a brief in favor of the defendant.
"Speculating about congressional desires is dicey enterprise, which is one reason among many that we should stick to the text," Barrett wrote.
Also, in Cook County v. Wolf, 19-3169, Barrett disagreed with the majority that blocked Trump's public charge rule prohibiting immigrants from receiving public benefits such as food stamps.
Most recently, Barrett sided twice with the majority of Chief Judge Diane Sykes and Judge Frank Easterbrook in July 2020 to allow the execution of Daniel Lewis Lee to proceed. Lee's execution in July was the first of seven that have been carried out at the federal prison in Terre Haute since the Trump administration lifted a 17-year moratorium.
Tilt to the right
The late Justice Ruth Bader Ginsburg remembered for heartfelt ties to the Indiana legal community.
Barrett's confirmation to fill the seat vacated by liberal icon Ginsburg would be the sharpest ideological swing since Clarence Thomas replaced Justice Thurgood Marshall nearly three decades ago. The appellate judge paid homage to the champion of gender equality.
"Justice Ginsburg began her career at a time when women were not welcome in the legal profession. But she not only broke glass ceilings, she smashed them," Barrett said. "… She was a woman of enormous talent and consequence and her life of public service serves as an example to us all."
Indiana University Robert H. McKinney School of Law professor Jennifer Drobac hopes the awareness of Ginsburg and what she fought for is a moderating force on Barrett. Acknowledging how Barrett would rule is uncertain, Drobac said the Supreme Court could get out of step if the justices tilt too far to the right and be seen as no longer reflecting the values of the nation. This could weaken the judicial system, which could endanger American Democracy.
"Barrett is on the bench in large part because of the efforts of Ruth Bader Ginsburg," Drobac said. "If she is elevated to the highest court, maybe that will give her some perspective that will influence her future decisions."
Glenn Sugameli, attorney and retired founder of the Judging the Environment project on the federal judiciary, also sees the potential for the public to lose faith in the Supreme Court as an impartial arbiter. But even if Americans question the motivations of the justices, the court's rulings will still have "real world consequences." And Congress might be able to do very little in response if a statute is overturned because it is found to be unconstitutional.
"This is once in a lifetime, maybe once in history, where the entire integrity and ability of the court to have the faith of the people that its rulings are just and fair is at stake," he said.•
— The Associated Press and Indiana Lawyer editor Dave Stafford contributed to this article.
Please enable JavaScript to view this content.