In recognition of Judge Robert Lowell Miller Jr.'s more than 46 years of judicial service, the U.S. District Court for the Northern District of Indiana is naming the courtroom where he presides in his honor.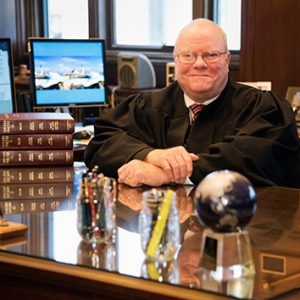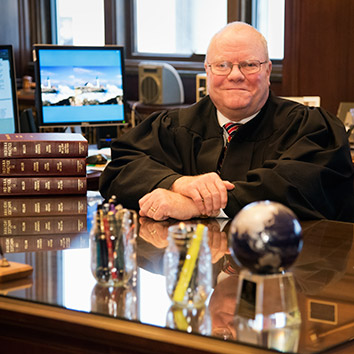 The third-floor courtroom of the Robert A. Grant Federal Courthouse at 204 S. Main St. in South Bend will now carry Miller's name, the district court announced this week.
"Judge Miller has had a remarkable career of service to the judiciary and our country," Chief Judge Jon DeGuilio said in a news release. "During his almost fifty years on the bench he has served with distinction and is widely respected by his colleagues across the nation for both his achievements on and off the bench.
"His tenure has reflected an unwavering commitment to apply the law equally, with respect and dignity, to all before him," DeGuilio continued. "He is truly deserving of this honor, as his career will undoubtedly serve as an inspiration to those who share his respect for the important role of the law in our society."
President Ronald Reagan appointed Miller to the federal bench in 1985, where he continues to serve after having assumed senior status in January 2016.
Prior to his appointment, Miller served as St. Joseph Superior Court judge from 1975 through 1985, having been appointed to that position at the age of 25. He served as chief judge of that court from 1981 until 1983.
Before his state court appointment, Miller was a law clerk for the United States District Court for the Northern District of Indiana.
In 2020, the longtime judicial officer was appointed to a seven-year term on the United States Foreign Intelligence Surveillance Court of Review. He also served as chair of the Seventh Circuit Pattern Civil Jury Instruction Committee from 2002 to 2022.
Miller has also served on various additional committees and as chair, lecturer, faculty member or panelist on numerous occasions.
The judge has received multiple honors during his legal career, including a Sagamore of the Wabash and the Woods Award, among others.
An event celebrating the naming of the courtroom will be held at a later date, at which time the resolution signed by the district judges will be formally presented to Miller.
A portrait and a plaque honoring Miller have already been placed outside the designated courtroom.
Please enable JavaScript to view this content.