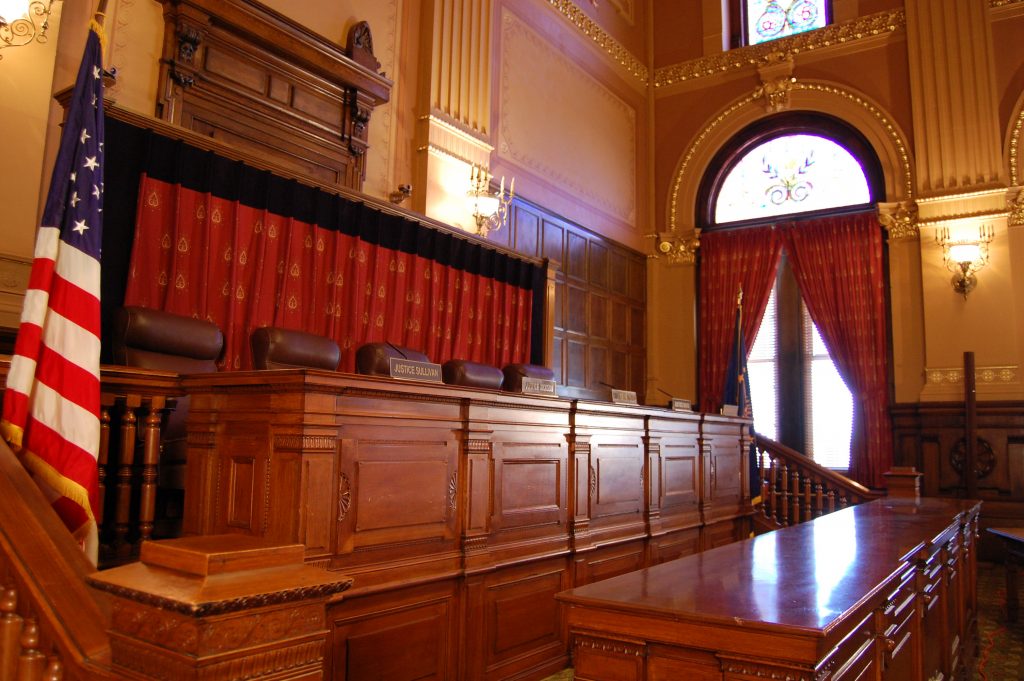 The Indiana Supreme Court is set to hear two oral arguments next week involving a wind turbine access dispute and a challenge to an adoption proceeding.
Justices will begin the newest round of oral arguments at 9 a.m. April 27 with the case of P.L. v. M.H. and A.H., 22A-AD-80.
In that case, the Court of Appeals of Indiana reversed an order awarding temporary custody of father P.L.'s minor son, S.L., to foster parents M.H. and A.H. while their adoption petition was pending.
The appellate court found the Hamilton Superior Court erred when it denied P.L.'s Trial Rule 60(B)(6) motion to set aside the temporary custody order, holding that the lack of notice of the adoption proceedings to P.L. voided all orders from the adoption court due to lack of personal jurisdiction over him.
The foster parents have petitioned the Indiana Supreme Court to accept jurisdiction over the appeal, and the high court is hearing arguments on petition to transfer.
Justices will then hear arguments in Performance Services, Inc. v. Randolph Eastern School Corporation, 23S-CP-59, at 10 a.m.
In that case, a divided Court of Appeals reversed for a construction company that sued an Indiana school corporation after it failed to pay $1.5 million in damages for access to a wind turbine.
In the split reversal, the COA majority concluded that the parties' contract did not reflect an investment by the school corporation. Rather, it found the school corporation agreed to make semiannual payments to Performance Services Inc. of $77,000 each in exchange for certain access to the wind turbine and its data, but simply never paid or sought to exercise its purchasing options.
"Thus, on this undisputed, designated evidence, the relationship between the School Corporation and Performance never amounted to more than the School Corporation owing payments for services rendered by Performance," Judge Paul Mathias wrote, joined by Judge Terry Crone.
The majority noted that the plain definition of "invest" applies the hoped-for financial return to the same person or entity that provides the initial commitment of money, not to the recipient of that money.
Judge Elaine Brown dissented from the majority, parting ways with the conclusion that the contract did not reflect an investment by the school corporation.
The Supreme Court has granted transfer to the Performance Services case.
Both arguments will take place in the Indiana Supreme Court courtroom on the third floor of the Indiana Statehouse. They will also be livestreamed. 
Please enable JavaScript to view this content.