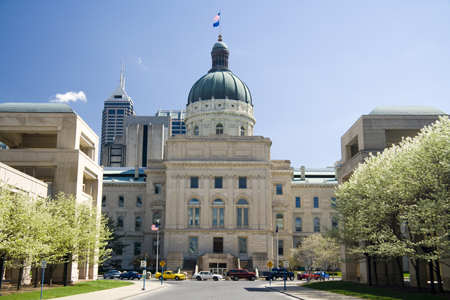 The Indiana House has approved legislation that would protect businesses from COVID-19-related lawsuits.
House Bill 1002, authored by Rep. Jerry Torr, R-Greencastle, would shield businesses and individuals from coronavirus civil liability lawsuits unless in cases of gross negligence, willful or wanton misconduct or intentional misrepresentation that could be proven with "clear and convincing evidence."
The House voted 76-20 to approve the bill on Monday. Two Republicans — Reps. John Jacob of Indianapolis and Curt Nisly of Milford — joined 18 Democrats in voting against it.
The legislation specifically would protect individuals, corporations, health care providers, post-secondary educational institutions, limited liability companies, partnerships, local governments and any other legal entity.
It would also shield businesses that produced pandemic-related materials, such as personal protective equipment, and provide immunity for medical providers who were required to delay non-emergency procedures at several points throughout the year due to executive orders from Gov. Eric Holcomb.
The bill also specifies that the governor's orders or other local orders would be inadmissible as evidence in a court case in some cases, and it prohibits the filing of a class action lawsuit.
The legislation is slightly different from the Senate version, Senate Bill 1, which passed that chamber Thursday and is scheduled for a committee hearing in the House on Tuesday.
HB 1002 would be retroactive to March 1, 2020, and in effect until March 31, 2022. The Senate version is also retroactive to March 1 but would be in effect through Dec. 31, 2024.
The House version also includes language that specifies what would not be considered gross negligence, willful or wanton misconduct or intentional misrepresentation. That would include the following:
providing services without personal protective equipment if there was a PPE shortage or a business was unable to "timely acquire" PPE;
providing services without access to adequate or reliable COVID-19 testing;
using equipment, medicine or supplies in ways not approved by the U.S. Food and Drug Administration as part of a "good faith" response to COVID-19;
and providing services with a staffing shortage, under a reallocation of staff or resources or outside an individual's expertise or speciality if part of a "good faith" response to COVID-19.
Business organizations, Republicans and Gov. Eric Holcomb have made the legislation a top priority, citing concerns of potential lawsuits from individuals who could claim they caught COVID-19 while working for or patronizing that business. An example would be someone who was at a restaurant who tested positive for COVID-19 days later and tried to sue that establishment to pay medical expenses.
Companies say defending against such suits — even if they are baseless — would be a costly burden.
The Indiana AFL-CIO is opposed to the bill, and several Democrats have raised concerns about whether it would prevent legitimate lawsuits from being pursued, particularly against nursing homes.
Please enable JavaScript to view this content.