Dearborn and Ohio Counties Prosecutor Lynn Deddens has posted a letter on social media, acknowledging she was at the rally for President Donald Trump on Jan. 6 in Washington, D.C. and saying she left before the assault began on the U.S. Capitol Building.
Deddens' letter posted Tuesday on the Facebook page for the circuit prosecutor's office is written on what appears to be official stationery from her office, and is titled, "The Right to Peaceably Assemble." In the letter, Deddens defends her attendance at the rally, pointing out she is a supporter of Trump and attended his inauguration in 2017.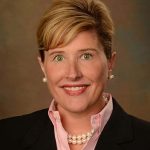 "It should be no surprise that I would have attended a speech in support of our democracy and our democratic processes," Deddens wrote. "As an active citizen I have done so before and I will likely do so again."
Deddens declined to speak with Indiana Lawyer, writing in an email that her letter "speaks for itself." Also, the Indiana Prosecuting Attorneys Council said it did not have any comment on Deddens' letter.
Billed as the "Save America" rally, the Jan. 6 event began at the Ellipse near the White House. Trump had previously tweeted about the "big protest in D.C." and urged supporters, "Be there, will be wild!"
The rally was held the same day as Congress certified the results of the November 2020 election. A mob subsequently attacked the U.S. Capitol, overpowering police and storming into the building with the intent of stopping the Electoral College vote count and retaining Trump as president. Trump had spent the days and weeks leading up to Jan. 6 falsely claiming voter fraud and that he had won the election. He repeated those claims during his speech at the rally.
Deddens' letter does not mention the election or Trump's false accusations. Instead, she highlighted the right to peaceably assemble.
"As your Prosecutor, I took an oath to uphold the Constitutions of Indiana and the United States of America," Deddens wrote. "Part of that oath is defending the right of individuals to peaceably assemble. I support the rights of the hundreds of thousands of individuals who marched in Washington peacefully, just as I would in Dearborn or Ohio Counties or anywhere in America."
Deddens also claimed she did not march to the U.S. Capitol Building. Sources told IL that Deddens was in Washington with at least one other member of her office's staff. That could not be immediately confirmed. Sources identified Deddens in a crowd scene aired on CBS' "60 Minutes".
Deddens wrote in her letter that she and her friends left the Ellipse about 12:30 p.m. to "beat the crowds" and went to a restaurant near their hotel in Alexandria, Virginia. Trump began speaking about noon and continued for roughly an hour, so Deddens would have left in the middle of the president's remarks.
"From the restaurant, I watched on television, like millions of Americans, in horror as a peaceful rally turned into an assault on our seat of government," Deddens wrote. "I could not believe such events were happening in my lifetime."
Deddens said she condemns the "violence and destruction" that occurred at the Capitol and referred to the attack as a "violent insurrection against the government." She also asserted that the individuals involved should be "brought to justice."
She concluded her letter by, again, maintaining she was defending the Constitution.
"Wednesday, January 6, 2021 was a sad day in the history of our Country," Deddens wrote. "I hope such actions are never repeated. I will not, however, allow that to deter my support and defense of the rights inherent in our Constitutions for all to assemble peaceably and exercise free speech."
According to the Dearborn County Prosecutor's Office website, Deddens was appointed as the county's top attorney Jan. 6, 2017 and elected to the position Nov. 6, 2018. A Republican, she ran unopposed. She grew up in Dearborn County and has a law degree from Valparaiso Law School. She joined the prosecutor's office in Lawrenceburg in 2003 as a deputy prosecutor.
Please enable JavaScript to view this content.