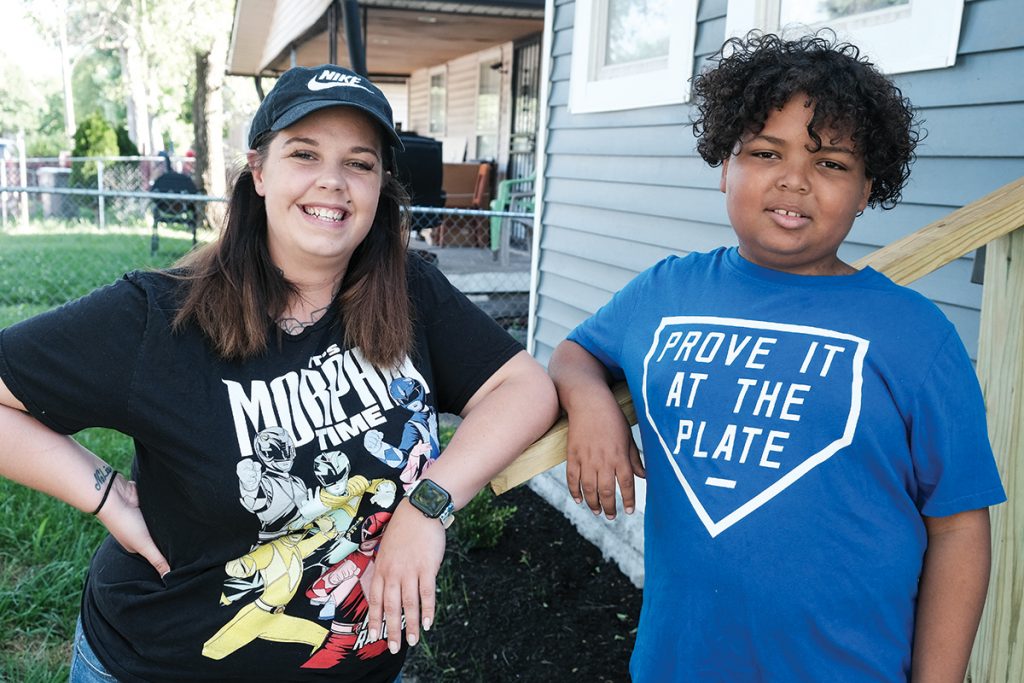 Keely Tackett remembers the day her 10-year-old son called her "mom" again.
It happened in a moment of exasperation that young boys sometimes feel when parents hover too closely or become too pesky. Tackett had been fretting and apprehensive that her son's naturally quiet, nonchalant demeanor was masking some unhappiness or fear.
So she often checked on him and one day poked her head into his bedroom, gave him a thumbs-up and asked if he was OK.
"He looked at me and said, 'Mom, why would I not be OK in my room?'" Tackett remembered. "To hear him reply back to that and calling me mom and also making it clear he's in his room, that's when I started noticing little things, like he's home, he knows he's home."
For Tackett, having her son, Baron, home was the end of a nearly 10-year struggle during which she had to continually convince the courts, social workers, therapists and sometimes even herself that she was a fit mother and could care for her oldest child. Two times the trial court terminated her parental rights, and when the Indiana Court of Appeals reversed for a second time in October 2020, it issued strict instructions the parties were to move forward with "actual reunification, not for further 'reasonable efforts' toward reunification."
Upon learning she was going to be reunited with her son, Tackett needed a minute before she realized her family was going to be whole.
The Indianapolis woman is now telling her story as part of National Reunification Month, a celebration each June that puts the focus on the efforts that help families stay together. She has been named one of just a handful of American Bar Association 2021 Reunification Heroes and is sharing her story because she wants to both encourage parents trying to reunite with their children and be a reminder to the judiciary and Indiana Department of Child Services.
"There is no way to tell how many other people are going through this or how many other people have given up because they're two years in and DCS says at 18 months we're going to take you to termination," Tackett said, referring to the deadlines the state agency is under to either return children to their biological parents or move forward with an adoption. "It's so sad."
Not listening to doubts
Andrea Marsh, the Marion County public defender who represented Tackett from 2014 through the March 2021 completion of the case, nominated her for the ABA recognition.
Tackett's story, Marsh said, draws attention to the message of Reunification Month that children should be with their own families because that is where they can best thrive. In addition, Tackett's frustrating and long journey shows how committed she was to bringing her son home.
"I just cannot really even imagine the strength it would take to continue to believe it is in the best interest of my child to be with me even though everybody says I'm a bad mother," Marsh said.
DCS removed Baron when he was barely a month old and Tackett, then 19, was untangling herself from an abusive relationship with his father. As the Court of Appeals noted in its 2020 ruling, Tackett worked toward reunification and made "significant progress."
She obtained stable housing and maintained employment. She completed the programs and services required by DCS, sought mental health treatment and made "positive progress" in her home-based therapy. Also, her two younger children were never removed or investigated by the agency.
The appellate panel held, "Reunification was never going to be an easy road, but DCS's missteps exacerbated the already tense reunification situation."
Recounting the details of what happened during the past decade, Tackett still wonders why her son was kept from her for so long. She maintains she did everything DCS asked her to do but not only was reunification delayed, but visits with her son were also sporadic. During the time apart, she missed his first steps, his first words and his first day of school.
She said some of the people involved in her case kept saying her son did not love her and did not want to return to her care. Tackett conceded she began to doubt if pushing for reunification was the right thing to do.
"Sometimes I would catch myself saying, 'Well, if I do all this fighting and then what if my baby comes home and he's miserable because he loves (his foster parents),'" Tackett said. "… Sometimes I would just be low but I know that I never actually literally considered giving up."
Marsh remembered the young mother continually nudging her every time they appeared before the juvenile court judge to ask for reunification. Marsh would try to explain the repeated inquiries would not convince the court to return her son but the nudging did not stop, so the attorney kept asking.
In a 2016 Court of Appeals decision reversing the first termination of Tackett's parental rights, the judges noticed the mother's persistence. Specifically, the panel noted, "Despite Mother's repeated requests for visits to be reinstated, she had not seen her son for nearly a year. If this is anything other than DCS setting her up for failure, we cannot see what it would be."
Marsh learned a lesson. "She was right," the attorney said of Tackett. "When it got to the Court of Appeals (the repeated requests for reunification) made a difference."
Celebrating success
Tackett and her children are just one of the many families being celebrated as part of Reunification Month.
In Indianapolis, the activities included a virtual educational webinar hosted by the Marion Superior Court Family Division on June 9 for child welfare professionals. Attorneys from the ABA and the University of Michigan School of Law along with parents, including Tackett, provided insight and stories to increase awareness of reunification.
On June 18, community groups joined together to repeat the 2020 success by holding a food distribution event held at the DCS location on Keystone Avenue. Organizers had prepared 500 boxes of nonperishable items and had plenty of milk to give to families plus an art contest for families to take part in.
DCS Executive Director Terry Stigdon was at last year's food giveaway and said the people "had a feeling of joy." She was unavailable to comment for this story.
Tackett is joyful now that her family is reunited. She, Baron and her two younger children are enjoying doing the summer things many families ordinarily do in the warmer months. They keep an eye out for places to swim, take the family dogs for walks and go to their local YMCA.
Happy to talk about her children and the fun they have, Tackett laughed and said, "We're just rolling with it."•
Please enable JavaScript to view this content.