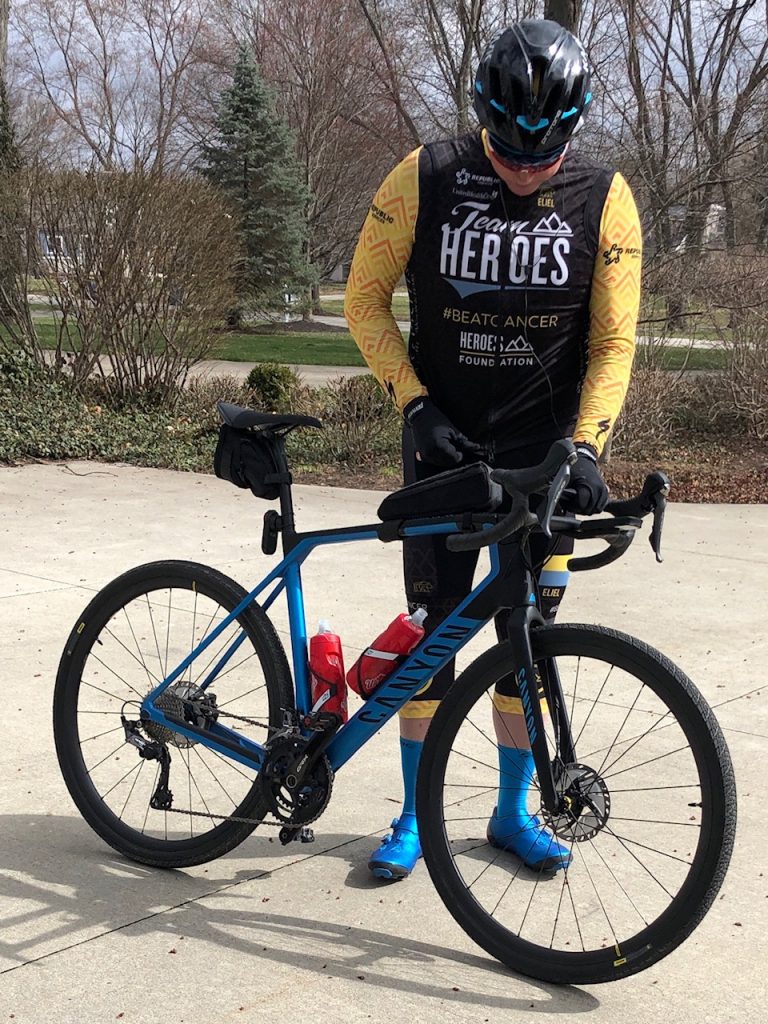 Indianapolis attorney D. Bryce Zoeller, a senior partner at Kightlinger & Gray LLP, is gearing up to get back on his bike for a good cause.
Zoeller, an avid cyclist, was forced to pump the brakes on riding after he had two near-death and life-altering experiences. He was hit by a car while cycling in 2014 and nearly died in late 2017 following complications from a colonoscopy. Sepsis had seeped into his hip, back and shoulder, leaving him with a 50-50 chance of survival.
Zoeller eventually pulled through, relearning how to walk on his own again. Now, the attorney is back on the bike with more determination than ever to make a difference by using racing as a way to fundraise for charity.
Zoeller joined the competitive cycling group called Team Heroes, which raises awareness for the Heroes Foundation, an Indiana cancer community advocacy group. The non-profit organization is committed to defeating the battle against cancer through the promotion of living a healthy lifestyle and cancer prevention, Zoeller said. It typically hosts several fundraisers each year, but the pandemic halted all racing and fundraising opportunities in 2020.
"My thought was, 'Well, why don't I try to get entrance into these bigger events and go and ride there as a member of the Heroes cycling team and get out who we are and what we do?'" Zoeller said.
Now, the Circle City attorney is making up for lost time by riding in three big events in 2021. One of those events will take place in less than a month: the Garmin Unbound Gravel race, which draws 4,000 riders from around the world to the Flint Hills of Kansas. The 100-mile race will take place June 5.
Zoeller's goal is simple: raise money and awareness for the fight against cancer by asking others to support his racing campaign. He's set up a fundraising site for donors to participate and has been blown away by the response.
In just over one week, more than $5,000 was donated to the cause, blowing his original goal out of the water. As of Monday, Zoeller said he is just $1,500 away from his increased goal of $10,000.
"I have been humbled and overwhelmed with the support," he said.
Fellow Hoosier attorney Marcia Mahoney donated $1,000 to the cause in honor of her late husband, who died of cancer two decades ago. Mahoney said her son later contracted the same cancer but defeated it due to advancements in cancer research.
"I was so humbled by her gesture. I asked her, 'Is it okay for me to put his name on my bike so I can be inspired by him during this?'" Zoeller said.
Now, more than seven names of those who have died from cancer will adorn the bike Zoeller uses in Kansas, serving as a constant reminder of why he rides.
"No matter my suffering, it pales in comparison to the thousands of Hoosiers who are inflicted with this awful disease every year, and their families who are forced to cope, as well," he said.
Those interested in donating can do so through June 5.
Please enable JavaScript to view this content.