The Indianapolis attorney arrested in connection with the Jan. 6, 2021, riot at the U.S. Capitol has been released on his own recognizance and is banned from traveling to Washington, D.C., except for court proceedings.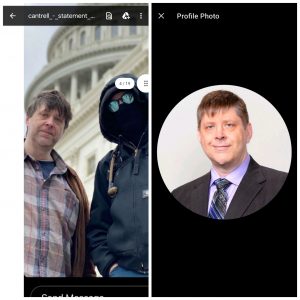 Quentin G. Cantrell appeared before Magistrate Judge Robin M. Meriweather of the U.S. District Court for the District of Columbia on Tuesday after he was arrested last week for allegedly climbing down a wall at the U.S. Capitol and entering the Capitol building during the riot meant to disrupt the certification of President Joe Biden's electoral victory.
Cantrell — along with Jared and Eric Cantrell, known collectively in court documents as the "Cantrell Cousins" — is facing a federal criminal complaint for counts of entering and remaining in a restricted building or grounds; disorderly and disruptive conduct in a restricted building or grounds; disorderly conduct in a Capitol building; and parading, demonstrating or picketing in a Capitol building.
In an order setting conditions of release, signed Tuesday, Quentin Cantrell was ordered to appear for an ascertainment of counsel hearing at 1 p.m. April 19 before the Washington, D.C., court. He requested appointed counsel during Tuesday's hearing, according to online court records, and attorney Nathan Silver has entered a notice of appearance to temporarily represent Cantrell until he hires his own counsel.
The order setting conditions also notes Cantrell must submit to supervision in the Southern District of Indiana and must "stay away from Washington, D.C. except for attendance at Court proceedings, meeting with counsel, and required PSA business."
Further, Cantrell must notify the Southern District of Indiana's pretrial services if he intends to travel outside the state, and he must receive court approval to travel outside the continental United States.
Cantrell is also prohibited from possessing firearms. He was scheduled for an interview with pretrial services in Washington, D.C., on Wednesday.
According to the Indiana Roll of Attorneys, Cantrell was admitted to the Indiana bar in 2001 and has no disciplinary history going back to July 1, 2011, the date from which attorney discipline records are available online.
Both the Roll of Attorneys and LinkedIn list Cantrell as working with the Indianapolis intellectual property law firm Woodard Emhardt Henry Reeves & Wagner LLP. Cantrell was listed on the firm's website on March 10, the day he was arrested, but had been removed by March 11. The firm has not publicly commented on its connection to Cantrell or his arrest, and a spokesperson did not respond to an Indiana Lawyer request for comment.
The case in the D.C. federal court is United States of America v. Cantrell, et al., 1:22-mj-00051.
Please enable JavaScript to view this content.