Standing behind a podium with a buzzer in her hand, Indianapolis attorney Ruth Reichard realized that playing Jeopardy! from the comfort of home while shouting answers at the screen with family and friends is vastly different than playing it in real life.
"It's so much easier when you are sitting and relaxing at home. It's a totally different environment," said Reichard, who recently had the chance to fly to California and be a contestant on the popular nightly game show.
"That's why I took the test to begin with," said Reichard, an education attorney for the Indiana Office of Court Services.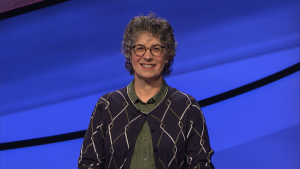 Her Jeopardy! journey began in January 2020 when she took the test one evening after dinner, sitting at her kitchen table. Then, as the pandemic progressed, she forgot she'd even taken it.
But in August 2020, Reichard got a call from Jeopardy! saying she'd qualified for an audition. Conducted through Zoom, the attorney passed the second test in October 2020, then participated in a mock game simulation for her third audition in November — clicking ballpoint pens in place of the famous buzzers.
"They said, 'You're in the final group. If you don't hear from us after 18 months, start the process again by taking the online test,'" she recalled.
The same afternoon Reichard received the final proofs for her first book, "Blood and Steel: Ryan White, the AIDS Crisis and the Deindustrialization of Kokomo, Indiana," she got a phone call from Jeopardy! asking if she would be available to quickly come to California.
Packing a bag, Reichard flew out to the West Coast on May 2 and filmed on May 4. Her episode aired Aug. 12, when she competed against Matt Amodio, a Ph.D. student from Connecticut who is ranked as the third-highest earning Jeopardy! contestant in the show's history. The Jeopardy! guest host was American sportscaster Joe Buck.
"What they do is they tape a week's worth of shows in one day," she explained in a breakdown of the process. "There were 12 of us including a couple of alternates, and we reported to the studio at 7 a.m."
Contestants are allotted time before filming to practice using the buzzers and getting cues from producers on where to look at the camera and game boards. Once that was done, Reichard said it was a waiting game as to which groups were going first.
"They record them in real time and it moves very quickly once you're up there on the podium," she said. "You don't have a lot of downtime on the breaks or anything."
It took until the first commercial break for Reichard to feel more comfortable using the buzzer, but once she got her wits together, she said she reminded herself of one thing: be present and enjoy the experience.
"Once we came back, I was a lot happier with my reaction time. There are so many stimuli coming in at once, visually, the audio, tactically with the buzzer," she said.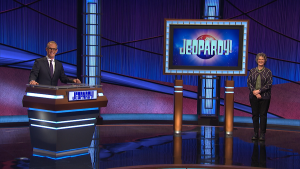 Even though she was up against Amodio, Reichard said she wasn't intimidated.
"I coached myself and psyched myself up for going. I felt pretty good — the only 'what if' I thought about, was, 'It would be really bad if there was someone on a streak,' and of course that's what we encountered," she said. "All you can do is hope you answer the question correctly and get there on time. Mine turned out to be a nail-biter."
By the end of the first Jeopardy! round, Amodio was leading at $11,800, with Reichard in second with $800. But during Double Jeopardy!, Reichard made leaps and bounds with $21,000 next to Amodio's $30,400. It was during the final round that she lost her chance at overtaking the weekslong champion.
The question was about the famous blockbuster movie, "Jaws" – "Based on the 1974 novel, this film as been described as combining 'An Enemy of the People' and 'Moby Dick.'"
"The inclusion of the 'Enemy of the People' totally threw me off," Reichard said. "We have 30 seconds and I just drew a blank."
Even though she ended the show in third place after betting it all, Reichard doesn't regret how things played out.
"Would I do it over again? Yes."
Please enable JavaScript to view this content.