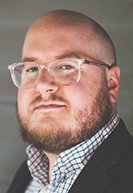 By John Gallo, Marion County Public Defender Agency
The Supreme Court has recently issued opinions! Many of the cases involve criminal law. We'll highlight a couple here:
Lange v. California (2021): In what is becoming a predictable part of post-Trump appointee jurisprudence, the justices unanimously held that home is not only where the heart is, but where the police cannot go (without a warrant). Specifically, they held that if officers are in "hot pursuit" of someone for a misdemeanor, it does not automatically create the kind of emergency that allows the officer to follow the suspect into a home without a warrant.
An officer noticed Lange driving down the road, blaring music and honking his horn even though no one was around (editorial note: this basically just sounds like a great night). As Lange approached his home, the officer activated his emergency lights. Lange scooted into his garage, started lowering the garage door, and the officer pursued Lange before the door could close. Lange was detained and taken to the hospital. His blood test came back at 0.245.
While drunken driving is a scourge, the court ruled that Lange's behavior did not rise to an exigent circumstance triggering an exception to the warrant requirement. Writing for the majority, Justice Elena Kagan held that these sorts of circumstances should be examined on a case by case basis, but the officer had time to pursue a warrant, even though the misdemeanor offender fled.
Special Lower Court Opinion
United States v. Gray, (S.D. Ind. July 9, 2021): In January, 2018, an officer with Indianapolis Metropolitan Police Department trailed a car for a number of blocks because the officer smelled "the raw odor of marijuana" coming from the car from inside his cruiser. After detaining Gray, the officer later discovered a little more than 3 ounces of marijuana in sealed plastic bags under Gray's driver's seat.
The court found "it is incredible that Officer Hiser—who self-admittedly does not have a heightened olfactory system—could smell the scent of two resealable sandwich sized plastic baggies of unburnt marijuana coming from a moving vehicle." The court ruled that the officer's testimony, "is not only contrary to any common experiences, but is 'implausible' and seemingly 'contrary to the laws of nature.'" The court ultimately granted Gray's motion to suppress.
A moment of culture: Once again commanding the cultural zeitgeist, jazz pop sleezeball perfectionists Steely Dan are heading back out on tour this fall. Am I particularly excited about seeing a Walter Becker-less incarnation of the greatest rock band of all time? No. Am I going to relisten to "Kid Charlemagne" a bunch? You bet.•
Please enable JavaScript to view this content.