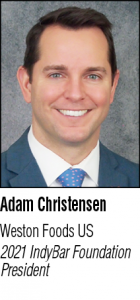 My fellow Indianapolitans, lend me an Airpod-less ear. Turn off your Theragun, put down your Always Pan and gaze not at the latest TikTok cat fashion show. For it is 2022 — ah, and in many ways, the manure of yesterday has been laid down to fertilize the fruits of tomorrow. (In other ways, sure, it still smells like a sack of crap.)
Last year, I started writing this column in my car outside of my daughter's ballet studio, tired and cautious, but hopeful. I end it writing from the second floor of the majestic Riviera Club, amidst the comingling odors of disinfectant and turkey Manhattan, more tired, less cautious and a bit resigned. Is this growth? Is this progress? Or rather, is this a spiritual ouroboros? Was David Byrne right after all? Is it all really the "same as it ever was"?
Nay and nonsense! Aplomb and introspection shall be watchwords of the new year! So, as it began with the Babylonians, please allow a past president a post-holiday postscript as I set my resolve for the year to come.
I will read a book: I didn't read a single book last year for maybe the first time since the Reagan administration. Wow. There are a thousand reasons … I mean excuses for this, but none of them hold water. In the time I spent reading articles about movies I still haven't seen or playing an app in which a hot dog in a backwards ball cap walks on stilts, I could have read one stinking book. Embarrassing.
I will mentor a young attorney/law student: Fifteen years into practice, my crystal anniversary. If I were to gift myself a crystal ball to honor the occasion, I predict I would see the futures of legal practice and the Indianapolis legal community to be a big bright shoulder shrug emoji. Scary as that is for me, for a younger attorney, I'm sure it's terrifying. High time that I impart what I've learned to another generation and glean from that generation what I can about where we're both headed.
I will stop playing fantasy baseball: It just doesn't add up. It's not a "side gig." It's not even a very fulfilling hobby. In the time it takes to manage a fantasy baseball team, I could probably learn a foreign language, play Let It Be on piano or read that book, supra resolution 1. Why do I need to know the names of the lefty relieves for the Diamondbacks? I don't.
I will contribute to the Indianapolis Bar Foundation: Ok, so this one is a layup, but not all resolutions can be sexy or seismic. The way I see it, resolving to continue doing something that brings you joy and fulfillment has merit, too.
I will finish my CLE requirements before Christmas: On the other hand, making resolutions that are nearly impossible to keep may not merit the effort it takes to make them. Still, this is a good one to strive for even if I'm 99.9 % sure I'll be spending NYE morning next year with a virtual James Bell on 2x speed.
I will join an organization for purely social reasons: I loved being president of the Indianapolis Bar Foundation in 2021, and I wouldn't trade it for the world. Still, I missed a lot as a result of the IndyBar Foundation's time commitments. Next year, I'd like to try weekly tennis, or a knitting circle or a book club!?!
I will book my kids' summer camps before … St. Patrick's Day?: Nothing, and I mean nothing is quite as shudder-inducing as realizing that, as the spring flowers come into bloom and the prospect of having kids without summer camp reservations is as real as the pollen on the breeze. I'm going to set a reminder for this as soon as I can stop quivering.
I will go downhill skiing: It's a depressing but predictable story. I've always wanted to do "X" but never got around to it. Then, after many years of procrastinating, I'm scared of doing "X" as an adult because it's likely to be unwise, physically, and humiliating, emotionally. To hell with that. I'll pizza down the bunny slopes all winter if that's what it takes to cross this one off my list.
I'll tell the people in my life how grateful I am to have them there: Family. Friends. Colleagues. I am forever grateful for all the times you've supported me, laughed with/at me, cried beside me in 2021. I'll never forget it, and I'll never let you forget how much you all mean to me.•
Please enable JavaScript to view this content.