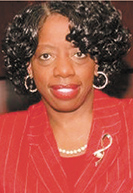 By Judie Hawley Conley, Conley and Associates
This year's IndyBar Bench Bar Conference promises to be one of both legal education and an opportunity for fun and networking. The culminating event to close Bench Bar will be "A Celebration Of The Juneteenth Holiday: The Spirit Of Our Journey." Our goal is to provide insight into the generational and regional differences experienced between Black and white attorneys and judges based on race. We hope to stimulate thought-provoking discussion and raise the awareness of the Juneteenth holiday for those members to whom it may not be familiar. The IndyBar is committed to increasing its efforts in the area of diversity and inclusion, and this Juneteenth celebration is a part of those efforts.
Juneteenth is the oldest nationally celebrated commemoration of the ending of slavery in the United States. Thanks to the efforts of the late Honorable Representative William Crawford and other statewide legislative, religious and community leaders, Indiana became the 34th state to approve a resolution celebrating the Emancipation Proclamation and urging the establishment of June 19 as Juneteenth National Freedom Day. Juneteenth is currently recognized by 47 states and the District of Columbia as a state holiday or observance. It celebrates the emancipation of those who had been enslaved in the United States.
Originating in Galveston, Texas, it is now celebrated annually on the anniversary date of the June 19, 1865 announcement by Union Army General Gordon Granger, proclaiming freedom from slavery in Texas. It is not officially recognized by the federal government, although the Senate unanimously passed a resolution in 2018 in honor of the day. Legislation has been introduced in Congress several times to make it either a National Day of Observance or a fully recognized federal holiday.
Today, Juneteenth commemorates Black freedom and emphasizes education and achievement. It is a day, a week, and in some areas, a month marked with celebrations, guest speakers, picnics and family gatherings. It is a time for reflection and rejoicing, assessment and self-improvement and for planning the future. Its growing popularity signifies a level of maturity and dignity in America long overdue. In cities across the country, people of all races, nationalities and religions are joining hands to truthfully acknowledge a period in our history that shaped and continues to influence our society today.
Under the dynamic leadership of IndyBar President Jimmie McMillian, we're celebrating Juneteenth at Bench Bar to bring awareness to our members about this significant piece of history. More importantly, the Juneteenth workshop session will highlight and recognize the experiences and significant contributions that Black attorneys have made to our legal community.
Juneteenth and the emancipation celebration includes all races, ethnicities, religions and nationalities. It is a time for reconciliation and coming together as all citizens across the country acknowledge a period in our history that has influenced our society, and it continues to advance the ideals of liberty and justice for all.
You can see the full agenda for this year's conference here and register to attend at indybar.org/benchbar. See you June 17 in Louisville at Bench Bar! •
Please enable JavaScript to view this content.