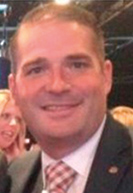 By Jonathan Deenik, Deenik Lowe LLC
It's the most wonderful time of the year, or so the song goes. For many in family law, though, we aren't always so sure that song rings true. 'Tis the season for holiday parenting time fights (and the accompanied "emergency hearings"), last-minute pushes to wrap up dissolutions before the end of the year and those custody hearings we hope to get in so a change can be made at the school break. Don't even get me started on calculating the holiday break split when we have an odd number of overnights. All in all, this can be a rather hectic time of year for us as practitioners. It's the time of year we all want to throw our cell phones in the White River and occasionally wish our email would just crash for 15 minutes so we can have but a brief respite.
This year, give yourself the gift. Give yourself the gift of a break, a little bit of sanity and some much-needed time with friends and family. At the end of the day, it's really not too hard! Here's what I would suggest:
1. Set boundaries with clients. If you are going to take some time off during the holiday season, let your clients know. The sooner you let them know, the better. I have had great success sending out a mass email to my clients letting them know I'm going to be out of the office during a particular time. Let them know in the email that during that time, you'll have limited ability to respond, and so if there is an issue, raise it now. Generally speaking, this works really well for any type of vacation. Clients usually appreciate the heads up and are far more understanding when they get your out-of-office reply during that break. (Ethics tip: be sure when you send out that email, you use the Bcc field; don't send an email to all of your clients with all of your client's names and email addresses, unless you want a call from the Disciplinary Commission.)
2. Make technology your friend. Use out-of-office replies! They only take a minute or two to set up and they let clients and opposing counsel have realistic expectations of when they may hear from you. Also, take the liberty of knowing you are not expected to immediately reply. Don't be afraid to change your voicemail greeting as well. If you're so inclined, turn off the notifications on your phone from your email. Commit to only checking during certain times to ensure there are no real emergencies.
3. Set up realistic expectations. Let clients know what a real "emergency" is. A fight over that odd overnight during the holiday break is not an emergency. Our courts are wonderful, but most do not have the ability to squeeze in an hour-long hearing to address this situation. Also, give realistic expectations of what we as counsel can actually do. There is not much we can do to help in a parenting time dispute on a Friday night at 8 p.m. It is probably not terribly likely that if a client wants a divorce before the end of the year that you'll be able to praecipe for a daylong hearing and have one between now and Dec. 31. Finally, set up realistic expectations regarding hearing back from other attorneys during the holidays. Many are quite busy; many take time off. Some delay in responses is normal and should be expected.
4. Be kind about discovery deadlines if the case allows for it. Hope others will too.
You can give yourself the gift of a break this holiday season. You've probably earned it!
Happy Holidays!•
Please enable JavaScript to view this content.