By Haroon Anwar, 2019 APABA Indiana President; Kelly Huang Eddy, 2019 APABA Indiana Secretary
Have you heard of the Asian Pacific American Bar Association of Indiana (APABA Indiana)? It is a newer affinity bar association that is striving to become a household name, but it can only happen with your help!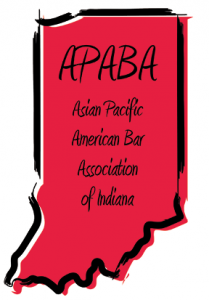 So, what is the purpose of APABA Indiana? Our organization's purpose is to provide a vehicle and forum to promote, foster and build relationships among Asian Pacific American (APA) law students, lawyers and judges in the state of Indiana to promote the advancement of APAs in the legal profession and to assist in voicing the concerns of the growing APA community in Indiana.
APABA Indiana is an affiliate of the National Asian Pacific American Bar Association (NAPABA), which is a national affinity bar association and the voice for 50,000 APA attorneys, judges, law professors and law students and represents the interests of nearly 90 national, state and local Asian Pacific American bar associations. APABA Indiana was formed in 2014 with only 10 members at the time, the minimum number required to form a NAPABA affiliate. Since then, APABA Indiana's growth continues as more in-state APA lawyers are identified, and we extend beyond the centralized pool of Indianapolis lawyers. Having been in existence now only a few short years, APABA Indiana has affiliations with nearly 100 Asian Pacific American Indiana attorneys, and our membership continues to grow.
Broadly defined, an APA is a person with origins or a connection to any part of Asia, including East Asia, Southeast Asia, South Asia, or the Pacific Islands. It is worth noting, though, that APABA Indiana is an all-inclusive organization and welcomes APA and non-APA legal professionals alike to become members and attend its events. Minorities and Asian Pacific American practitioners in law represent a small percentage of the Indiana bar, and increasing diversity in the practice is a challenge that APABA Indiana is dedicated to addressing. (Fun fact: APAs comprise about 1.8 percent of the population in Indiana and are the fastest growing minority group in the legal profession nationwide).
In August of 2019, APABA Indiana proudly hosted NAPABA's Central Regional Conference in Indianapolis for the first time. We had 120 attendees, most of whom came from the Midwest, but visitors traveled from as far as New York, Georgia and California. Furthermore, we had the privilege of having famed actor and social activist, George Takei, serve as our keynote speaker at the banquet. On top of this exciting event, NAPABA has selected Indianapolis to host its national convention in 2023. Because more than 1,000 attendees attend the national convention, only a limited number of cities have venues that can accommodate a conference of this size. We are honored and cannot wait to show the national APA legal community all that Indianapolis has to offer.
In addition, APABA Indiana will hold a variety of engagements and events in 2020, including:
A mentor-mentee program with law students at the Indiana University Robert H. McKinney School of Law
The "Year of the Rat" CLE on February 7, 2020 in conjunction with the Lunar New Year; and
An annual dinner gala on a date to be announced in fall 2020.
So, if you have made it to this last paragraph of this article, THANK YOU! We would love for you to get involved with APABA Indiana or simply check out one of our events. For more information and to become a member, please visit APABA Indiana's website at apaba-in.org.•
Please enable JavaScript to view this content.