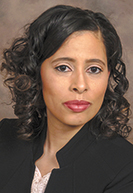 Marion Superior Court D35
Presiding Judge of Marion Superior Court
Indiana Gov. Eric J. Holcomb appointed the Honorable Charnette D. Garner to the Marion County Superior Courts. Judge Garner's appointment was among the first gubernatorial appointments following the passage of House Enrolled Act 1036 in 2017, creating merit selection of judges in Marion County. At the time of her appointment, Judge Garner was chief counsel for the Marion County Prosecutor's Office. She first joined the office in 2005 and returned in 2015 after a nine-month stint as an assistant United States attorney. Judge Garner earned her bachelor's degree from Indiana State University and her law degree from the University of Missouri School of Law in 2002.
Year appointed to the Marion Superior Court: 2018
Year for retention vote: 2024
A skill or experience that would surprise others: I am licensed to practice law in the state of Missouri, and I have argued before Missouri Courts of Appeals.
A judge that you admire and why: U.S. Supreme Court Justices Ruth Bader Ginsburg and Ketanji Brown Jackson for breaking barriers.
Please enable JavaScript to view this content.