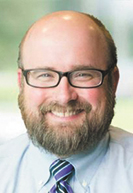 By Eric Engebretson, Broyles Kight & Ricafort PC
COVID impacted all of us, some in more significant ways than others. Whether it was a personal illness, the death of a loved one, e-learning with our kids, or just dealing with the inconvenience and stress caused by various disruptions to our routines (some more significant than others), it is fair to say that many of those impacts would have to be put on the negative side of any ledger.
However, there were positives as well. The lockdowns, and the gradual return to our "new normal" over the last couple of years forced many of us to slow down our busy lives, find new (or enjoy old) interests, and just generally gain some perspective about ourselves and our profession. It also helped many of us come to appreciate some of the things we took for granted. I can still remember the sheer joy of returning to a full movie theater or going to a concert and just enjoying something relatively frivolous with a venue full of other human beings.
With that said, most of the attorneys I know fully returned to the office some time ago. Even if some of our colleagues are still occasionally working from home or just enjoying more flexibility than before COVID, most have returned to a more traditional schedule which includes regularly venturing into the office to fulfill their various responsibilities. Fulfilling those responsibilities can be extremely time-consuming and stressful given they include client appointments, ensuring deadlines are met, preparing for hearings, as well as attending to the various administrative tasks that come with running your firm or practice. All of us can quickly find ourselves falling back into the routine of losing a proper perspective, particularly when it comes to balancing our professional and personal lives.
I do not intend to minimize the importance of our work or the role we as lawyers can play in our society at large. The law is an important and noble profession, one that not only serves our client's interests, but also (generally) the greater good. The rights and freedoms we all hold dear have their roots in our legal system, which we all, in ways big and small, strive to uphold and advance. Further, we as attorneys often play critical roles in the day-to-day lives of our clients, whether it be advancing their business interests, protecting their rights as the criminally accused, or helping them through difficult times such as a divorce, bankruptcy or the death of a loved one. All of that being said, when I look around, I cannot help but notice many of us seem to believe that "being a lawyer" is what defines us as a person. Respectfully, I would submit to you that it is not — or at least it shouldn't be.
As someone who has been active in the IndyBar and its leadership, it is not uncommon to be asked why I have been willing to devote so much time to the organization. Obviously, there are reasons that are more selfish than others, such as the opportunities for networking and business development that involvement in such an organization can provide. More importantly, my involvement in the IndyBar is rooted in my respect, appreciation and admiration for other lawyers. My father was a lawyer, my wife is a lawyer, numerous other family members and friends are lawyers — I love lawyers! However, what I love and enjoy most about all of those people has little to do with the fact they possess a law license. Rather, it is who they are as people and how they live their lives outside of the law that garner my respect and admiration.
I say all of this as a preface to encourage each of you to continue to explore and embrace those nonlegal interests you discovered or embraced during COVID. Even though many of us have returned to a more "normal" routine, work to ensure it truly is a "new normal," one that continues to make time for those things that are truly important. Your faith, family and friends — hold on to those things that provide your life real meaning. Continue to explore and embrace those interests and little joys that were discovered (or rediscovered) during COVID. Whether it was learning how to cook, picking up an instrument, enjoying old hobbies, or something as simple as taking the time to read a book or play an extra round of golf, take the time to slow down and focus on those things that make you, you. I assure you it is more than your law degree!•
Please enable JavaScript to view this content.