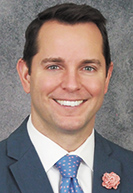 Hello friends, pour a steaming cup of joe, and allow me to introduce myself.
I'm Adam Christensen, the incoming president of your Indianapolis Bar Foundation. You might remember me as a long-time trivia host, Evening Under the Stars emcee, or as a kind of Christopher Meloni to James Bell's Ice-T in the Amateur Life Coach: Special Ethics Unit series. But as the IndyBar Foundation's next president, I think it's important that you get to know a little more about me.
I'm a proud father of two: my eight-year-old daughter, Louisa, and my five-year-old son, Booker. They're the light of my life, my bottomless spring of magic and wonder and the reason I work.
Speaking of which, I'm in my 14th year of practice, and, after a winding career for the better part of a decade, January 2021 marks my fourth year as a donut lawyer, working as Secretary and Director U.S. Legal to Weston Foods, a 150-year-old commercial bakery giant based out of Toronto. From our 40 facilities, we make fresh bread, cupcakes, Girl Scout cookies, ice cream cones, pies and other baked goods including cakes in Lebanon, Indiana and 1.3 million donuts per day from our U.S. headquarters on the westside of Indianapolis. Needless to say, after working for 48 months in a donut factory, my last four New Years' resolutions have gone unmet, and I have amassed a wide range of pant sizes in my closet.
I've spent the last nine years serving as a volunteer and director of the IndyBar Foundation, and despite many of my predecessors like David Duncan, Rebecca Geyer, Andy Campbell and Holly Wanzer, who all possess the Rob Lowe/Cindy Crawford gene that prevents physical aging, I, being a Reagan baby born in 1981, am technically the IndyBar Foundation's first millennial president. As an elder millennial, however, I'm hoping I can serve as a generational liason: someone who can not only mimic the sounds of a dial up modem but is also fluent in modern lingo like "bae," "turnt," and "on fleek." That actually reminds me of one of my favorite dad jokes: how did the millennial burn the roof of his mouth? He ate his pizza before it was cool. Sorry, but after a year like 2020, we could all use a little humor — and that was certainly a little.
As for 2021, I'm fortunate to inherit a foundation that is as strong as it has ever been. Thanks to the incredible leadership of past president Lee Christie and the support of our officers Raegan Gibson, Biz Walker, Ned Mulligan and Elisabeth Edwards (and the best non-profit staff in the city of Indianapolis, period), the IndyBar Foundation met its revised financial goals and mounted a successful engagement campaign reaching out to hundreds of donors, volunteers and new-comers to the bar to support the IndyBar Foundation's mission and continue to serve both our legal community and the broader Indianapolis community during this unprecedented and challenging year. For all of their efforts, I am very grateful.
What then does 2021 hold for the IndyBar Foundation? Three "foundational" pillars: engagement, diversity & inclusion and execution. The first, engagement, refers to our goal of better involving our existing members — for example our Distinguished and Life Fellows and our IndyBar section, division and committee leaders — to not only raise funds for the IndyBar Foundation, but also to raise awareness and promote the camaraderie and fellowship that makes the Indianapolis legal community so uniquely intimate and supportive.
The second, diversity and inclusion, is a pillar intended to make good on the promise we made to our members and our city in 2020 to build a pipeline for diverse leadership and inclusive representation across all genders, generations, races, cultures and practices areas. Our board in 2021 is the most inclusive in its history and is a reflection of the modern Indianapolis legal community. We want to build on this progress to ensure our organization continues to serve the evolving needs of our communities over the IndyBar Foundation's second 50 years.
Finally, execution. This pillar stands for our promise as an organization to continue to listen to the evolving needs of our lawyers and our community members and to develop the activities and programming that best address those needs. It is also a promise to all of you, our generous donors, that we will continue to deliver the best return on investment for your charitable contributions and to honor the legacy of your generosity. Thank you.
Engagement, diversity & inclusion and execution. Even though the calendar has recently turned over to a new year, we know many of the challenges we faced in 2020 will remain with us into 2021. However, in spite of those challenges, the IndyBar Foundation was quite simply the best damned metro bar foundation in the United States last year, and we intend to continue to be the pace-setter in the year to come.
I am honored to accept the responsibilities and opportunities as the next president of the Indianapolis Bar Foundation, and on behalf of myself and the entire foundation, thanks for stopping by, and I hope to see you again soon. Cheers. •
Please enable JavaScript to view this content.