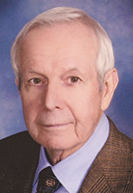 The Indianapolis Bar Association is saddened to note the passing of 1990 IndyBar President Don Buttrey. Buttrey passed away on April 24, 2021. The family has noted that a celebration of life will be scheduled at a later date.
Buttrey practiced law for 50 years, beginning his career as a law clerk from 1961 to 1963 for Judge William E. Steckler, Chief Judge of the United States District Court for the Southern District of Indiana. Buttrey then joined the Indianapolis law firm of McHale Cook & Welch from 1963 to 2001 and later joined Wooden McLaughlin as Of Counsel, where he practiced from 2001 to 2010.
"Although I did not know Don Buttrey very well personally, as president on behalf of the Indianapolis Bar Association I certainly want to recognize Mr. Buttrey for his years of dedicated service to the bar and his professional accomplishments and contributions to the Indianapolis legal community," notes IndyBar President Jimmie McMillian. "The stories and memories shared by others certainly bear witness to an incredible legacy of leadership and friendship with many of our members. We are grateful to have had the benefit of Mr. Buttrey's time and talent."
Buttrey's IndyBar presidency in 1990 was marked by a variety of achievements, including the creation of the bar's Public Defender Commission, which resulted in the current public defender structure in Indianapolis. He also planned for the hiring of a new executive director for the association and contributed greatly to the growth of the Indianapolis Bar Foundation during his presidency of the foundation from 1995 to 1996.
In 1992, Buttrey was appointed by then-Gov. Evan Bayh to the Board of Trustees at Indiana State University and served two four-year terms. He also served on the Indiana State University Foundation Board of Directors. Buttrey was an active philanthropist and co-created the Lake Institute of Faith and Giving at the Indiana University Lilly School of Philanthropy in 2002.
Buttrey will be remembered fondly by many in the Indianapolis community.
"Donald Buttrey was one of the most honorable persons that I have ever met," says Indiana Court of Appeals Senior Judge Carr Darden. "He believed and treated all persons whom he came in contact with respect and dignity. He lived and practiced that old adage, 'Do unto others as you would have them do unto you.' The legal community has lost one of its giants. Long live his memories, his legal work and the many contributions he made to the community at large."•
Please enable JavaScript to view this content.