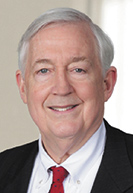 By George Plews, Plews Shadley Racher & Braun LLP
Previous advocates for planned gifts to the Indianapolis Bar Foundation have made a compelling personal case for such gifts. These gifts support the good works of the Indianapolis Bar Foundation, which are very worthy of that support.
The IndyBar Foundation grants more than $140,000 each year to local law-related organizations, which foster education and respect for our legal system. It sponsors Ask a Lawyer, the Hospice Program, the Homeless Shelter Project, Legal Line and Free Wills Clinic. In recent years, the IndyBar Foundation has used focused, high impact larger grants to enable strong starts and new initiatives for legal service and educational entities. The IndyBar Foundation also provides scholarships for law students. And during the pandemic, the IndyBar Foundation has issued special grants (called "Crisis Empowerment Grants") to help lawyers navigate through the economic slowdown.
But I want to stress two different aspects of planned gifts. First, they are crucial to growing the IndyBar Foundation's capacity to meet new challenges and embrace new opportunities. The IndyBar Foundation works hard to raise current funds, which are nearly all applied to current programs. Planned giving looks to endowment and asset growth to strengthen future work.
This long-range perspective is critical. One example proves this point. In 2003 the National Public Radio Foundation received a planned gift from the Estate of Joan Kroc, the wife of McDonald's founder Ray Kroc. The gift was more than $200 million. Fast forward 15 years. NPR was able to tap that endowment for special support for development of a new-fangled communication format—the podcast. The result of that planned gift was that NPR was able to gain a leadership position in the highly competitive podcast market; NPR founded two of the top three, and nine of the top 20, podcasts. We all are better off as a result.
The Indianapolis Bar Foundation, with an endowment of about $2 million, is in a similar position as the NPR Foundation before the planned gift of Mrs. Kroc. It is doing great stuff, but the money lawyers donate from present income is consumed by current needs. Planned gifts need not come from current income. They are an avenue for generosity beyond current needs. Planned gifts make all the difference in seizing the future.
That brings me to my second and final point. Planned gifts to the IndyBar Foundation, unlike current gifts, leave a legacy. They are given to the future, in gratitude for the great gifts we have received from our profession and our legal system. We have flourished on the legacy created by those before us. Now it is our turn.
Please let the IndyBar Foundation know if you are interested in making a planned gift. We have volunteers from the Estate Planning & Administration Section standing by to help you with the many good ways such gifts may be made. Thank you.
Learn more about planned giving and how you can make an impact at indybar.org/plannedgiving.•
Please enable JavaScript to view this content.