By: Justin M. Wiser, Frost Brown Todd LLC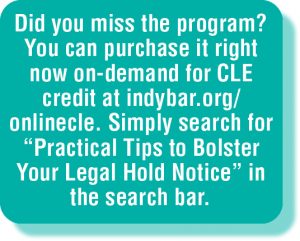 E-Discovery, Cybersecurity and Information Governance Section leaders Jennifer Tudor Wright and Katrina Gossett Kelly recently presented a successful and informative CLE for the IndyBar: Practical Tips to Bolster your Legal Hold Notice. Wright and Kelly drew on their e-discovery experience and reviewed key elements of a legal hold notice, case law updates, confidentiality/privilege issues and additional considerations for attorneys and their clients.
The speakers emphasized a few general takeaways: (i) it is important to understand the requirements in the specific jurisdiction, which can involve international/foreign-country laws; (ii) the client's obligations often depend on the specific circumstances; and (iii) an attorney should be familiar with the client's current litigation hold/retention policies. The trigger of a legal hold is described as whether litigation can be reasonably anticipated or the client knows or should know evidence is relevant to current or future litigation. While this initial analysis takes place, attorneys will benefit from understanding what procedures the client already has in place with regard to current document-retention policies.
The speakers also reviewed key elements in a legal hold notice and the accompanying analysis. Attorneys need to consider the types of records that should be referenced or defined in the notice. Jennifer highlighted that ephemeral data has become a hot button issue. Evidence in the form of text messages, instant messages, social media, and mobile devices/storage devices can sometimes be overlooked or omitted in the legal hold analysis and the notice itself. Some of this information or data may not typically be saved in the usual course of business, or it may have a limited time before it is deleted.
Attorneys and their clients should also consider time frames to incorporate into the notice, and specifically the length of time the client needs to look back for the categories of records that require preservation. People may have relevant knowledge for a more limited time frame, while documents or other information may require a more extensive time frame, depending on the circumstances.
Confidentiality also presents an important consideration before implementing and distributing legal hold notices. Attorneys and clients need to understand that post-legal hold notice conduct has the potential to waive protection under the attorney-client privilege or work-product doctrine. The approach to distributing the legal hold must therefore account for these considerations and must also be balanced with the risk of spoliation claims. Recent case law trends confirm that courts are scrutinizing parties' legal hold notice procedures. •
Please enable JavaScript to view this content.