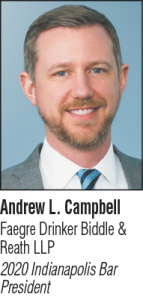 Last Wednesday afternoon at 4:30, the sun finally came out and the air was warm for late March. My wife (who is also a Faegre lawyer) and I were working in Faegre's remote office in Meridian Kessler, a.k.a. our guest bedroom. It was my normal day to work late — usually getting home around the kids' bedtime routine at 7:45. On this Wednesday, however, we closed our laptops, put the 7-year-old on his bike and the 3- and 5-year old in the running stroller and went for a long run along the canal, through Holcomb Gardens and around Butler's campus. The trails, park and campus were busy — even more so than a normal early spring afternoon. We saw lots of families with teenagers who probably haven't taken a walk together in ages. The geese hissed and spat in defense of their nests nearly on top of the trail. The kids found it terrifyingly hilarious. As we weaved our way home through the neighborhood, we noticed extensive sidewalk chalk artwork. One piece that stood out was in bright rainbow letters: "Find the Good!"
As I struggled to keep up with my wife in the last quarter-mile (and she was pushing the stroller), I thought about that fleeting chalk sentiment. While my Twitter feed has been a never-ending stream of calamity — and for good reason — there has also been a tremendous amount of good that has accompanied the frightening disruption of our daily routines. We've had three meals a day with our kids every day for the last two weeks. Despite the viral memes to the contrary, that's good. I have been in closer contact with my high school and college friends than I have been in years. Again, memes have been in heavy rotation, and that's good. Our families have been checking on each other more often, and have been more patient and kind. That's good.
There is no doubt that keeping up a remote law practice in a precarious economy has been challenging — clients are eagerly trying to find ways to manage their legal budgets, and there is a constant stream of legal updates, alerts and webinars to draft and read (including from the IndyBar!) But, there has been exceptional good professionally as well. I am in more consistent contact with more clients who need unique and sophisticated help on novel legal issues. Our firm management has been transparent, responsive and supportive in ways that often get lost in normal times. Colleagues are more eager to collaborate and facilitate cross-sales. And, we commiserate over the now-cliché debacles of kids and pets crashing conference calls and video chats. That's all good.
IndyBar opened its brand-new IndyBarHQ on March 6 and then promptly closed it for the foreseeable future on March 13 — we were open for one week. IndyBar staff is now working remotely and all in-person programs and events have been moved online, postponed, or rescheduled. It's been onerous, but there has also been good to inspire the profession. IndyBar's staff and volunteer leadership has quickly brought together essential resources, communication and programming to support the membership. We recognize the emails have been many, but our resilience and responsiveness are good. IndyBar is implementing multiple public outreach opportunities to provide legal advice as the economic realities of the new normal begin to sink in. Our ability to make a meaningful impact on the community in a time of crisis is good. In sum, the IndyBar's ability to pivot in the face of uncertainty and to continue to offer excellent professional development opportunities is good.
After we got home from our run, I opened my laptop and began responding to emails from many of my IndyBar colleagues who were quickly planning yet another free webinar on Governor Holcomb's and Mayor Hogsett's response to the enduring outbreak — critical information that we as lawyers need to advise our clients, big and small. It reminded me that the IndyBar is working hard to find the good for our profession.•
Please enable JavaScript to view this content.