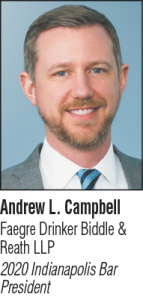 The would-be angler Marvin Mears took an unexpected trip to the Supreme Court of Indiana after he caught a fish without bait. The law in Indiana said that "[i]t shall be unlawful for any person to take . . . or attempt to take . . . any fish in the waters of this state . . . by any means other than angling with hook and line." The charging documents alleged two counts: an attempt, and a successful one at that, to put an unbaited hook on the end of a fishing line strung through a rod and reel and jerked back and forth in the water to catch any fish that got in the way. Mr. Mears didn't reasonably believe that the Indiana General Assembly intended to outlaw his scheme. He was "angling with hook and line" after all. Or so he thought.
Mr. Mears moved to quash the indictment, and Judge Branaman agreed. Attorney General Omer Stokes Jackson didn't like to lose, however, and took an appeal. In the Supreme Court, Justice Curtis Grover Shakes was assigned to interpret the "obvious intention of the legislature," the "general intent of the act" and avoid an interpretation that would make it "plainly repugnant." Considering the facts, Mr. Mears was buoyant. But, when Justice Shakes analyzed the "ordinary and popular meaning" of the words of the statute, Mr. Mears's fortunes turned.
On its face, the statute criminalized catching a fish with any "gig, spear, seine, net, trap, weir, gaff hook, [or] snare." By permitting "angling with hook and line," Justice Shakes reasoned, the legislature intended something different than those activities. Moreover, Justice Shakes consulted multiple dictionaries and encyclopedias to define the word "angling." He learned that it comes from the word "angle" or "fishhook; tackle for catching fish, consisting of a line, hook, and bait." Thus, Justice Shakes concluded that the General Assembly intended "angling" to be limited to alluring a fish with bait, not indiscriminately jerking a hook in hopes of snagging some part of a fish. Justice Shakes — who later served as a presiding judge over a Nuremberg trial — overruled the motion to quash. Mr. Mears would have to plead to the charge. State v. Mears, 231 Ind. 257 (1938).
After Mr. Mears's case, the General Assembly changed the law — though it's still illegal to fish with dynamite in Indiana. I have to think that a majority of legislators never intended for Mr. Mears's efforts to be a crime. But who could foresee Justice Shakes's interpretation of the statute? A lawyer, perhaps?
Mr. Mears's case of fishing without bait exemplifies what can happen if we lose a critical component of the Indiana General Assembly — lawyers in the legislature. To be fair, I have not scoured the legislative history of the statute to see how many lawyers were involved in crafting the statute that caught Mr. Mears. But the point remains, lawyers — more so than laypersons — are better equipped to think critically about the laws they write and, importantly, the (possibly) unintentional consequences of judicial interpretation. Equally important is the relationship between, and potential conflicts among, statutes and the common law. The ability to issue-spot and anticipate possible concerns before enactment is doubly important for statutes that affect personal and physical rights. Mr. Mears likely would agree.
For those of us who are not legislators, there is still ample opportunity to support those who are. Follow critical developments in your area of law through the IndyBar Bill Watch, a service of Faegre Drinker Biddle & Reath LLP and the IndyBar Legislative Committee. During each week of the legislative session, the IndyBar distributes an updated report indicating the progress and recent actions taken on the bills being monitored by the IndyBar. If there is a bill of interest to you or your clients, consider contacting the relevant legislators to bring a lawyers' eye to the process. Check out the reports at indybar.org/billwatch.
In addition, on Feb. 25, the IndyBar will host its annual Lawyer-Legislator Luncheon. IndyBar members are invited to have lunch with and ask questions of key players of the General Assembly, like Senate President Pro Tempore Rodric Bray, House Speaker Brian Bosma, Representative Ed DeLaney, and many more. In addition, we will recognize Speaker Bosma's decades-long service to the General Assembly by awarding him with the IndyBar President's Award for Service to the Profession. Please join us as we recognize Speaker Bosma.
Mr. Mears unexpectedly learned that you cannot fish without bait. As lawyers, we shouldn't either. We need to bait our professional hooks with strong professional development opportunities — education, service, networking, referrals, influencing lawmaking, among many other opportunities — and the IndyBar is here to provide it.•
Please enable JavaScript to view this content.