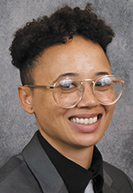 By Bre Robinson, Indiana University Robert H. McKinney School of Law
After surviving the first year of law school, many students face a new challenge — finding a job for the summer between 2L and 3L year. For minority and first-generation law students, this process can be especially daunting because many of these students have no social contacts in the legal field or clear ideas of which career path makes sense to pursue. The IndyBar Diversity Job Fair helps alleviate the pressure of job searches and interviews for these students by providing an opportunity for minority students to meet with various legal employers in Indianapolis who are passionate about having a diverse field of employees. Since the job fair takes place in the summer, it also provides law students with the opportunity to get a better idea of which practice areas most interest them and to get more comfortable with interviews before on-campus interviews (OCI).
Many students who participate in the IndyBar Diversity Job Fair will end up with a full day of interviews with different employers. I actually did not bid on any employers at my school's OCI because the IndyBar Diversity Job Fair matched me with all of the employers I was interested in interviewing with. Since I wanted to have the opportunity to talk with employers from various practice areas, I made sure to bid on interviews with law firms, the federal judiciary and corporations. Because the IndyBar Diversity Job Fair consists only of employers who have a commitment to diversity, students get to focus on what matters most — their work ethic, grades, interests and personality. Further, the interview process went both ways. I had the opportunity to ask the employers questions and to determine if the employer was a good fit. Each interview lasts only 20 minutes. It was enough time for the employer to learn about me and for me to learn about the employer without the interview becoming intimidating or exhausting. I learned a lot about different firms and corporations. Entering the Diversity Job Fair, I was not sure which area of law most interested me, but after the fair, I had a much better idea.
I was fortunate enough to hear back from some of the employers I interviewed with and had follow-up interviews. I ultimately came away from the Diversity Job Fair with a spring internship AND a paid summer job. I accepted a law clerk internship with the Southern District of Indiana and a summer position with Cummins. The interview process also allowed me to make several new connections with lawyers in Indiana who I am still in touch with today, providing me with mentorship.
The IndyBar Diversity Job Fair didn't just help me get a job. As the school year began and my classmates were stressed about OCI, I was able to just focus on school. Don't miss out on an opportunity to meet with employers who want to hire you. Participate in the IndyBar Job Fair this year on August 10 and 11 and get ahead of the curve.
Student registration is now open for the 2020 IndyBar Diversity Job Fair! Get more details and sign up online at indybar.org/diversityjobfair.•
Please enable JavaScript to view this content.