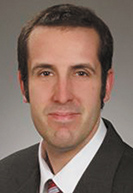 By Jared Correia, Red Cave Law Firm Consulting, IndyBar Law Practice Management Consultant
We're living through strange days, indeed. But one thing about time marching on is that the days tend to get stranger. Certainly, no one in early 2020 had "global pandemic" on their apocalypse bingo cards; though, here we are. As lockdown measures were implemented and have stuck around since, most law firms were forced to innovate — in part because those law firms weren't modernized to begin with. This is, of course, in keeping with the lawyer's standard operating procedure: one should only react to disaster or tragedy, otherwise — just keep swimming.
That has left more attorneys swimming in law practices existing in a 1995 time warp than I can count. So, it begs the question: how do you know if you're running a modern law firm? While this is not an exhaustive list, let's focus on a couple criteria: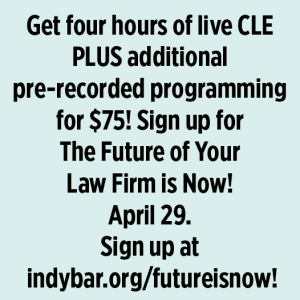 • Is your law firm virtual? This is not a "gotcha," by the way. The vast majority of law firms are not completely virtual, but that's not the question here. The real issue is whether you and your staff can work from anywhere. If you all can, that's probably as virtual as you need to be. While reasonable minds can quibble over what technology you use to accomplish that particular feat, the mere fact that you've accomplished it means that you're willing to adopt cloud technology in your law practice. And that's essential for the modern law firm, especially as law firms move into an environment where they're not asking employees to work from home because they have to, but because they want to or prefer to.
• Do you understand what legal consumers want? Most law firms make decisions based on what's easy for the law firm. And that leads to some questionable outcomes for legal consumers. It's why law firms don't pick up the phone (one in three calls are not answered) and why it's so hard to schedule with law firms (it takes an average of eight emails to book an appointment) and why leaving messages is a bottomless pit (64 percent of law firm voicemails are not returned). Businesses with a customer focus don't generate stats like that. So, if the phrases "client journey" and "intake roadmap" sound like a foreign language to you, it's probably time to revisit how well-connected you are to the potential clients who would really like to hire you.
If that sounds interesting to you (maybe even compelling), and if you get the "why," but maybe not the "how," there's an excellent upcoming opportunity to learn more about building a virtual law practice, the consumer-centric law firm and many other topics related to modern law practice management at the IndyBar's virtual conference The Future of Your Law Firm Is Now, coming up on April 29. Don't miss the show, or you might just miss the boat.•
Please enable JavaScript to view this content.