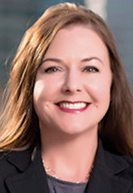 By Elisabeth Edwards, Wanzer Edwards PC
If you're anything like me, you make New Year's resolutions with very good intentions every year, and usually around this time of year, you're backsliding a bit. I tend to focus on the usual suspects like eating more mindfully and with no processed carbs, getting more exercise, limiting screen time. But after a couple of long-standing, emotional and contentious trials over the past month, I know for sure that my energies are better spent working toward making what I do for the bulk of my waking hours more peaceful. This is better for me and better for my clients. Sometimes "emotional and contentious" can't be avoided, but I'm sure going to try.
The IndyBar Family Law Section mission is, "the Family Law Section believes we have the collective ability to shape the practice of family law. Every day we strive to change the status quo for family law attorneys because there is a better way." We all know that what we do is stressful not only for us but is frequently the very worst time in our clients' lives. How can we avoid ratcheting up the emotion? How can we be the calm in the storm? If you like how things are going with your practice, there's no need to continue reading. But if you'd like to feel better about what you do and want to be a better family law attorney, read on for my top three resolutions for 2020:
1. Set expectations regarding communication with clients that are reasonable. This means not actually being available every hour of every day. We know you give yourself fully to your clients during your workday, and you should give yourself fully to your family and yourself after office hours. Lean in to your downtime. There will always be occasions when you have to work late or on weekends due to a trial or a deadline, but overall, if your client calls you with anything less than a true emergency (which means calling 911), there's nothing you can do about it as a family law attorney until the next business day. Develop internal policies about how quickly you will respond to clients and have that conversation about availability during your initial consultation. Then, do what you say you will do. Respond to your clients and opposing counsel when you say you will, even if it's to say you received the message and will respond more meaningfully on a set date. Emotion comes down when people know: (1) that you see them and they matter, and (2) that they are important enough to be on your agenda, and (3) when to expect a response from you.
2. Consider going to trial a worst-case scenario. There will always be clients who want their day in court, or cases that can't get settled. But that doesn't mean that you shouldn't try. Abraham Lincoln is quoted as saying, "Discourage litigation. Persuade your neighbors to compromise whenever you can. Point out to them how the nominal winner is often a real loser — in fees, expenses, and waste of time. As a peacemaker, the lawyer has a superior opportunity of being a good man." While you might enjoy going to court, odds are that your client will not be completely happy with the result. Even if your client is happy that day, the bill for preparing and attending trial is on its way to change her mind. Structuring your practice around the idea that most cases should settle might require you to restructure how you manage cases on a day-to-day basis. You cannot wait to put out the fire that's directly in front of you and expect the best outcomes for your clients. This means that you cannot limit your attention to the case to the day before trial, or the day before mediation. (As a side note, mediation should be treated just as importantly as trial, but that's for another post!) While some attorneys would say their caseloads will not allow them to spend much time on a case until the day before trial, I would say they may have too many cases, and that is a recipe for malpractice. Having that many cases means that attorneys are inevitably missing something important, cases are being delayed in getting a resolution, and clients are potentially not being served. We can do better. At the end of the day, it's the clients and not the attorneys who are winning or losing. The facts we are presenting are our client's facts, and the clients are the ones who must live with the outcome of the case. This is important stuff, not just another file in your office. Treat it as such.
3. Tell your clients "no." A good attorney will take a difficult case; a great attorney will tell the client there is no case. Time and time again, I see motions filed that seem meritorious in the initial pleading, but after doing some digging, things quickly fall apart. As attorneys, we partner with our clients to navigate the legal system to get them, hopefully, the result that they desire. But when the facts are obviously not there to support the outcome they seek, we do our clients and ourselves a tremendous disservice by filing that Petition to Modify or Motion for Rule to Show Cause anyway because the client is mad. If the issue that is the subject of the contempt action could be remedied with a single telephone call to the opposing counsel, why would we not make that call and try to settle it with the least amount of time, energy and our client's hard-earned fees? Don't make the mistake to think that the best way to earn a living as a family law attorney is to fight for your client when the battle was lost before it started. We all know attorneys who believe "the fees are in the fight," and they usually do nothing more than cost both parties a great deal of money. Again, we can do better. Will what you're about to file actually move the case forward? Does it contribute to better co-parenting? Is it in the best interests of the child? If not, hit the pause button and counsel your client that the law can't achieve the client's stated goal. Don't worry about turning away business, because they will come back to you willingly when a real issue arises, or when there is "enough" evidence to move things forward. And if they found another attorney who would take their case instead of you? Rest assured they'll be unhappy regardless when the outcome is as you predicted and the bill comes due.•
This article was originally published on the Family Law Section blog page. To see more from the section, visit indybar.org/fam.
Please enable JavaScript to view this content.