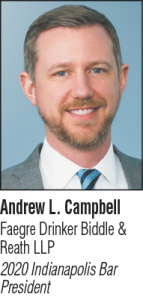 A few months (or years) from now, during whatever the "new normal" will be — a phrase, by the way, that I despise almost as much as "livin' the dream" — I'm confident that many of us will look back with some fondness on spring of 2020. Not much, perhaps, but some. It's the season we honed "working remotely" — something we will do more of, even after the pandemic subsides, and if only to avoid the morning commute. We learned how to apply backgrounds to our Zoom video; think Seinfeld's living room and the Millennium Falcon (Kudos, by the way, to whomever blows one up on poster board and positions it behind them in their first in-person meeting in a conference room). We were continuously reminded what we learned in grade school and experienced first-hand that we don't pay teachers nearly enough. Hopefully, some of us used the time and spring weather to get in shape and, for those who didn't, just remember that "round" is a shape. We spent a lot more time with immediate family. And we learned that despite shutting down the economy (and the jokes) the legal industry really is essential. Not adoration, spring 2020, but some fondness.
But for now, Governor Holcomb and Mayor Hogsett (and countless other government and business leaders) are executing their plans to reopen the "new normal" economy. The IndyBar is no different. We are working hard on a COVID-19 Preparedness Plan that will allow some staff to return to IndyBarHQ in the coming weeks. And we will soon turn our attention to fully reopening HQ to members sometime in June or July. In the meantime, in fact, we are planning to host some in-person IndyBar Review sessions beginning at the end of May, with lots of social distancing. We will be slow and methodical as we reopen for in-person business, but we are reopening nonetheless.
In the meantime, the IndyBar is already open for business — which I hope you already know considering how many emails we send you. We've honed our remote capabilities and have immediately taken advantage of the Indiana Supreme Court's relaxation of distance education guidelines. Our education programming is top-notch, affordable and convenient — we record everything we do and you can access it whenever it works for your schedule.
We also anticipate an explosion in the need for certain legal services. So, we developed an Essential Skills Series for practitioners to take advantage of the increased demand. In May alone, we had nearly 300 members attend just three of our remote programs on appellate, family law and litigation topics.
Likewise, we are taking advantage of the Supreme Court's order that will allow recent graduates to serve as graduate legal interns. In conjunction with the Indiana University Robert H. McKinney School of Law, we developed a Graduate Legal Intern Skills workshop to bridge the "knowing-doing gap" often experienced by new practitioners. We have a core curriculum aimed at developing business and client skills followed by substantive programming in a legal track of the participant's choice: civil litigation, transactional practice, or criminal practice and procedure. Training will include a practice component incorporating the tell/show/do model, giving the opportunity to apply newly acquired knowledge on case studies, sample documents and more.
It won't be long before we're fighting the morning commute, wondering if we'll make it home for dinner, let alone get some exercise. We won't be able to turn off the video during a meeting that likely could have been an email. In short, we'll be "livin' the dream" in the "new normal." And, as a result, hopefully spring 2020 won't look so bad.•
Please enable JavaScript to view this content.