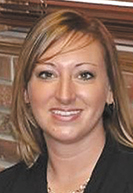 By Crystal Pulley, Kids' Voice of Indiana
Another year has come and (almost) gone and another holiday season is upon us. Another season of working with clients to make sure their holiday plans are solid so their families can have enjoyable holiday seasons.
I'm sure we are all getting those calls asking, "What part of winter break do I get this year?" and, "This is MY Christmas, so why do the kids have to go to mom's/dad's?" If you are like me, fielding these calls and resolving last-minute holiday parenting time squabbles is the last thing I want to worry about on the eve of winter break! I have shopping to complete, holiday goodies to bake and activities to plan for our elf, Barry!
What better time to address those issues now rather than waiting until the week before break? Get started now and, in those high-conflict cases and those cases under newer parenting time orders, reach out to those clients and confirm the order and their scheduled parenting time and encourage them to solidify their plans with their co-parent.
And as we are being proactive, let's start 2023 off on the right foot! Encourage clients to get out their calendars and review their court orders and map out their parenting time for the new year. Add doctor's and therapy appointments and extracurricular activities to the calendar and share it with their co-parent for review and additions. This will save the headache of debating holiday time coming in the months of January and February and spring break in March!
The start of the new year is also a good time for parents to reach out to any professionals working with the family, such as a GAL (guardian ad litem), PC (parenting coordinator) or treatment providers, to touch base as we go into the new year. I promise, these individuals appreciate proactive parents!•
Please enable JavaScript to view this content.