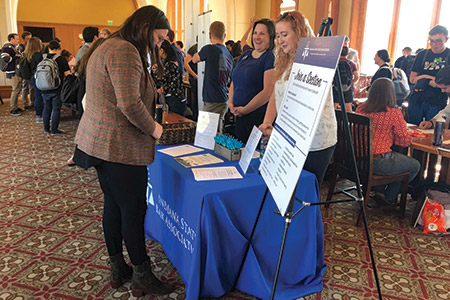 Recognizing a need to increase its engagement with younger attorneys, the Indiana State Bar Association last year launched two initiatives that the bar and participants say are showing promising results — a law school outreach effort and an emphasis on programming on a "living life as a lawyer" track.
Law school connections
The ISBA last year began a novel partnership with Indiana's law schools in which students received free membership, entitling them to join bar sections and get involved in bar functions.
"It's creating opportunities for students to connect with people in the Indiana bar," said Anne Newton McFadden, assistant dean of career services at Indiana University Maurer School of Law.
Students took advantage. More than 200 joined the ISBA's Young Lawyers Section last year, and 32 joined other sections or committees of the bar.
What started as something of a pilot at Maurer and at Indiana University Robert H. McKinney School of Law has made enough of a mark that both schools intend to continue offering ISBA memberships to students through their law school careers. "We're committed to the partnership, and this is something we're going to offer students," McFadden said.
"Students want to know how involvement in any organization can be beneficial," said Chasity Thompson, assistant dean in the office of student affairs at IU McKinney. "Benefits include great opportunities to connect and build relationships with practitioners, from various locations and backgrounds, while learning about the practice of law and substantive areas.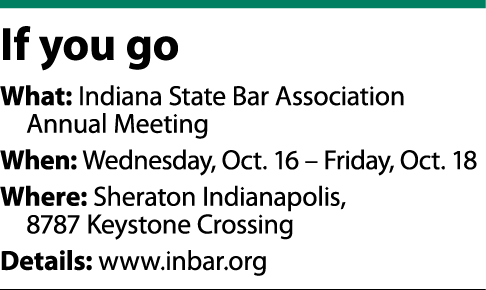 "Since we began this partnership, we have received very positive feedback from students about their experience," Thompson said.
IU Maurer 2019 graduate Jake Salathe was one of four Maurer students who took part in the ISBA's Solo & Small Firm Conference this summer in French Lick. Students were paired with mentor guides who mirrored their professional interests, and among other events, students were hosted for breakfast with justices of the Indiana Supreme Court.
"It was a great networking opportunity overall," said Salathe, now a graduate intern with the Nice Law Firm in Indianapolis who is looking to practice family law in a small law firm.
Second-year law student Rachel J. Myers chairs the ISBA student engagement committee at Maurer. She hopes to work in the judiciary and said the partnership with the state bar has likewise helped her connect with Indiana justices and judges. She only sees the outreach growing.
"It's a new partnership, so one of my goals being chair this year is to get more students knowing about the events," Myers said. "We're going to get more and more students involved now that we have a formal partnership, but students have always seen the advantages."
Part of the outreach has involved formal programs at all of the state's law schools, ISBA President J. Todd Spurgeon said, calling the effort one of his favorite programs offered by the bar. He said he had advocated for such a program for years. "This allows us to be a resource for the law schools in programming and networking opportunities outside of the law school."
McFadden agreed, noting those offerings serve to enhance the efforts of the career services office. "I have been very impressed by the level of professionalism at the bar and the level of engagement with the students," she said.
While the state bar hopes graduating law students will continue to be members, McFadden said something else is apparent in the program. The bar, she said, "is really committed to the development of all of our students."
And Thompson noted students who graduate law school having had some experience with the bar are likelier to become members. "It's a privilege to be a lawyer, and it is a privilege to support our profession through involvement in bar associations," she said.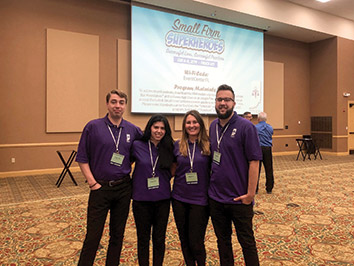 'Living life as a lawyer'
Spurgeon has an anecdote about how another initiative that started last year came to be. He asked members of the ISBA board this question: As lawyers, what keeps you up at night?
Expecting to hear responses such as long hours on tough cases or dealing with difficult clients, Spurgeon was in for a surprise.
"None of it was the law; it wasn't about clients and legal work," he said. Rather, it was about managing life amid their busy careers, figuring out how to repay student loans, managing stress, the ever-elusive work-life balance and the like.
Realizing that up to one-third of continuing legal education credit hours may be applied to nonlegal subject matter, the ISBA developed professional development and essential skills programming to try to address some of those issues keeping practitioners awake in the wee hours. The ISBA loosely refers to the thrust of this programming as "living life as a lawyer."
Subject matter for brown-bag lunches has ranged from how to have difficult conversations to an upcoming session for law students and young lawyers on etiquette. Several programs at the upcoming ISBA annual meeting fit the "living life as a lawyer" bill. Some example titles include, "The Art of Delegation: How to Avoid Micromanagement and Get [email protected]%! Done"; "Small Firm or Large Firm: How to Find Where You Fit"; and "Planning to Strategic Thinking: Understanding Your Logic."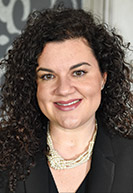 Indianapolis estate planning and business attorney Shawn Scott says she has found the programming on this track valuable, and she can relate to the things that ISBA board members said kept them up at night. As a name partner at Hall Scott P.C., mother of three children ages 10 or younger and an occasional yoga instructor, Scott said work-life balance can be a struggle.
"I have a very full life and obligations and obviously love all those things, but there is guilt and stress associated with managing that work-life balance," she said. "Any resources that can help me navigate through that are very valuable. … Personal health and mental health CLE offerings can keep all of us healthy and focused."
Scott said one recent program did just that. The presenter urged participants to look not so much at work-life balance as work-life integration. Doing so involves auditing how your time is spent, assessing how you want to spend your time and taking steps to put a plan into action. From that, Scott made a simple resolution to spend time cleaning her desk each Friday. It's made a big difference.
"I come in on Monday and it's a fresh start," she said. "It's making me feel better and more organized."•
Please enable JavaScript to view this content.