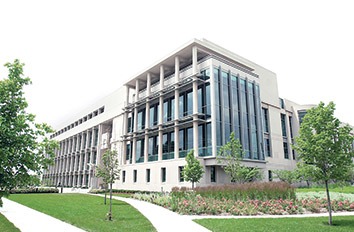 Indiana University Robert H. McKinney School of Law has been recognized on a national level for its efforts to prepare students in the field of intellectual property law.
The Center for Intellectual Property Law and Innovation at IU McKinney has received an A rating from preLaw Magazine, the law school announced May 4.
The ratings were announced in the publication's spring 2023 issue.
The IP Center started the Intellectual Property Law Clinic at IU McKinney to offer real-world experience to students interested in pursuing that area of law.
IU McKinney alumni who work in IP law teach in the clinic, which was launched in fall 2020 when one student's externship opportunity fell through because of the COVID-19 pandemic.
Students in the J.D. program may receive the IP graduate certificate, and many graduate students focus on intellectual property law as they pursue the Master of Jurisprudence, Master of Laws or Doctor of Juridical Science degrees, according to the law school.
The IP Center offers opportunities for students to meet and network with IP attorneys, learn about the latest issues in IP practice, take part in IP-focused moot court competitions and get to know other law students in the Intellectual Property Students Association.
Students interested in pursuing careers in IP also can take part in a variety of externship opportunities offered through the center.
Please enable JavaScript to view this content.