Milena Sterio, an associate dean at Cleveland State University Marshall College of Law and an expert in international law, is the first of the four candidates for the dean's position at Indiana University Robert H. McKinney School of Law to visit the IUPUI campus and meet with faculty, students and alumni.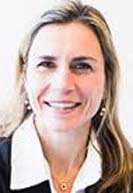 Indiana University-Purdue University Indianapolis has not released a detailed itinerary of her visit scheduled for Wednesday and Thursday. However, the university said graduates of the law school and representatives from the legal community have been invited to meet Sterio.
Currently the associate dean for academic enrichment at Cleveland-Marshall College of Law in downtown Cleveland, Ohio, Sterio joined the faculty in 2006 and has taught courses in international law, international war crimes, alternative dispute resolution and commercial law. She was named associate dean in 2014.
Prior to becoming a full-time academic, Sterio was an associate at Cleary Gottlieb Steen & Hamilton in New York. During that time, she also served as an adjunct law professor at Cornell Law School, where she taught in the international war crimes research clinic.
Sterio earned her J.D. degree, magna cum laude, from Cornell in 2002. She earned a bachelor's degree, summa cum laude, in political science and French literature from Rutgers University and, after law school, she completed a master's degree, cum laude, in private international law from the University of Paris 1 Pantheon-Sorbonne.
In 2013, she was a Fulbright Scholar in Baku, Azerbaijan, at Baku State University. She wrote an online article about her experience in Azerbaijan.
Her research interests include international law, international criminal law, international human rights, maritime piracy and private international law. She has participated in the meetings of the United Nations Contact Group on Piracy off the Coast of Somalia and has been a member of the Piracy Expert Group, an academic think tank functioning within the auspices of the Public International Law and Policy Group.
Sterio is an active blogger on the Cleveland-Marshall faculty blog and was featured in a 2015 video by Cleveland State University.
Like IU McKinney, Cleveland-Marshall has both a full-time and part-time evening J.D. program.
The 2019 entering class had a total 144 students, of which 29 were part-time, according to the American Bar Association's Standard 509 report. The composition of the class was evenly split between men and women and included 28 minorities. Also, the class's median LSAT was 154 and the median GPA was 3.43.
According to additional data from the ABA, the 2018 graduating class posted a first-time bar passage rate of 91.6%. Moreover, 65 of the 88 who graduated in 2018 found full-time long-term employment in jobs that required bar passage. The bulk of the students, 40, went into private practice at law firms with 100 lawyers or less.
Cleveland-Marshall was ranked 126th by the U.S. News and World Report 2020 best law schools. IU McKinney placed at 108th.
The other three dean candidates have not been identified yet but they are scheduled for individual visits Jan. 27-28, Jan. 30-31 and Feb. 3-4.
Please enable JavaScript to view this content.