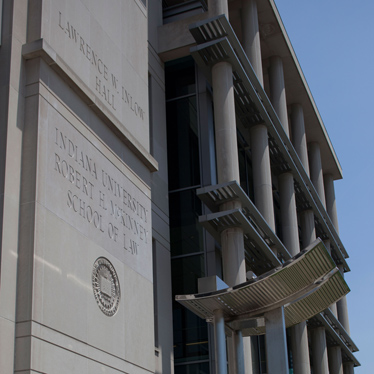 The search for the next dean of the Indiana University Robert H. McKinney School of Law has been narrowed to four individuals who are scheduled to visit the Indianapolis campus in January and early February, according to IUPUI.
Per university policy, the four are not being identified at this time. The candidates will be publicly introduced about 24 to 48 hours before they arrive, according to Stephen Hundley, senior advisor to IUPUI Chancellor for planning and institutional improvement.
"It's been a national search that has yielded a diverse pool of candidates," Hundley said. "We're very excited about the slate of finalists."
A 13-member committee, co-chaired by retired Indiana Chief Justice Randall Shepard and dean of the IU School of Social Work Tamara Davis, has been leading the search for a replacement for IU McKinney's current dean, Andrew Klein, who plans to step down at the end of June. Assisting IUPUI with this national search is Isaacson Miller, a national senior leader recruitment firm for public organizations like colleges and universities.
Nine semifinalists for the law school position met with the members of the search committee for off-site interviews in December. Four have been invited to the law school to meet with students, alumni, faculty and staff, as well as IUPUI administrators and community members.
Two-day visits for each candidate will be held during the weeks of Jan. 22 and 27, and Feb. 3.
Alumni will have the opportunity to become acquainted with each of the finalists at public forums and receptions which are being planned as part of the campus visits. Hundley said the alumni's allegiance to IU McKinney has impressed those who have applied for the dean's position.
"All the candidates see the alumni support as a tremendous source of pride and strength," Hundley said of the alumni. "The candidates are eager to capitalize on that strength."
Klein has led IU McKinney since July 2013 and plans to continue at the law school as a professor after his tenure as dean ends. IUPUI chancellor Nasser Paydar expects to announce the appointment of IU McKinney's next dean in the spring.
Also, IU McKinney might have to say goodbye to another friend. Vice dean Karen Bravo is among four candidates being considered to lead Mitchell Hemline School of Law in Minnesota and was a candidate to serve as dean of Willamette University College of Law in Oregon. Willamette tapped Brian Gallini, formerly at the University of Arkansas, to lead its law school.
A graduate of Columbia University School of Law, Bravo joined the IU McKinney faculty in 2004 and was appointed vice dean in 2018. She had lead efforts at IUPUI and the American Association of Law Schools to develop and recruit women and minorities for teaching and leadership positions. In 2008, she received an Indiana University Trustees' teaching award.
Please enable JavaScript to view this content.